The Italian city hardest hit by an earthquake in August that killed 295 people has filed a criminal defamation complaint against French satirical magazine Charlie Hebdo for a cartoon depicting victims between layers of lasagna.
The same issue of the magazine also depicted victims of the Aug. 24 earthquake in central Italy as pasta dishes: "penne with tomato sauce," "penne gratin," and "lasagna."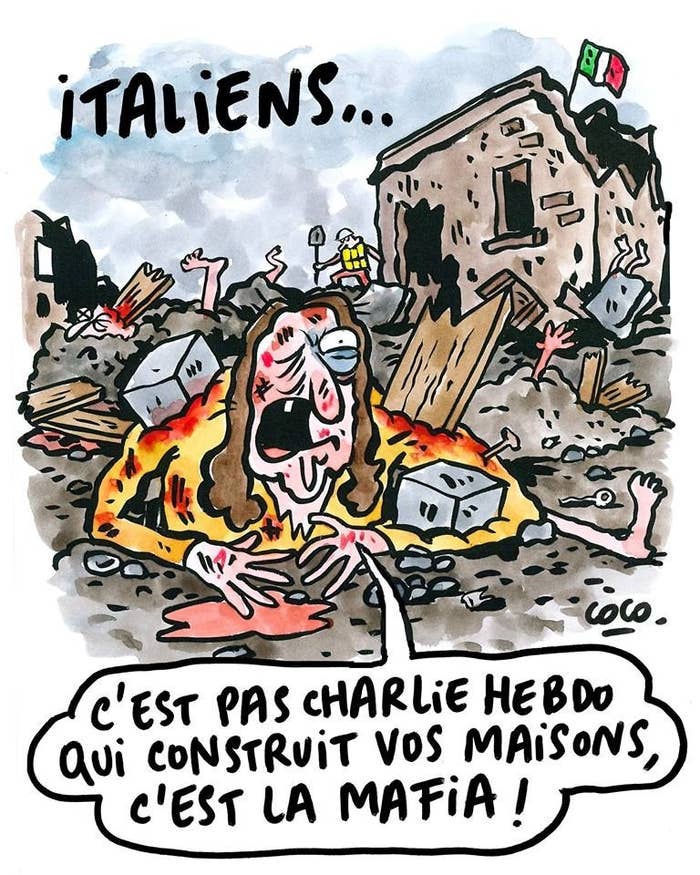 An attorney who represents the town of Amatrice told the Associated Press that he filed the complaint with the prosecutors' office in the provincial capital.
"The cartoons are macabre, senseless and incomprehensible," Mario Cicchetti told AP, adding that they express "contempt for victims of a natural disaster."
It's now up to prosecutors to determine whether the complaint has merit.
Many people in Italy took to social media after the cartoons published to criticize Charlie Hebdo, calling the images insensitive at best.
Comments on Charlie Hebdo's Facebook page used much stronger language.
The outrage was such that the French Embassy in Italy released a statement saying the cartoons were not representative of France's position.
Italians were not alone in their anger.
Charlie Hebdo experienced its own tragedy last year in January, when Islamist gunmen stormed its offices in Paris and killed 12 people in retaliation for the magazine's depictions of the Prophet Muhammad.
It remained defiant immediately afterward, with its first cover after the attack featuring an image of the Muslim prophet in tears while holding a sign that stated "Je suis Charlie."
And its first cover after the November Paris attacks that killed 129 people featured the image of a man drinking as champagne flowed from his bullet-ridden body, accompanied by the phrase: "They have weapons… Fuck them, we have champagne!"
Later on Friday, in response to the reaction of its earthquake cover, Charlie Hebdo again doubled down, publishing a second cartoon on its Facebook page that states: "Italians, it is not Charlie Hebdo that built your homes, it's the mafia!"
It was quickly shared and commented on thousands of times.
An attorney for Charlie Hebdo told the AP he would not comment until he has been formally notified about the defamation complaint.