The Italian Prime Minister's New EU Adviser Compared The EU To Nazi Germany
Luciano Barra Caracciolo posted an image of an EU flag peeled back to reveal a Nazi flag underneath.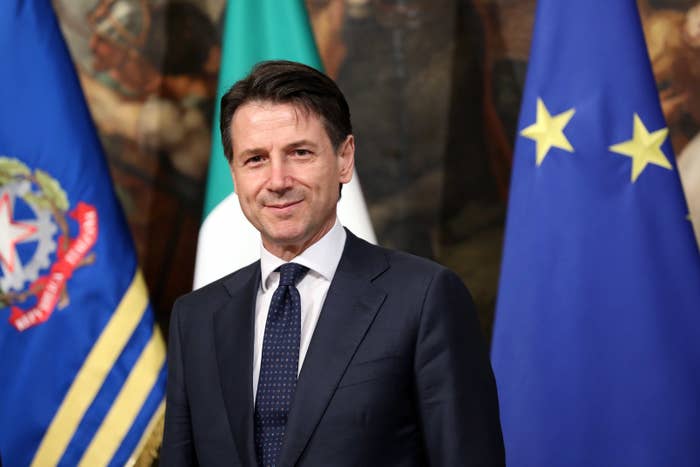 A recently appointed EU adviser to Italy's new prime minister, Giuseppe Conte, once compared the bloc to Nazi Germany and fascism.

In a blog post published in October 2014, Luciano Barra Caracciolo, who was named as Italy's undersecretary for EU affairs Tuesday, posted an image of an EU flag being peeled back to reveal a Nazi flag underneath.
Caracciolo, who as part of his role is set to become the prime minister's key adviser on EU affairs, is a jurist who has authored numerous books and papers on the incompatibility between EU treaties and Italy's constitution, and has argued for the country to exit the euro.
His appointment will add to concerns about the government's intentions around euro membership, as well as raise worries about the credentials of the new populist and nationalist coalition government led by Conte.
In his blog post from 2014, which is still live, Caracciolo compared the way the EU and the euro work to "Nazifascism," and other totalitarian regimes.
He argued that the EU is hollowing out democracy by taking control of nations through institutional means. This, he claimed, is in the pursuit of a so-called neo-liberist (an Italian phrase meaning ultra-capitalist) economic order that wants to enslave labor in the name of capital.

Caracciolo, 59, argued that fascism saw the convergence between state and capital, between politics and economics. After World War II, nations' constitutions were founded on labor, making any such capitalist-controlled order unconstitutional.
In Caracciolo's theory, the European Union and the euro are functional to liberists' economic models, and tactics to get round the constitutional restrictions of a nation state. That's his theory. (Nope, me neither.)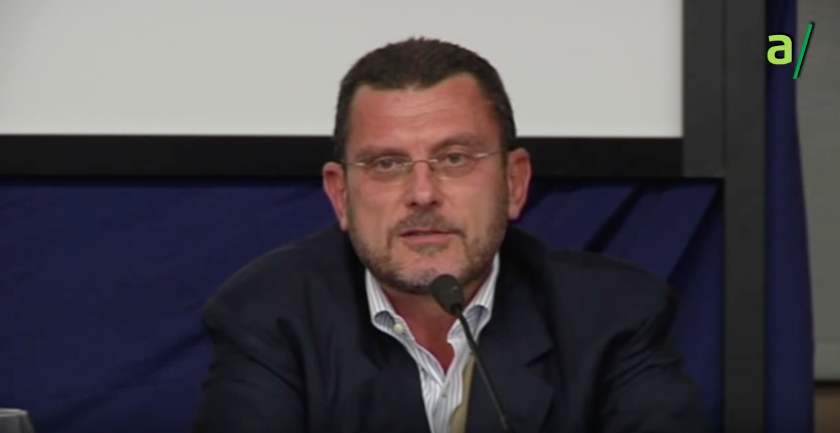 Italy is currently led by the most populist, antiestablishment, and nationalist government in Western Europe. A coalition between the nationalist Lega and the populist, antiestablishment Five Star Movement, led by Conte, a little-known law professor, took office at the beginning of the month after weeks of negotiations.
Italian President Sergio Mattarella, who, as part of his constitutional responsibilities, has to sign off on ministerial appointments, had vetoed the appointment of an 81-year-old professor called Paolo Savona as finance minister, fearing that the nomination could lead to Italy leaving the euro by the back door. The president's decision caused massive uproar within both parties. The Five Star Movement went as far as calling for Mattarella to be impeached, a measure reserved for acts of treason and assaults on the constitution.
The government was eventually formed after Lega and the Five Star Movement agreed on a different finance minister. Savona was made minister for European affairs.

The 2014 blog post is not the only time Caracciolo has made such allusions.

In the same year he tweeted that "reforms are needed" — a saying often used to caricature German EU policy — will become a phrase like "work sets you free" when the "new Nuremberg" takes place. ("Work sets you free" are the words inscribed at the entrance of Auschwitz and other Nazi concentration camps, while Nuremberg was the site of the postwar tribunals that put Nazis on trial.)
Caracciolo's Twitter feed is packed with anti-German sentiment and posts.

He also drew parallels between fascism and the EU more recently. In another blog post, published last year, he again compared the symbiotic relationship between state and capitalism to old fascism and "n€o-fascism."
A source close to Italian government circles told BuzzFeed News that the lens to best understand the new government is nationalism more so than euroscepticism. "The fact is that a band of nationalists has taken power."
BuzzFeed News has reached out to Caracciolo for comment.