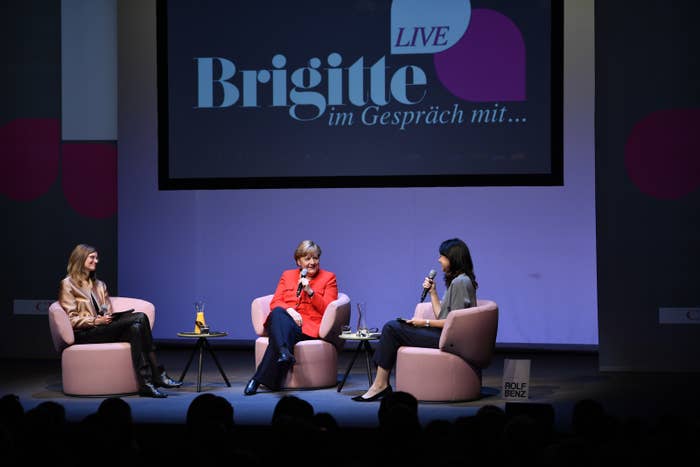 Germany's chancellor Angela Merkel has suggested that her Christian Democratic Union (CDU) party could drop its opposition to marriage equality and open the door to a free vote on same-sex marriage in the parliament.

"I would like to orient the discussion in a direction which raises the question of a decision according to conscience rather than imposing anything," Merkel told Brigitte, a women's magazine, on Monday night.

On Tuesday, German media reported that Merkel would allow a vote to take place without voting instructions for her CDU MPs – in effect allowing for a conscience vote. A vote in the German parliament could now be scheduled by the end of this week.
With all of Germany's other main parties — the Social Democrats (SPD), the Greens, and the Free Democratic Party (FDP) — in favor of marriage equality, the measure is expected to pass through the parliament.

The move is a significant shift for Merkel. In 2013, the chancellor said she had a "hard time" with the issue, and that she had "difficulties" with giving gay and lesbian couples the right to adopt. Her party went into that election opposed to equal marriage and same-sex adoptions over concerns for a child's wellbeing.
Merkel's move was welcomed by politicians across the country, including several from within the CDU. "Thank you Angela Merkel! How liberating! For me, we could vote this week!" one MP tweeted.
Earlier on Tuesday, the CDU said it would rather a vote took place after the election because parliament would be dissolved soon leaving insufficient time for a debate. But Martin Schulz, the leader of the SPD and the party's candidate to become chancellor, said his party would push for a vote this week.
A number of German commentators noted that Merkel's comment was a smart tactical move. The SPD, the FDP, and the Greens, with whom Merkel may have to negotiate to form a coalition after September's election, have all said that marriage equality would be one of the conditions to forming a government.

During Monday's interview, Merkel also commented on a number of nonpolitical issues, including why she was not very good at putting on a poker face. She has "given up" on trying, she said. "I simply can't do it — that was already my problem in school."

Germany introduced civil unions for gay and lesbian couples in 2001, but they do not have the right to marry. The CDU will present its election manifesto next week.