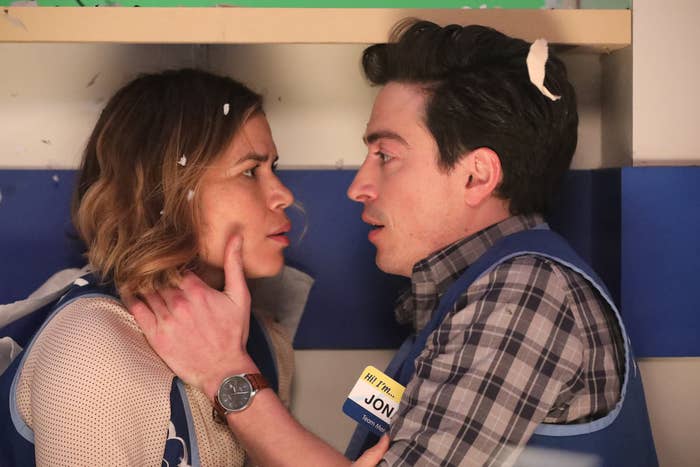 Superstore has always had a few important weapons in its arsenal. It stars America Ferrera, for one, and she's wonderful in everything she does. It's got a cast of characters who all seem to occupy their own zany universes, and the show has an interest in insightful conversations about important issues affecting the American working class. It also has the most valuable commodity of all: a will-they-or-won't-they romance between two people with killer chemistry, a cornerstone of the workplace comedy. From the very first episode, Superstore let us know that Amy (Ferrera) and Jonah (Ben Feldman) have a connection to watch. And with the Season 3 finale, which aired Thursday night, they're finally paying that off in a big, sexy, messy way.
The will-they-or-won't-they is one of the most enduring tropes in television for a reason. It's gripping in a way suspenseful spy dramas could never approach. The simple question of when or if two people will get their shit together and admit their feelings can serve as a nuclear reactor for a series: It can power the whole damn thing.
Think of some of the classics: Luke and Lorelai on Gilmore Girls; Jim and Pam on the US version of The Office, and Tim and Dawn on the UK version; Alicia and Will on The Good Wife; and Mulder and Scully on The X-Files. More recently, there's Dylan and Evie on Lovesick; Chidi and Eleanor on The Good Place; and Liza and Charles on Younger. A good will-they-or-won't-they — a desperation that builds over time — has an electricity that passes from the screen into you. Done right, a will-they-or-won't-they can eat your heart alive.
Superstore, for its part, has been torturing its audience for three seasons, albeit in a pretty fun way. Now, the time has come. The characters have taken a crucial step, even though we're still left dangling on a cliff, unclear about what will happen next.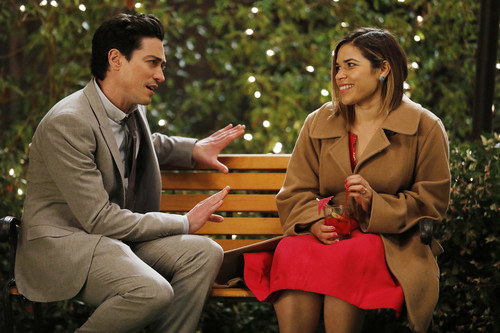 Amy and Jonah have been dancing around each other throughout Superstore's entire run, with staggered moments of release that just led to more frustration and unresolved tension. In the Season 2 finale, a tornado hit their store, and Amy grabbed Jonah, kissing him in a moment when she thought they were about to die. In Season 3, the writers gave Jonah a girlfriend (Kelly, played by Kelly Stables), so that when Amy finally admitted she had a crush on Jonah, it was too late. Amy and Jonah are classic examples of the will-they-or-won't-they at its most compelling: One zigs, the other zags, but the pining is constant even when the characters have no idea it's there.
Things stayed bottled up until the second half of this season when a video of their tornado kiss was played in front of all of their coworkers. Everything was out in the open, but Jonah was still in that relationship with Kelly. To complicate things further, a few episodes later Amy found out that she was pregnant after a one-night stand with her ex-husband. Swept up in emotion after that revelation, she kissed Jonah again — and then told him the news. In the season's penultimate episode, the two had their biggest fight yet, their feelings for each other tied up with a palpable frustration that those feelings had never panned out into anything more.
It's been a bumpy road for Amy and Jonah — and for the fans perched at the edge of their seats waiting to see if the writers would actually pay off years of tension. And for most of the season finale, they don't. The focus of the episode is elsewhere, on a town hall meeting being hosted at their store and broadcast live to Cloud 9 locations around the world. Amy and Jonah's fight and their kiss don't come to the foreground until the episode's final moments. When they do — and oh, they do — it's not a neat, tidy kind of culmination. Instead, it's a kiss that quickly spirals into a hookup. They undress each other, unaware that the cameras for the town hall have automatically switched back on. As Amy and Jonah have sex for the first time — the climax (heh) to three years of buildup — it's not just the audience watching, it's their coworkers and shoppers in Cloud 9 stores everywhere.
Amy and Jonah's hookup is hardly a guarantee that everything will be smooth sailing for them from here on out. If anything, the scene is confirmation that things are about to get more complicated. After all, she's pregnant by another man, and thousands of people just watched them have sex. Maybe they'll slide right from there into a loving relationship — or maybe they'll be as obstinate as they've always been and spin this incident into even more reasons they shouldn't be together. They might get fired, or they might live happily ever after. Regardless of where the writers take Season 4, there's no undoing this step.
Superstore's season finale is a reminder of what's so thrilling about the will-they-or-won't-they trope. Love and lust are messy, and will-they-or-won't-they arcs demand acknowledgment of that fact. Obstacles like timing and circumstance are the biggest villains in these relationships, and it's exhilarating to watch two people try to overcome them on the path to loving each other. And when the dam does break and the two characters decide to take the plunge, they might find themselves swimming upstream — especially when one of them's knocked up and the show has already been renewed for a fourth season.
Amy and Jonah have some obstacles in their way. But we're — uh, pardon the pun — over the hump now. These two people can no longer deny that they are very into each other. Now they just have to figure out what to do with that.