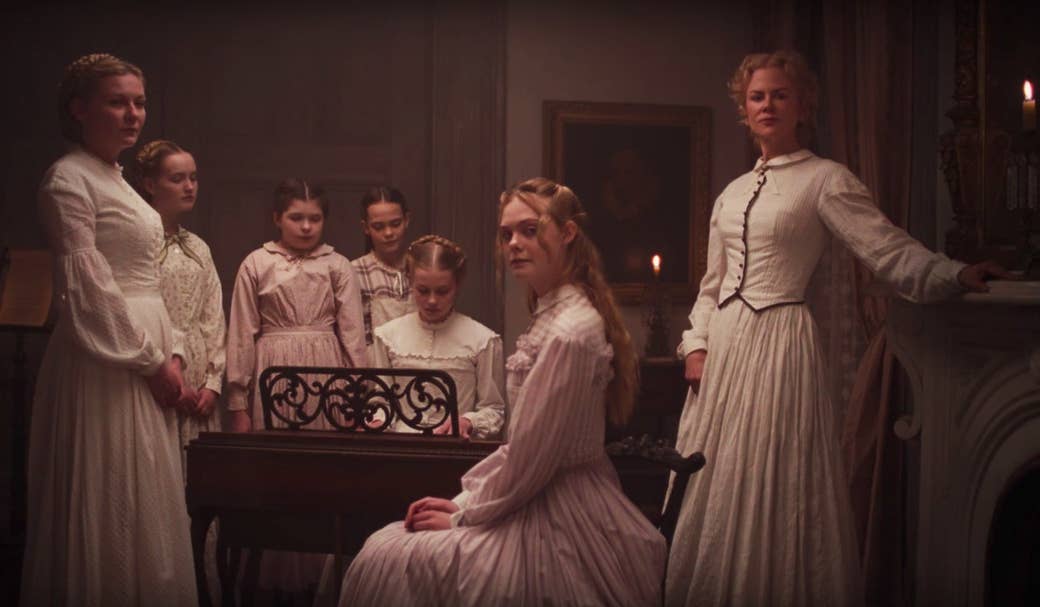 The Civil War–era South is present in every bit of Sofia Coppola's adaptation of The Beguiled. Cannon fire booms in the background, and Confederate soldiers march by the nearly abandoned all-girls school that acts as the film's setting. The property on which the Miss Martha Farnsworth Seminary sits is dusty, desolate. Miss Martha (Nicole Kidman) stands guard over the one teacher (Kirsten Dunst) and five young women who remain. Their chickens were stolen by soldiers. All the slaves once kept captive on the property are long gone. During one scene in the film's third act, Martha reminisces about her Southern life before the war: the parties, the gaiety, the booming social scene of a Southern belle in her prime.
It was precisely this interaction of desolation and Southern confederate femininity that drew Coppola to the project. "I really thought it was interesting because it was a group of women all living together, all different ages with different stages of maturity, and how they interact," Coppola recently told BuzzFeed News. "It's a group of women kind of isolated in the world."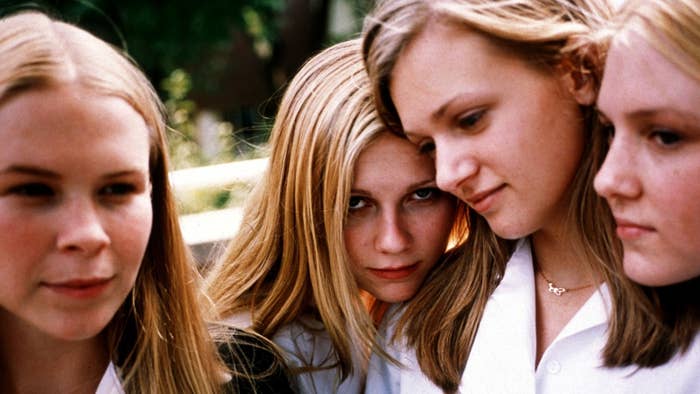 Half of Coppola's feature films have centered on ensembles of women and the particular dynamics that surround them: The Virgin Suicides (1999) follows a group of teenage sisters in a 1970s Detroit suburb who kill themselves, and the teen boys in their neighborhood obsessed with them; The Bling Ring (2013) follows a group of young women who steal from the Hollywood rich, and the media frenzy that ensues; and now The Beguiled follows a group of women left behind in the Civil War, and what the arrival of a man brings out in them. "I'm definitely attracted to stories about female characters, and characters that I can relate to," Coppola said. "I'm interested in stories of groups of women together."
The Beguiled, which was adapted from a 1966 Thomas Cullinan novel of the same name, was previously also a 1971 film directed by Don Siegel. In the book and both films, Union soldier John McBurney is injured in battle and reluctantly taken in by the women and girls of the school. The story follows the brutality and sexualized power games that accompany his stay.
The movie was shot outside New Orleans, at the same plantation house where Beyoncé's Lemonade was filmed. Production began in the fall of 2016, and Coppola said the setting came with "a lot of Trump signs." "The election happened while we were filming, so that was really a mess," the filmmaker said. The 2016 presidential campaign brought issues of sexism and racism to a fever pitch of constant discussion. "When I started working on the script, it was a couple of years ago, and I was just interested in the power dynamics," Coppola said. "And then when we were filming and that was going on, it definitely resonated."
Now, Coppola's movie set in the last days of the Confederacy is opening in a time of heated debate — and protest — around the modern place of confederate monuments. The filmmaker said she "wasn't really looking at the political aspects" of the Confederacy as she was writing and directing The Beguiled. "At the heart of the story, it's really about the power dynamics between men and women that are universal, but that are sort of heightened in this kind of premise," she said.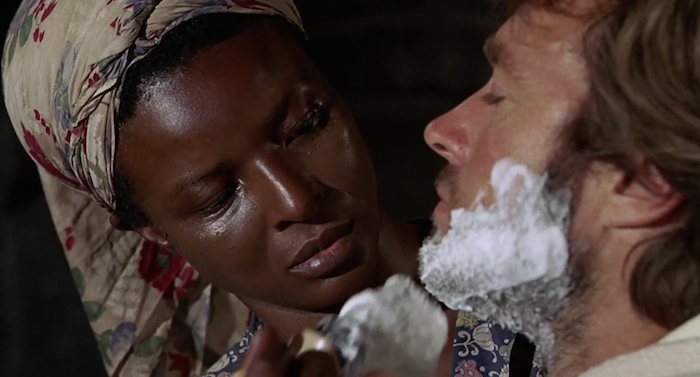 In the 1971 version of The Beguiled, a slave named Hallie (Mae Mercer) is tasked with caring for McBurney (Clint Eastwood) as he heals. In the 2017 version — with McBurney now played by Colin Farrell — many of those scenes are transferred over to Martha, and Hallie does not appear.
"I didn't want to brush over such an important topic in a light way," Coppola told BuzzFeed News in an emailed statement of her decision to not include the character. "Young girls watch my films and this was not the depiction of an African-American character I would want to show them."
It's a storytelling choice many on social media have criticized. "Of course I understand that that would be brought up," Coppola said in her interview with BuzzFeed News. "I was clear about my decision — because I want to be respectful to that history."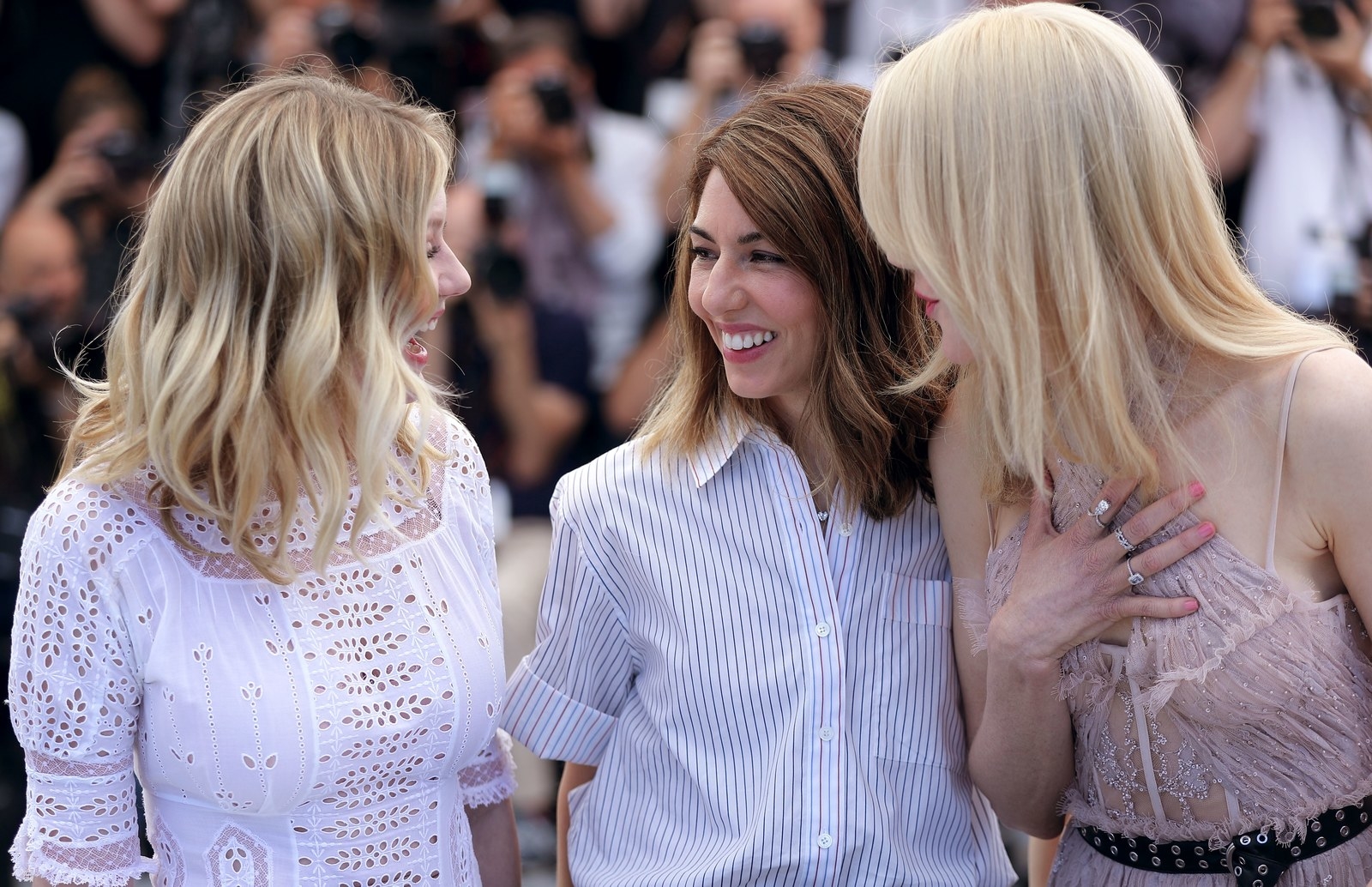 When asked if Hallie's presence might have altered the tenor of The Beguiled's explorations of womanhood and girlhood, Coppola said, "I feel like you can't show everyone's perspective in a story. I was really focused on just this one group of women who were really isolated and weren't prepared. A lot of slaves had left at that time, so they were really— that emphasized that they were cut off from the world. [Hallie's] story's a really interesting story, but it's a whole other story, so I was really focused on these women."
The casts of Coppola's six feature films so far — including The Virgin Suicides, Marie Antoinette, and The Bling Ring — have been almost entirely white. But Coppola said she's more than open to changing that. "I would love to have a more racially diverse cast whenever I can," she said. "It didn't work for this story, but of course I'm very open to stories about many different experiences and points of view."
I wanted to tell the story of the isolation of these women, cut off from the world and in denial of a changing world. I also focused on how they deal with repression and desire when a man comes in to their abandoned world, and how this situation affects each of them, being at different stages of their life and development. I thought there were universal themes, about desire and male and female power dynamics that could relate to all women.The circumstances in which the women in my story find themselves are historically accurate—and not a distortion of history, as some have claimed.

From "Mothers of Invention" by Drew Gilpin Faust: "War and emancipation revealed that many white women felt themselves entirely ignorant about how to perform basic functions of everyday life…A war that had at the outset made so many women feel useless and irrelevant soon demanded significant labor and sacrifice from even the most privileged southern females…"

Throughout the film, we see students and teachers trying to hold on to their crumbling way of life. Eventually, they even lock themselves up and sever all ties to the outside world in order to perpetuate a reality that has only become a fantasy. My intentions in choosing to make a film in this world were not to celebrate a way of life whose time was over, but rather to explore the high cost of denial and repression.

In his 1966 novel, Thomas Cullinan made the choice to include a slave, Mattie, as a side-character. He wrote in his idea of Mattie's voice, and she is the only one who doesn't speak proper English—her voice is not even grammatically transcribed.

I did not want to perpetuate an objectionable stereotype where facts and history supported my choice of setting the story of these white women in complete isolation, after the slaves had escaped. Moreover, I felt that to treat slavery as a side-plot would be insulting.There are many examples of how slaves have been appropriated and "given a voice" by white artists. Rather than an act of denial, my decision of not including Mattie in the film comes from respect.

Some have said that it is not responsible to make a film set during the Civil War and not deal directly with slavery and feature slave characters. I did not think so in preparing this film, but have been thinking about this and will continue to do so. But it has been disheartening to hear my artistic choices, grounded in historical facts, being characterized as insensitive when my intention was the opposite.

I sincerely hope this discussion brings attention to the industry for the need for more films from the voices of filmmakers of color and to include more points of views and histories.