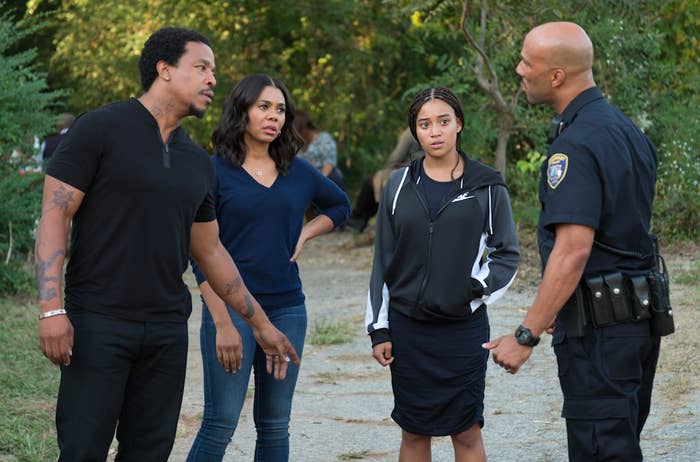 The Hate U Give opens with a shot of a family at a table in the middle of a tense moment. The three young kids stare down at the table. Their mother, Lisa (Regina Hall), sits holding Sekani, the youngest child. Their father, Maverick (Russell Hornsby), places his hands on the table in a demonstration of what the kids should do if they're ever pulled over by a cop. "When it happens, don't get mad," Maverick says. "You gotta look calm. Answer their questions, but don't tell them nothing extra. Keep your hands out your pockets; you drop something, you leave that shit where it's at." Maverick ("Mav") is giving his children "the talk," a rite of passage for so many black kids growing up in the United States, who need to learn how their bodies are going to be a source of racist contention to those around them.
The scene is a fitting opening for The Hate U Give, a film based on Angie Thomas's novel that was inspired by the Black Lives Matter movement. It's also when you realize, about 30 seconds into the film, that Hornsby is delivering the performance of a lifetime — one that already has people talking about his work being worthy of an Oscar nomination.
"What I ended up doing was going and purging my tears, and then coming back in order to be strong for those young kids in that moment as an actor."
The scene is what first drew Hornsby to the project. He wanted the chance to portray the multifaceted father who guides his daughter, Starr (Amandla Stenberg), and the rest of the family through hard times after Starr witnesses a cop killing her childhood best friend, Khalil (Algee Smith). But it was that opening moment that let him know The Hate U Give was special. "I read that, and I thought that if we see this in the film, if this makes it to the screen, I know we have something," Hornsby told BuzzFeed News.

When it came time to film that scene, though, Hornsby found himself overwhelmed by the tragic necessity of the talk, and the fact that real-life black kids have to sit through explanations of racism they'll almost certainly face at some point in their lives. The kids in the scene are strikingly young, which only serves to underline how much of a violation racism is to people's childhoods. Before director George Tillman Jr. called action, Hornsby had to retreat from set to gather himself. "Having two young boys in my home, I know that this is going to be a conversation that I'm eventually going to have to have with them," he said. "It was just palpable before we started to shoot. So what I ended up doing was going and purging my tears, and then coming back in order to be strong for those young kids in that moment as an actor, as a father figure, as an example to them."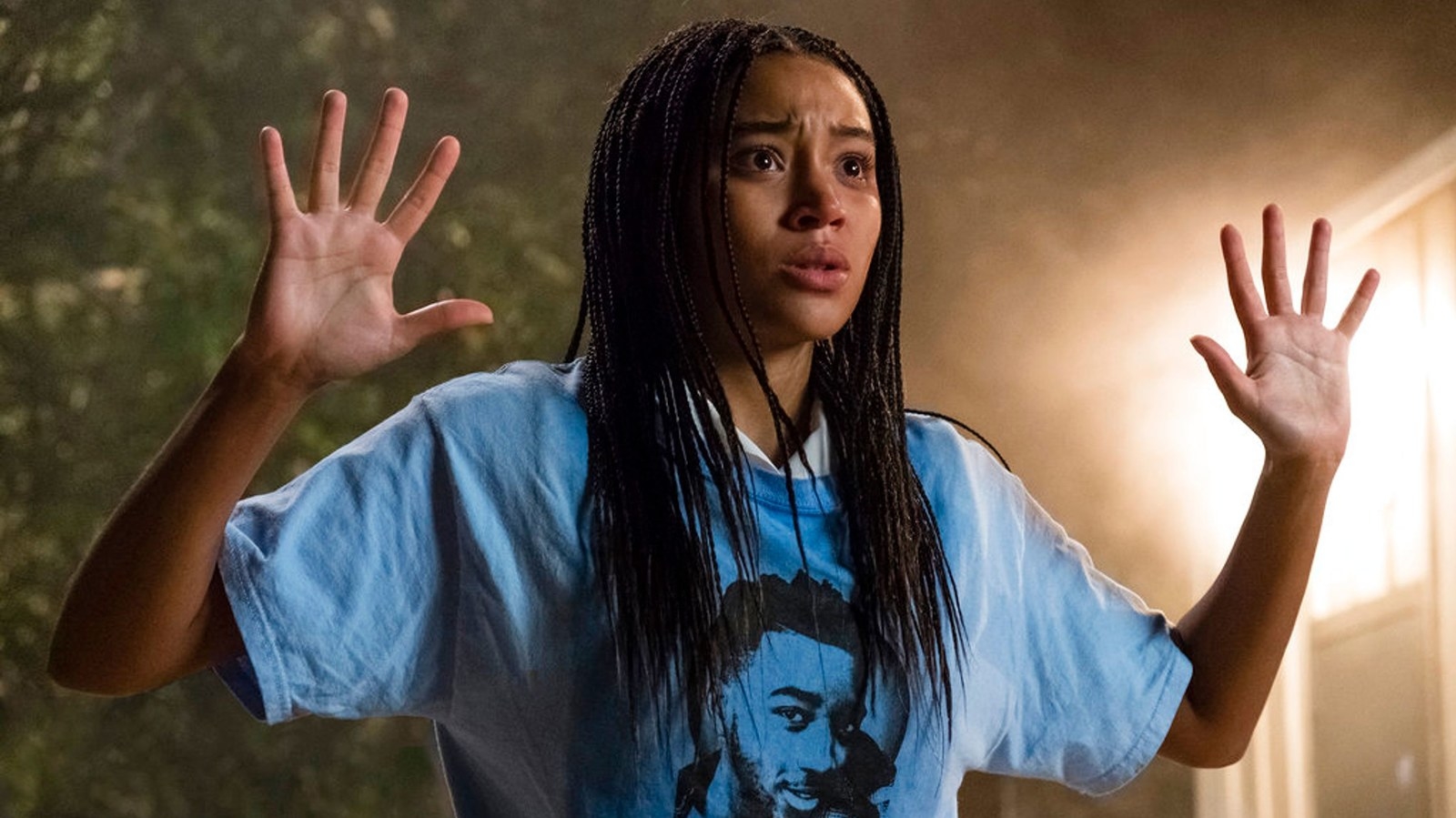 The content of that talk becomes crucial to Starr when, a few years later, she and Khalil get pulled over by a cop while they're coming home from a party. Khalil is killed while reaching for a hairbrush. His murder becomes the catalyst for protests and national debate around police brutality, all while Starr is in an understandable state of shock. For much of the film she can't decide whether to come forward as the witness to Khalil's death. She knows that if she does speak up about what she saw, she may be putting herself and her family in danger. Starr is afraid that the kids at her predominantly white school may turn on her, or that speaking candidly about Khalil's life — which included dealing drugs for a local gang — will attract unfavorable attention from the gang leader, King (Anthony Mackie).
As Starr navigates her grief and anger, her biggest support comes from her parents. Lisa is steadfast but firm, determined to keep her daughter's life going — through school, good grades, and the prom — even as their lives catch fire. Lisa's also set on moving the family out of their low-income neighborhood of Garden Heights, especially after King decides Starr has been talking too much.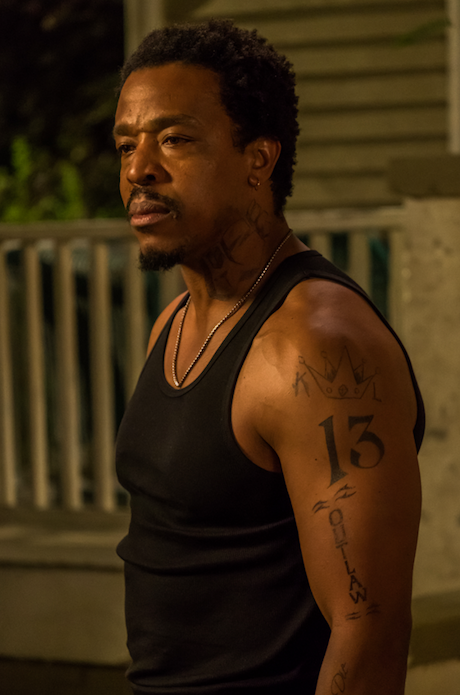 Mav pushes back on the idea of leaving. A grocery store owner who previously served time for involvement in that same gang, Mav is a man devoted to his community and to black American history. He makes his children memorize and recite the Black Panther Party's 10-Point Program so that he knows they understand the resilience and work tied to their heritage. And when Starr wakes up from PTSD nightmares brought on by Khalil's murder, he's already sitting in a chair right next to her bed, comforting her with a deep understanding of the trauma his daughter is going through.
"He's a believer in his people, and in what they're capable of," Hornsby said. "He's a believer in the unity of a community, and what a community can do if it pools its resources together and creates a collective consciousness."
Hornsby's is a tender and tough performance simultaneously. In Mav, The Hate U Give presents a character who challenges stereotypes of black ex-convicts in low-income communities, and who models a type of complex, warm black father not often given such a prominent role in media. "We are not a monolith," Hornsby said. He has played fathers before — in Lincoln Heights, his character was a police officer concerned for his family, and in Seven Seconds, he played a dad grieving the loss of his child — and he says it's been a privilege to get to play three such different examples of black fatherhood onscreen. Hornsby saw Mav as a man who "understands the dynamics of the world, the country, and society, and how it is against us." The character's struggle, though, lies in how to communicate those realities to his children without robbing more of their childhoods than society's violence already has. "How do you teach your children that?" Hornsby asked.
It's the kind of performance where you can sense a whole world and history inside of a character even when they're not saying a word.
The actor took the craft of bringing Mav to life very seriously. Before The Hate U Give started filming, Hornsby said, he essentially sequestered himself in his own home for a month to get into Mav's head. He wanted to give himself "an idea, a semblance of a moment of incarceration." During that time he read a lot, listened to music, talked to himself, and used every moment to build out his interpretation of Mav. "When I was going to get something to eat, I was discovering his walk. I was discovering his vocal quality, I was discovering his sensibility, and how he stands," Hornsby said. He took inspiration from Daniel Day-Lewis, Jeffrey Wright, Denzel Washington, and Don Cheadle, other actors who take very active roles in building out their characters physically and mentally.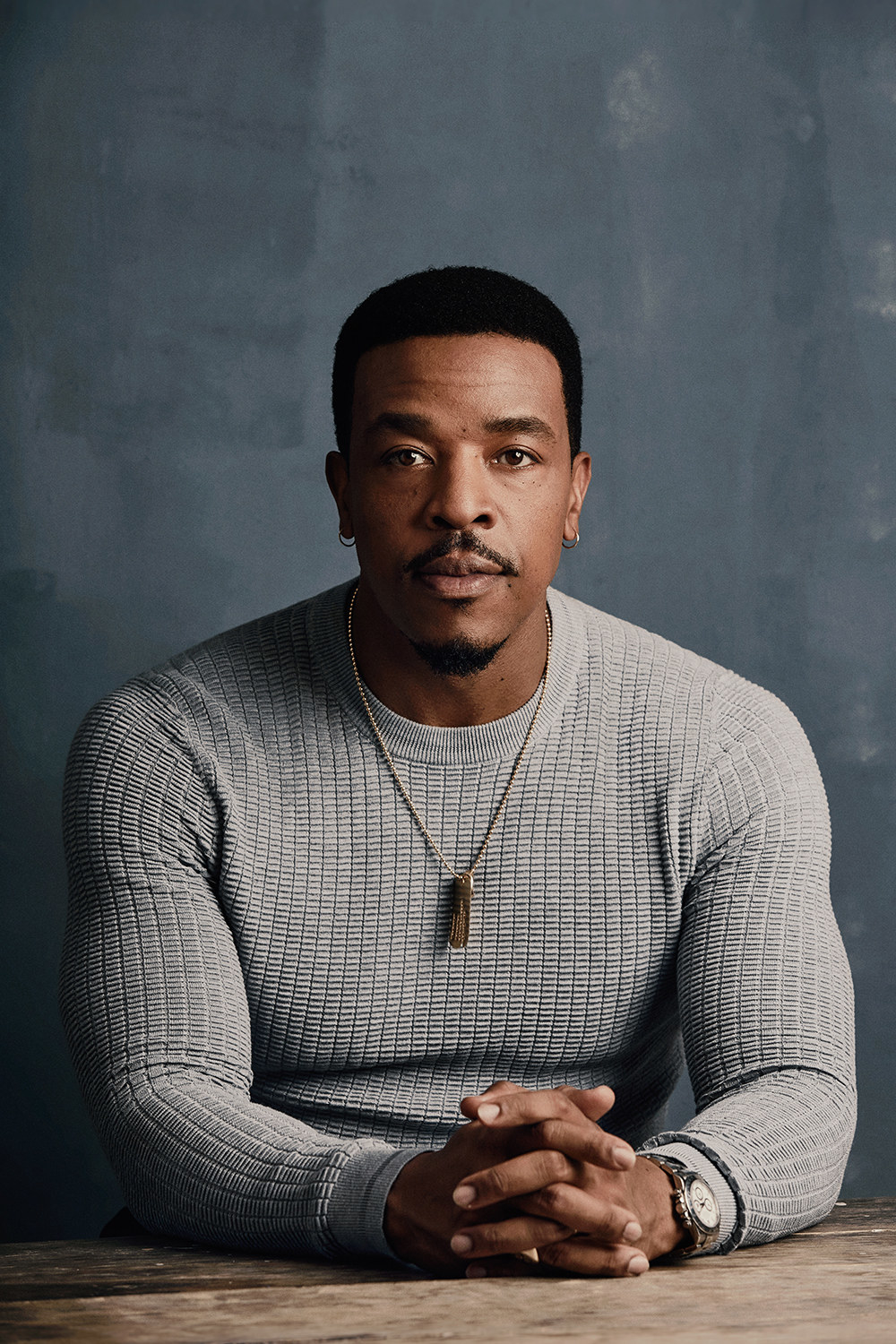 The result is a performance that is layered and stunning. The Hate U Give is a skillfully constructed film in many ways, with deft performances throughout the cast. Hornsby, though, is the standout, and he'll leave you thinking about Mav long after you've left the theater. It's the kind of performance where you can sense a whole world and history inside of a character even when they're not saying a word.
The Hate U Give has not quite broken through as an Oscars favorite yet, but Hornsby himself is optimistic that 20th Century Fox, which is distributing the film, will give it an Oscars push. A representative for Fox confirmed that they're planning on an Oscars campaign, while noting that they don't have any details beyond that to share yet. "I think the film is deserving; I think the work is deserving," he said.
But Hornsby also believes that getting The Hate U Give to the Oscars will require that Hollywood looks at it as more than an issues movie. "In order for it to draw that necessary edge, for people to look at it as more than a Black Lives Matter story, people will need to look at these performances in their proper contexts," he said. "It could be played off as a hood tale, but people need to see it as a well-told, well-crafted story with beautifully created and crafted characters."