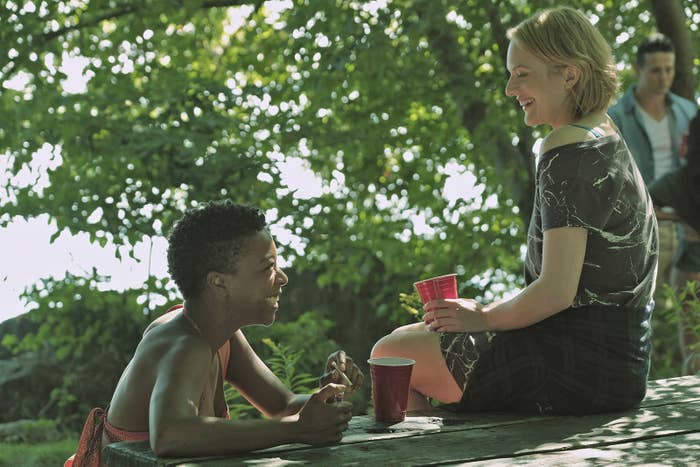 The Handmaid's Tale premiered just in time. When it hit Hulu in April, it cut through the noise of peak TV, a searing reflection of the same unsettling themes that had taken center stage in US politics throughout the 2016 election and the inauguration of President Donald Trump. It packed a punch: The series was visceral and horrifying, with women's agency as the show's driving theme — and how easily that could be taken away — as its central parable. And despite a brief debate among the cast, when the show came out, The Handmaid's Tale was defined, lauded, and sold as a relevant feminist story. Given the legacy of the Margaret Atwood novel it was based on, the characterization was inevitable.

In many ways, The Bold Type was The Handmaid's Tale's opposite. Freeform's freshman show about a trio of young women working for a Cosmo proxy in Manhattan, it was glossed to high heaven where Handmaid's Tale was bleak and desperate. It was a breezy escape where Handmaid's was a terrifying reminder — but in 2017, the two shows were not entirely dissimilar. Both were transfixing in a unique way. In a year defined by political chaos and an unrelenting, sometimes brutal, news cycle, both shows provided cathartic engagement with some of that cycle's themes, especially where women were concerned. The Handmaid's Tale did that through its setting in a deeply misogynist totalitarian future. The Bold Type did it by centering its character's jobs on that exact news cycle and its messages. But both benefited from buzz surrounding their so-called feminist takes.
Still, both shows were also less than bold in one respect: Their approach to how race affects the very gender dynamics they traded in. As a result, their first seasons fell short of their own potential.
Hollywood's struggles with inclusion are well-documented. They've resulted in campaigns against the whiteness of the Oscars, in whitewashed box office bombs, and in quote after quote (after quote) of frustrated women in the industry declaring the urgent need for progress. Still, 80% of TV showrunners are male and 91% are white, according to a 2017 study by Color of Change. Looking at the findings, 86% of TV writers are white, and 69% of shows run by white producers don't have even a single black writer.

For its first season, The Handmaid's Tale had nine writers, including creator Bruce Miller, a white man. Of those writers, six were women, and only one appears like they might identify as a woman of color. (BuzzFeed News has reached out to their rep to clarify their identification, and has not yet received a response.) The Bold Type, meanwhile, had seven writers in Season 1, including creator Sarah Watson, a white woman. Four of the writers on the show were women; none appear to be women of color.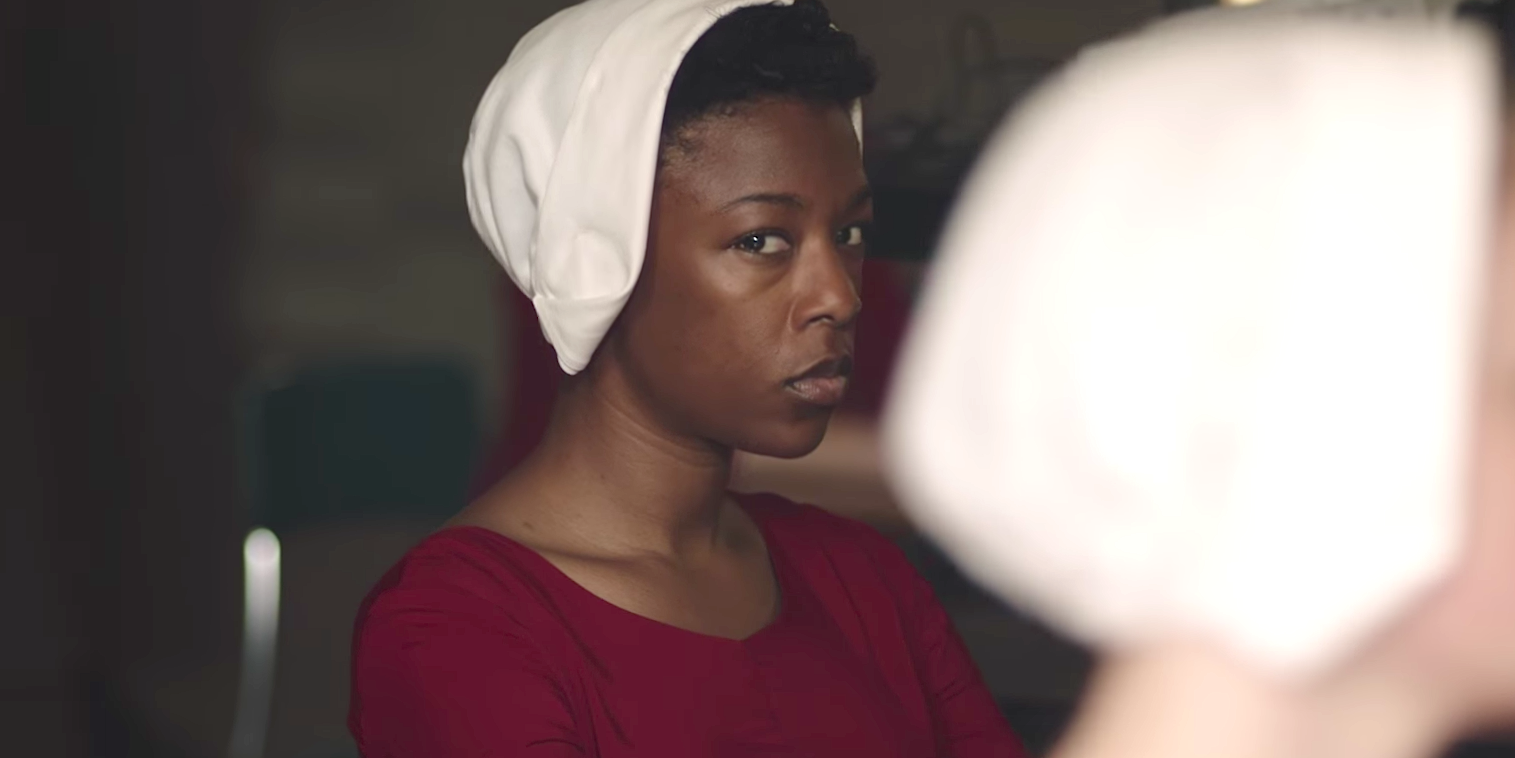 The Handmaid's Tale tells the story of a not-too-distant future, in which the United States has been taken over by Christian fundamentalists after a global reproductive crisis. In this new regime, everyone has been assigned a place in a strict caste system, with women in subservient roles. The main character, June — known in her position as "Offred," and played by Elisabeth Moss — is a "handmaid" whose new existence revolves around being impregnated by her "commander" (Joseph Fiennes). If she doesn't succeed, she'll be traded to another man to try again. If she proves to be infertile, she'll likely be killed.
We follow June most closely, but we see the experience of other handmaids as well, including that of Emily, a handmaid June meets in her new life, and Moira, June's longtime best friend. Both are queer women who would be marked under the new regime of Gilead as "gender traitors." Moira is played by Samira Wiley, who is a black woman; Emily is played by Alexis Bledel, a white Latina. In the first season, Emily's storyline explores the danger of being a queer woman in this new system, when she's taken into custody for an affair with another woman. In a truly horrifying scene, the other woman is hanged. In another, Emily is genitally mutilated, her clitoris removed. It's a stirring story — and one that scored Bledel an Emmy for Outstanding Guest Actress in a Drama.
Moira's queerness, and her blackness, are much less explored in the series' first season. A feminist activist in her life before Gilead's takeover, she, like June, is kidnapped from her old life to be a handmaid. She and June reunite during training for their new roles at a place called the Red Center, and Moira is desperate to escape the handmaid's fate of monthly, ritual rape. And escape she does, though she is caught and reassigned to Jezebel's, a secret sex club where all the women are forced to sexually service the regime's most powerful men.
Sidestepping the impact race has on those characters is a tricky move to pull off, and pull it off The Handmaid's Tale did not.
This skirting of Moira's identity was largely by design. Miller has spoken to the fact that he cast the show with more people of color than were in the original, all-white book. "I don't think there's any difference in appearance between making a TV show about racists to making a racist TV show," he told Think Progress. "It may intellectually be different, but it doesn't look any different on television." He also discussed his call not to include racial dynamics in the first season of the series at all. "When you're dealing with politics and power and religion and misogyny at this kind of level, to throw in race relations seems like a little too much to chew off in one narrative setting," he told BuzzFeed News' Kate Aurthur. "Fertility trumps everything."
Yet The Handmaid's Tale benefited from the inclusion of people of color onscreen. On top of Moira, there's also June's husband, Luke (O-T Fagbenle), and her daughter, Hannah (Jordana Blake), among others. Three of the characters of color are the most important people in June's life. And in a series that used a resemblance to the modern US to chill its audience to the bone, those casting choices were necessary. But employing a more racially diverse cast while actively sidestepping the impact race has on those characters is a tricky move to pull off, and pull it off The Handmaid's Tale did not.
Moira's experience, though played deftly by Wiley, skimmed the surface in Handmaid's Tale's first season. Moira's driving ambition is to escape, but the potential in her desperation to flee is never fully realized. Of course she'd want to escape — that's a common sentiment in such an oppressive environment. But the show doesn't acknowledge how Moira (or Luke, or Hannah) might be experiencing this regime differently as a result of their race. As Angelica Bastien noted in Vulture, the US has a literal, real-world history of sterilizing Mexican, Mexican-American, and black women against their will — a context that's certainly relevant to Handmaid's Tale's reproductive focus.
Then there's the reality of slavery, a history rife with constant sexual assault — and one that could readily explain why a black feminist activist would be railing harder than her white best friend against a system trying to enslave her and violate her body. And chattel slavery did come up in the Handmaid's Tale writer's room, according to Miller. But they appear to have employed it as inspiration for the handmaid system as a whole, not as part of any black character's perspective in particular.
The world of Gilead shares much of the United States's history. But there's no mention of that context when it comes to characters of color. There's not even a hint. And the idea that these things wouldn't factor into the equation was a baffling one for many critics and viewers.
It's also a shortcoming that Miller eventually admitted to. "I've been fascinated by the conversations about race," Miller told Inverse back in June. "...The thoughtful conversations online really inspired a lot of thoughtful conversations in the writers' room about this." He updated Indiewire more recently, saying in December that the writers were thinking of ways to incorporate issues of race into the show's second season. "I think we, like any other show, missed lots of opportunities," he said.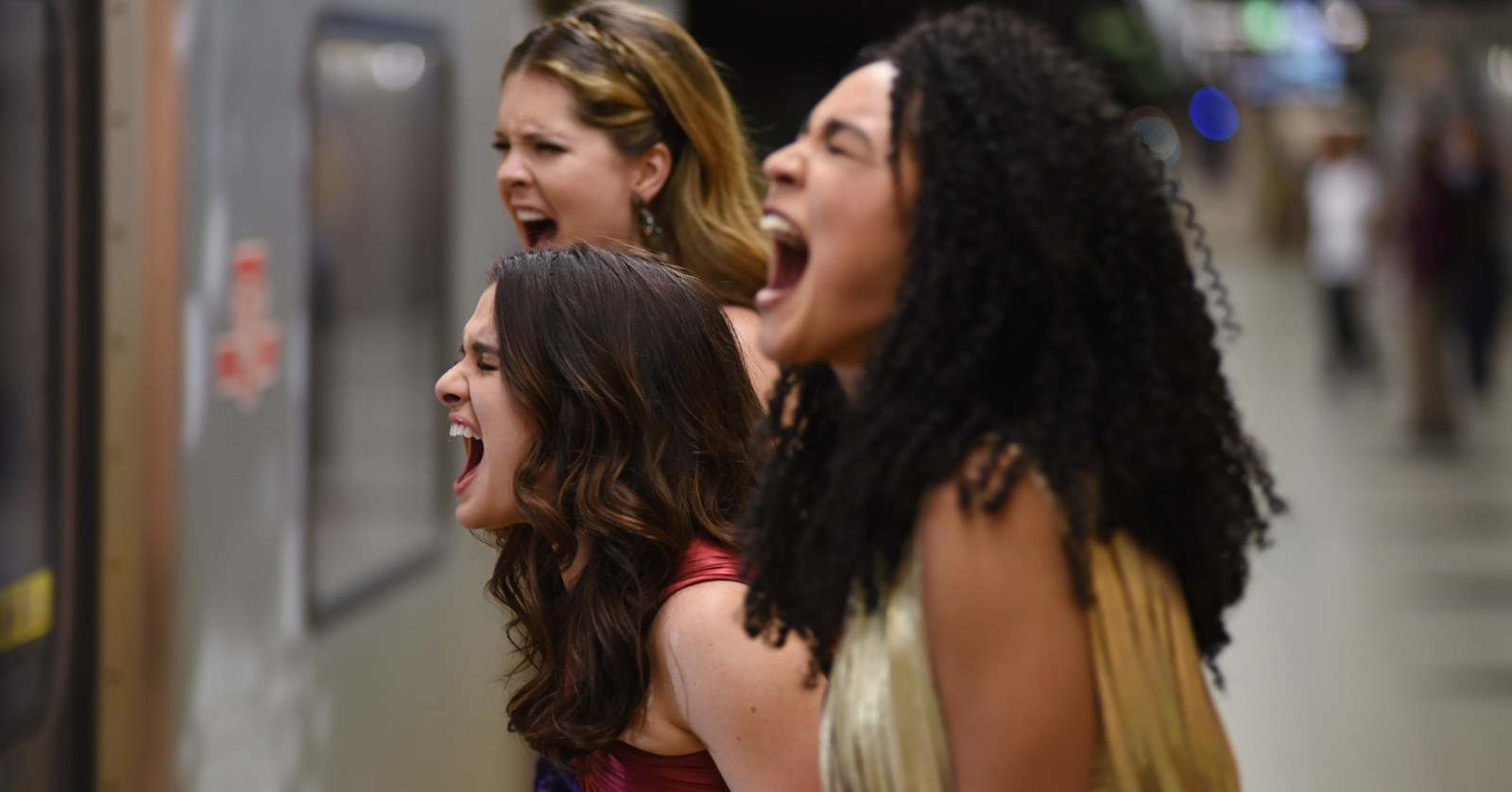 The Bold Type is centered on three millennial friends working at the fictional Scarlet Magazine. Kat (Aisha Dee) is a social media director exploring her sexuality and always looking for the best use of Scarlet's voice; Sutton (Meghann Fahy) is an assistant trying to work her way onto the magazine's fashion team; Jane (Katie Stevens) is a writer chasing stories with a feminist bent. The three are best friends, and the show itself is breezy viewing with an emphasis on girl power. Buzz around the series rose up immediately and defined it, unlike The Handmaid's Tale, as the type of show you watch to feel good.
In its first season, the credit for that buzz was given to a number of factors. Chief among them was the show's representation of a queer will-they-won't-they between two women of color, Kat and Adena. The latter is played wonderfully by Nikohl Boosheri, and her character has been lauded for what is still a rare representation of a queer Muslim woman on TV. There was also the dialogue, through which The Bold Type made frequent nods to current, ongoing conversations about modern feminism. The show was comforting, and felt like it cared about engaging with the larger issues. It was also all wrapped up in a glossy package of pretty clothes and ridiculous apartments, one step removed from the grit of real life even as it released its own spins on real-life news.
Throughout so many conversations about the female experience in the editorial world, Kat's perspective as a black woman never comes up.
Similarly to Handmaid's Tale, though, the show's main character of color — this time Kat, also a black woman — virtually never engages with her ethnicity. Throughout so many conversations about the female experience in the editorial world, Kat's perspective as a black woman never comes up.
In one particularly galling case, Kat and Adena are confronted by the police on the street. Adena, a Muslim immigrant hoping to extend her visa and stay in the US, flees the scene in fear. Kat is cuffed and arrested, and feels betrayed by Adena's abandonment. In a resulting argument, the show acknowledges Adena's cultural context while ignoring Kat's. "You have a choice," Adena said. "But I'm a Muslim lesbian living in today's America. My choices are very limited." There's no mention of Kat's status as a queer black woman, who might also have reason to fear police. This is a show that routinely demonstrates that its writers and characters are paying attention to the news. Yet here, they have left out a key aspect of one of their main character's identities. They seem to have forgotten the context that Kat exists in, of a long and ongoing history of black people killed by police, many dying in custody. In a later scene, Kat's white boss, Jacqueline (Melora Hardin), explains to Kat why Adena might have felt trepidation around the cops. "We were in the right," Kat said. "I wish that's all that mattered," Jacqueline replied.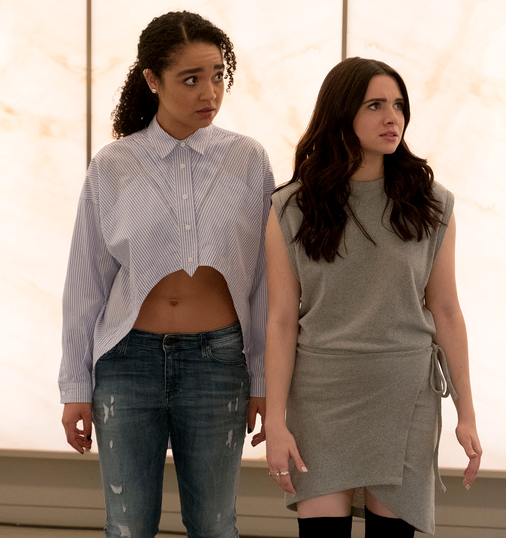 It's a story that raised eyebrows for many on social media. "Can the writers of the bold type stop having adena tell kat she doesn't get how dangerous dealing w the police is when she's a black woman," Twitter user @coldeserts tweeted in August. "@boldtypewriters I feel as a Black woman, Kat would know abt police corruption? Also would be more worried as a BW abt being arrested?" viewer @NicoleC_talks tweeted. As @mjgchick tweeted, "The Bold Type needs to do better in remembering that Kat is a black woman in Trumps america." Soon after the episode aired in July, the official Twitter account for the show's writer's room noted the reaction. "We hear you," they wrote to one viewer. "With more episodes, perhaps we will be able to revisit this topic," they wrote to another. "Hope so."
In 2017, we seem to have left these two shows on a cliffhanger. The Handmaid's Tale has been renewed for a second season; The Bold Type has been renewed for both second and third seasons. And both shows still have very affectionate fanbases — ones devoted to the characters and women-centric storytelling that their first seasons put into action. They have, presumably, bright futures ahead of them.
But both shows are also at a crossroads. Both Handmaid's Tale and The Bold Type had a severe deficit of women of color in their writer's rooms, even as they told stories about the power of women's voices. And both have copped to mistakes in their first seasons regarding either major black characters or their dealings with race as a whole.
Handmaid's Tale, for its part, is employing at least one more woman of color in their writer's room for Season 2, according to a list of the season's writers Hulu sent to BuzzFeed News. The full list of writers for The Bold Type's second season is not yet public, but they already have a new showrunner: Amanda Lasher, who worked with Dee on the gone-too-soon Sweet/Vicious. She, like Watson, is a white woman., But with new leadership comes hope that some of the first season's pitfalls could be ironed out. A source close to the situation tells BuzzFeed News that more diverse writers have been added to the room for Season 2.
Neither of these shows are lost causes in the realm of racial representation. In both cases, a more thoughtful approach to the full context of their character's identities would go a long way. Every character — including the white ones — experiences their lives differently based on their gender, their race, their sexuality, and all the places where those parts of themselves overlap. For two shows marketing their shows to feminists, both The Bold Type and The Handmaid's Tale have a few lessons left to learn about thinking intersectionally. And if they succeed in evolving, maybe these shows could even serve as an example to the industry: something to show that challenging your own blind spots can deepen your storytelling and connection to your audience.
Lasher, Miller, and their respective writer's rooms have some work left to do. But it's worthwhile work — work that could genuinely deepen the stories they are telling. Work that could make someone watching, somewhere, feel more seen.
CORRECTION
The show starring Elisabeth Moss is called The Handmaid's Tale. A previous version of this post misstated its name.