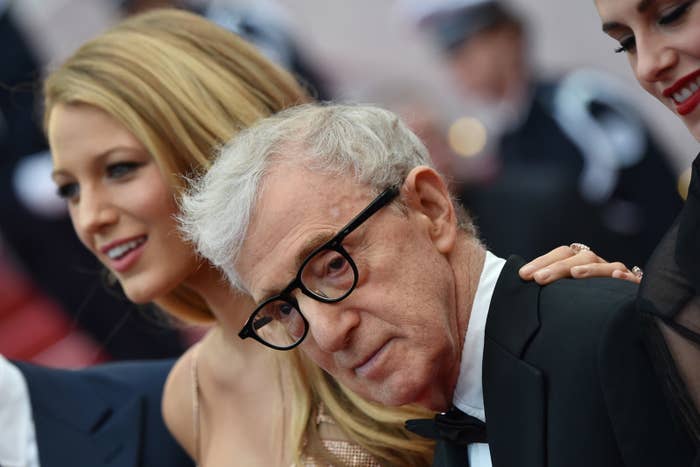 At the Golden Globes on Jan. 7, almost every actor showed up dressed in black. The dress code was established by the new anti-harassment initiative Time's Up, and was meant to demonstrate solidarity with efforts to establish gender parity and accountability in Hollywood. It was just one of many public shows of support following the allegations against Harvey Weinstein last October that opened the floodgates on stories of sexual misconduct in Hollywood and beyond. But there was an elephant in the room at the Globes — the perceived acceptance many in Hollywood continue to have for Woody Allen. Allen's daughter, Dylan Farrow, has has long alleged that he molested her when she was a child; Allen has long denied the allegations. Through it all, Hollywood's biggest stars have continued to work with the film giant.
"I fully support women taking a stand, linking arms with other women (and men), advocating on behalf of one another to effect change not only in the entertainment industry but in the world at large," Farrow said in a statement to BuzzFeed News. "That is an admirable and worthwhile objective, I hope these women change the world. That said, the people who join this movement without taking any kind of personal accountability for the ways in which their own words and decisions have helped to perpetuate the culture they are fighting against, that's hard for me to reconcile."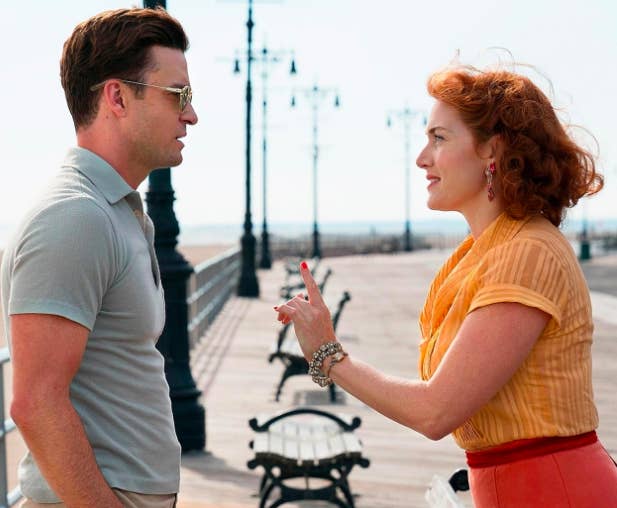 When Time's Up launched on Jan. 1 via a letter published in multiple major newspapers, it proclaimed that "Time's up on silence. Time's up on waiting. Time's up tolerating discrimination, harassment, and abuse." The letter was signed by 300 women in Hollywood, from powerful actors (Jennifer Lopez, Reese Witherspoon, Meryl Streep, Gabrielle Union), to directors (Ava DuVernay, Dee Rees), to agents, publicists, lawyers, and costume designers. The initiative, which claims leaderlessness, includes a legal defense fund for women in and outside of Hollywood seeking justice in cases of harassment and abuse.
Among those who signed the initial Time's Up letter were Blake Lively, Emma Stone, Scarlett Johansson, Cate Blanchett, and Greta Gerwig, all of whom have worked with Allen within the past decade. They all donated to the legal fund, too, as did Justin Timberlake, who stars in Allen's most recent film, Wonder Wheel. Almost all of them have also spoken out against abuse as the #MeToo movement's risen to prominence, even before Time's Up launched.
"It's important that women are furious right now," Lively told the Hollywood Reporter in October after the New York Times and the New Yorker broke the Weinstein stories. "It's important that there is an uprising. It's important that we don't stand for this and that we don't focus on one or two or three or four stories, it's important that we focus on humanity in general and say, 'This is unacceptable.'" This came a year and a half after Lively starred in Allen's Café Society. When asked about the allegations that he'd molested Farrow as a child, she said, "It's amazing what Woody has written for women," adding, "It's very dangerous to factor in things you don't know anything about. I could [only] know my experience. And my experience with Woody is he's empowering to women." A representative for Lively did not respond to multiple requests for comment.
When Time's Up's letter was published, Timberlake tweeted his support: "No more accepting sexual harassment and inequality at work as normal. It's NOT normal. #TIMESUP"
Farrow directly addressed Lively and Timberlake in her statement, saying, "I struggle to understand how a woman who believes Woody Allen is 'empowering to women' can claim the role as an advocate for women suffering from sexual harassment. I struggle with how a powerful force like Justin Timberlake can claim to be in awe of the strength of women and stand with them at this #MeToo moment and then in the next breath say that working with Woody Allen is a 'dream come true.'"

Timberlake made the latter statement during an appearance on The Late Show with Stephen Colbert. His Wonder Wheel costar Kate Winslet has made similar statements, saying that "on some level Woody is a woman." About the allegations, she told the New York Times that "of course one thinks about it. But at the same time, I didn't know Woody and I don't know anything about that family. As the actor in the film, you just have to step away and say, I don't know anything, really, and whether any of it is true or false. Having thought it all through, you put it to one side and just work with the person. Woody Allen is an incredible director. So is Roman Polanski. I had an extraordinary working experience with both of those men, and that's the truth." Representatives for Timberlake and Winslet did not respond to requests for comment.
"I seem to remain secondary to their ambition, which undermines the powerful and embracing message they are trying to send."
In December, Farrow wrote an op-ed for the Los Angeles Times after the Weinstein allegations brought about a wave of discussion about abuse — a conversation that didn't include the allegations against Allen. "Although the culture seems to be shifting rapidly, my allegation is apparently still just too complicated, too difficult, too 'dangerous,' to use Lively's term, to confront," Farrow wrote. "The truth is hard to deny but easy to ignore."
In a movement that's also being colloquially referred to as "the reckoning," Allen has remained relatively unscathed. In the pressroom after the awards show, Greta Gerwig, whose film Lady Bird took home Best Motion Picture — Musical or Comedy, answered a question from BuzzFeed News' Susan Cheng about her decision to work with Allen. "It's something that I have thought deeply about, and I care deeply about … and I haven't had the opportunity to have an in-depth discussion, where I come down on one side or the other, but it's something that I've definitely taken to heart." Notably, this is not the first time she had received that line of questioning: NPR's Terry Gross asked her a similar one in November.
Only a few actors have expressed regret about working with Allen: Ellen Page, who called it "the biggest regret of [her] career," The Tick star Griffin Newman, and most recently, David Krumholtz.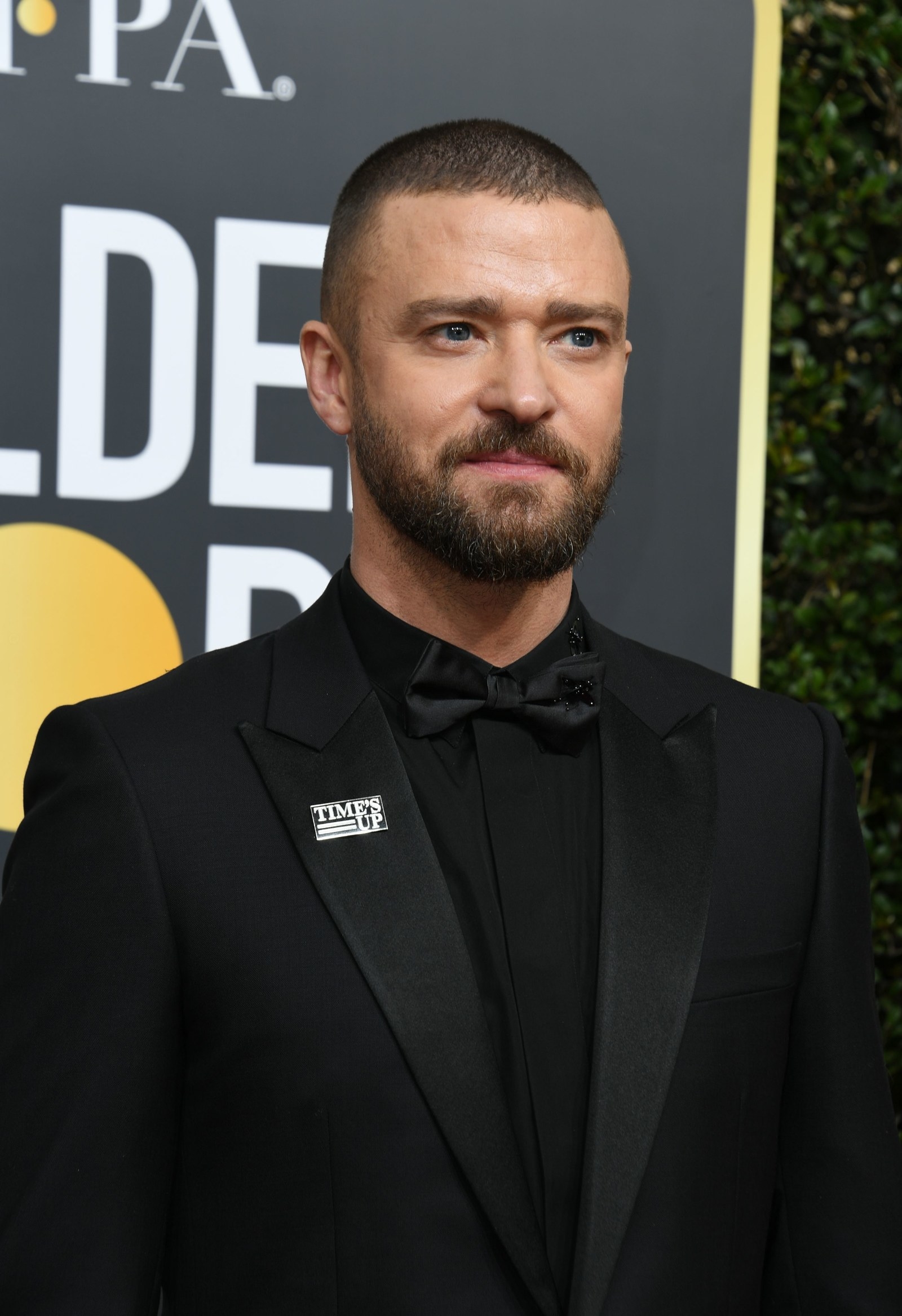 As evidenced in Sunday's Globe speeches, the past few months have taken on the narrative of brave women finally coming forward after a long history of abuse and finally being believed. The people who've hurt them have at long last started facing some consequences. Some accused, like Kevin Spacey, have been fired (Spacey was also dumped by his agent and publicist). Louis C.K.'s film was dropped from its distributor. Yet Allen, who has long been one of the most well-known examples of alleged abuse in Hollywood, continues to promote his newest film and even campaign for it to get this year's top awards.
On Globes night, Farrow — who does appear to support Time's Up's concept as a whole — tweeted a thread taking to task Hollywood's relationship with Allen. "I have to wonder - is time really up now? Is this really the turning point? I have no doubt it can be. I have no doubt the time is right. But in order for things to meaningfully change, they need to change unequivocally," she wrote, recalling that it was after the Globes in 2014 that she decided to bring up Allen's alleged abuse of her again, in an open letter in the New York Times. "No predator should be spared by virtue of their 'talent' or 'creativity' or 'genius.' No rock should be left unturned. The principles of the movement need to be applied consistently and without exemption."
With Time's Up, the efforts to rid Hollywood and other industries of their abusers is just starting to take shape through tangible organization. As it does, though, people are taking notice of the individuals who are supporting the efforts while simultaneously supporting people who have ghastly allegations against them.
"It's of course particularly hard for me as a survivor of sexual abuse to know that for these particular individuals I am not part of the 'every woman' they stand for," Farrow said in her statement. "I seem to remain secondary to their ambition, which undermines the powerful and embracing message they are trying to send."
Susan Cheng contributed additional reporting to this story.
UPDATE
Gerwig spoke to the New York Times about Allen and Farrow, stating that she "[realized] that [she] increased another woman's pain" and would not work with Allen again. You can read her full quote here:
"I would like to speak specifically to the Woody Allen question, which I have been asked about a couple of times recently, as I worked for him on a film that came out in 2012. It is something that I take very seriously and have been thinking deeply about, and it has taken me time to gather my thoughts and say what I mean to say. I can only speak for myself and what I've come to is this: If I had known then what I know now, I would not have acted in the film. I have not worked for him again, and I will not work for him again. Dylan Farrow's two different pieces made me realize that I increased another woman's pain, and I was heartbroken by that realization. I grew up on his movies, and they have informed me as an artist, and I cannot change that fact now, but I can make different decisions moving forward."
CORRECTION
The date of the 2018 Golden Globes was misstated in an earlier version of this post.