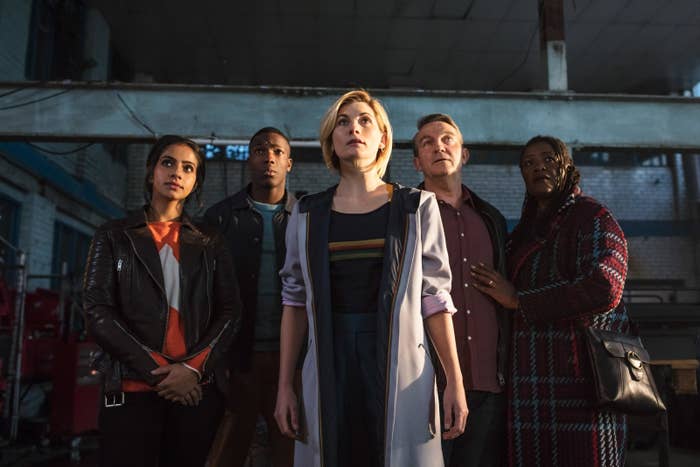 Every few years, Doctor Who reboots itself. The show is built off that concept: The series follows an ancient alien Time Lord who, in lieu of dying, periodically regenerates into a different body. Before this year, 12 different actors had played the role of the titular Doctor throughout the show's 55-year history — all white men who had engaged in different degrees of kookiness, scowls, and scarves.
But when the Twelfth Doctor, Peter Capaldi, left the show, Doctor Who needed a new face again. In July 2017, the BBC announced that Capaldi's replacement would be Jodie Whittaker, the first woman ever to take on the iconic role. Simultaneously, the show would be changing hands behind the scenes, with showrunner Steven Moffat leaving and Broadchurch creator Chris Chibnall stepping into his place. It was springtime for Doctor Who — a new era creatively and historically, and as much of a fresh start as a show that's been loved for over half a century can get.
"You've got this extraordinary energy, this extraordinary history that you don't ever wipe clean or disregard," Whittaker told BuzzFeed News. "But the wonderful thing is that the point of casting new people, of getting new showrunners, is to bring a fresh energy and enter into things that the fans haven't seen, and to make it accessible for new fans."
"The fabric of the show is regeneration."
Whittaker's casting was historic, and a long time coming in more ways than one. The show went decades without a woman in its ever-changing lead role. Once the casting was announced, there were still 15 months to wait until audiences actually got to see Whittaker take on the role in her own season. "The build-up to starting shooting the season was the most nerve-wracking part of the journey," Whittaker said, noting her relief that the hard work of the cast and crew is finally out there as of Sunday, when her first full episode aired on BBC One and BBC America.
Whittaker said that there will always be people who don't want to see Doctor Who change, no matter who is stepping into the lead role. "It's an inevitability," she said. "But the fabric of the show is regeneration."
Chibnall spoke at the Doctor Who panel at New York Comic Con on Sunday — where the season premiere was screened for fans — about his adamance that this new start for the show both bring Doctor Who back to its fun, adventurous roots and model inclusivity at the same time. "Really it's just connecting it back to [the show's beginnings] and going, 'What does that look like, what does that feel like in 2018?'" he said.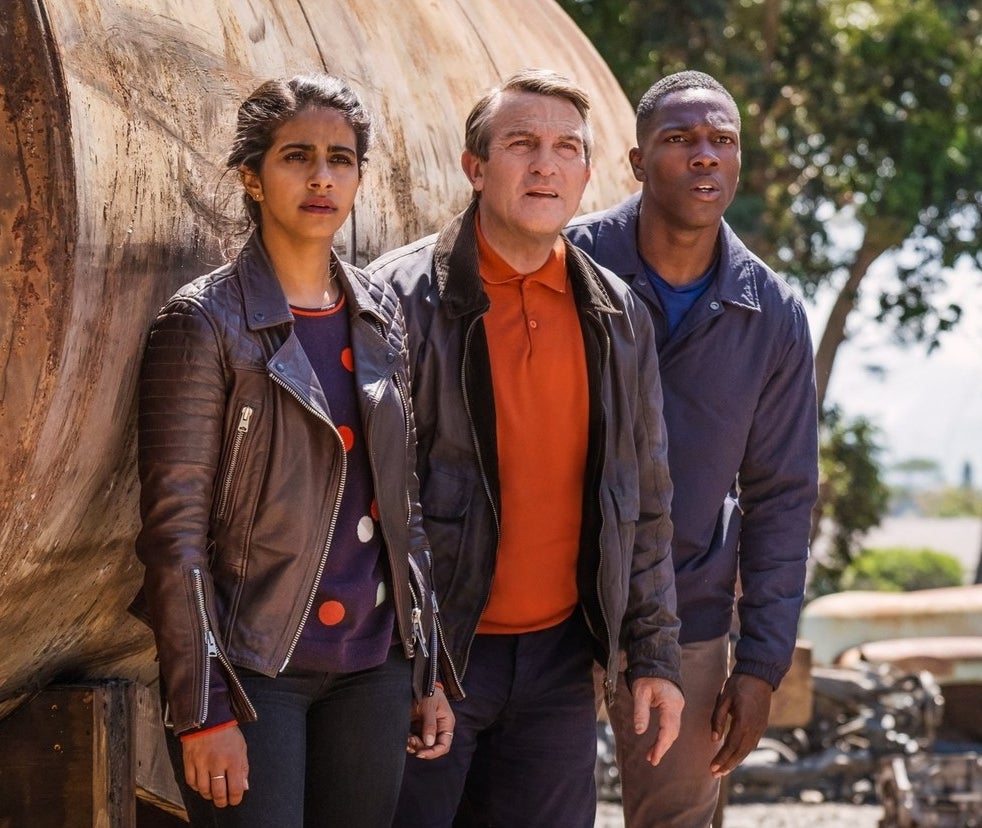 In the first episode of the season, called "The Woman Who Fell to Earth," a group of strangers come together to fight a mysterious alien force threatening to kill them. Whittaker's Thirteen, fresh off her regeneration and unable to remember her own name, literally crashes through the ceiling and offers her help. Whittaker describes her Doctor as "full of hope, full of energy," and the character spends much of the episode in one of Doctor Who's most exciting modes: making connections between people who feel lost, and rebuilding after a traumatic event. "I physically wanted to continually move, much as the Doctor's mind is continually moving and learning and growing. I wanted that not to just be happening [in my head]," Whittaker said. "I wanted it to fizz."
Aside from the Doctor herself, the season's central cast includes Ryan Sinclair (Tosin Cole), Yasmin Khan (Mandip Gill), and Graham O'Brien (Bradley Walsh) — a young black man, a young desi woman, and a middle-aged white man who by the episode's end become the Doctor's newest companions in her travels through space and time. Ryan also has dyspraxia, and one audience member at the NYCC panel expressed surprise and excitement at seeing her disability represented onscreen through a major recurring character.
"If you're just now coming into Doctor Who, you can take ownership of it all, because it will be yours as well."
As Chibnall told the New York Times, he wanted this to be "the most accessible, inclusive, diverse season of Doctor Who that the show has ever done." That included committing to a 50/50 male–female gender split for the season's directors, and hiring people of color to join the writers room. The latter is, astonishingly, a first for the series. "Our plan across time is to do lots more" to increase inclusivity on the show, Chibnall said in July at San Diego Comic-Con. "It should be the most inclusive show on television. The whole concept of Doctor Who is that anybody can go anywhere and do anything, and we want to reflect that onscreen and off."
Though Doctor Who is anchored by a time-traveling alien, it has always been, at its core, about humanity and heroism, a superhero show splashed across all of time and space. The Doctor and her companions are the central heroes at play, visiting different planets and periods on missions of discovery and aid. There have been phases when the Doctor — and the show as a whole — has been grim and tortured, and others when it has embraced slapstick effervescence. Whittaker says that under Chibnall's lead as showrunner, this season is "so full of heart and so full of hope that it sweeps you all up [in] an epic adventure, full of emotion, full of humor, and full of beautiful character detail for everyone."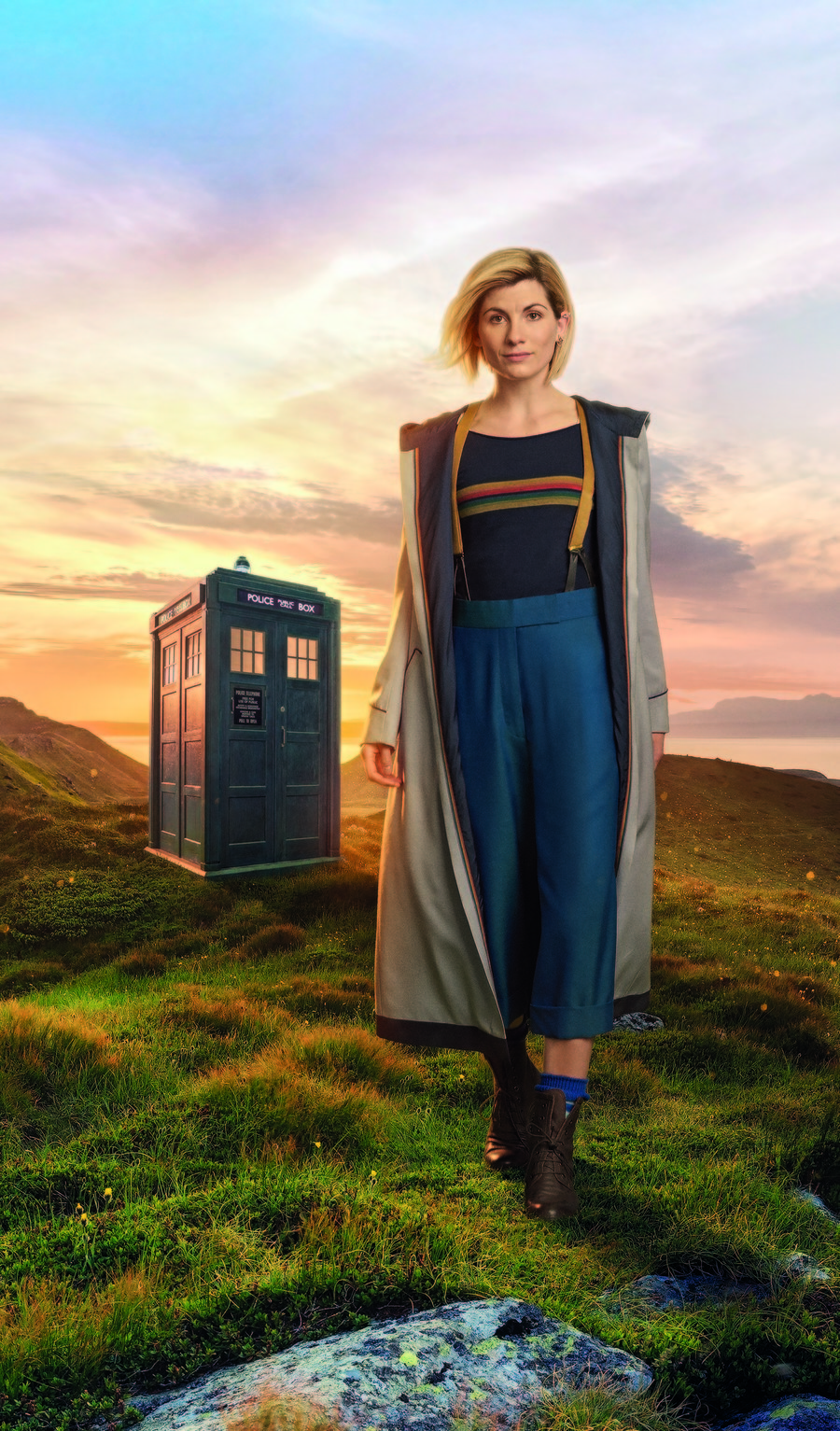 Whittaker had a creative say in how these directives for the character and the series would come across in the Doctor's clothes. She collaborated with Doctor Who's costume designer Ray Holman, whom she'd previously worked with on Broadchurch. Whittaker was particularly inspired by one black and white photo of a woman standing at a distance, striding toward the camera with purpose and wearing cropped trousers, suspenders, and a T-shirt. "The thing that struck me was that if you stood far away from it, you wouldn't know if it was a boy or a girl, and if you looked at it in details, you could see that she was wearing the T-shirt," Whittaker said. "It looked, from the distance, a little 1930s, but as you get closer it's [casual and modern]. That mix of old and new, and that youth and wisdom and structure and softness, I really loved. And it looked really comfortable."
The Doctor's coat, which has always been a signature element of each Doctor's era, was especially crucial to Whittaker. She and Holman landed on a duster coat weighted with symbolic meaning. "The inside is this dark, dark deep blue which felt to me like space, to represent what I was falling through," she said. The dark interior peeks out but is broken up by rainbow piping, which gives way to a light mauve exterior. "Every single stitch is a choice, the lining of it, the cut of it, where the material's from — everything is a choice."
Each one of the decisions Whittaker, Chibnall, and the rest of the cast and crew made around this season was about facilitating the new beginning that Whittaker's Thirteen represents. Every new Doctor comes with change, but a new showrunner and the fact that Thirteen is being played by a woman offered a rare chance for the series to open itself up to new viewers.
Whittaker seemed excited by the prospect that new people might find one of TV's longest-running shows in part because of her presence in it. "If you're already a fan, you've got a whole new set of things to fall in love with and be scared of," Whittaker said. "If you aren't a fan, it's your first. If you're just now coming into Doctor Who, you can take ownership of it all, because it will be yours as well — and it will be accessible without denying what's come before."