Catt Sadler Became A Face For The Gender Pay Gap. Here's What She's Doing About It.
"I never expected this kind of response, but I'm really leaning into it now," Sadler told BuzzFeed News.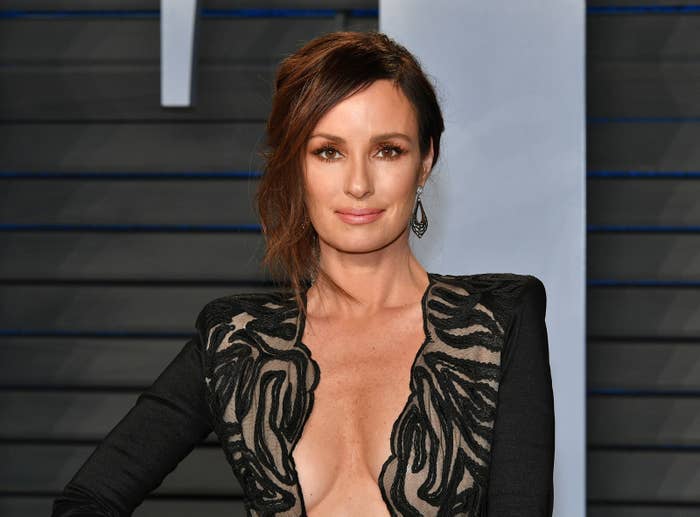 One of the most memorable moments of the 2018 Golden Globe Awards happened on the red carpet, when Debra Messing brought up E!'s alleged pay disparity while being interviewed by E!'s Giuliana Rancic. "Time is up. We want diversity, we want intersectional gender parity, we want equal pay," Messing told Rancic. "You know, I was so shocked to hear that E! doesn't believe in paying their female cohosts the same as their male cohosts. I miss Catt Sadler, and we stand with her." Sadler had left the network a few weeks prior, citing "a massive disparity in pay between my similarly situated male cohost and myself." A spokesperson for E! told BuzzFeed News at the time that "E! compensates employees fairly and appropriately based on their roles, regardless of gender," and that it was appreciative of Sadler's "many contributions" at E! News.
Sadler said she hadn't been expecting Messing's red carpet declaration. "I got a little tip literally that morning, from Amy Schumer, who said, 'We're on this; we're organizing,'" Sadler told BuzzFeed News, referencing Time's Up, the initiative founded by women in Hollywood dedicated to ending pay inequality and workplace sexual harassment. "But people say things all the time. I knew Amy certainly has a lot of influence, but I never expected it." Sadler was watching the award show from afar and recalls being "shocked and humbled" by Messing's words. "I mostly just realized that yes, they were saying my name, and yes they were standing by me, but it was really just a symbol for the bigger issue, the everywoman issue," Sadler said. "So I was happy to be that for the cause."
In the months since, Sadler has become one of the public faces of the equal pay movement, partnering with brands like Luna Bar for an Equal Pay Day initiative and working with Jennifer Lawrence to develop a docuseries inspired by the #MeToo and Time's Up movements. "The E! thing is really at this point rearview mirror. It really is," Sadler said. "All of my energy is going to moving forward."
Much like with the Golden Globes, she says she wasn't really expecting this new era in her career. "I was just at the time sharing my experience with the viewers who I knew had watched me on TV for years," Sadler told BuzzFeed News. "I never expected this kind of response, but I'm really leaning into it now. And that's because I have heard story after story, experience after experience, from women around the world who are suffering the same injustices that I did."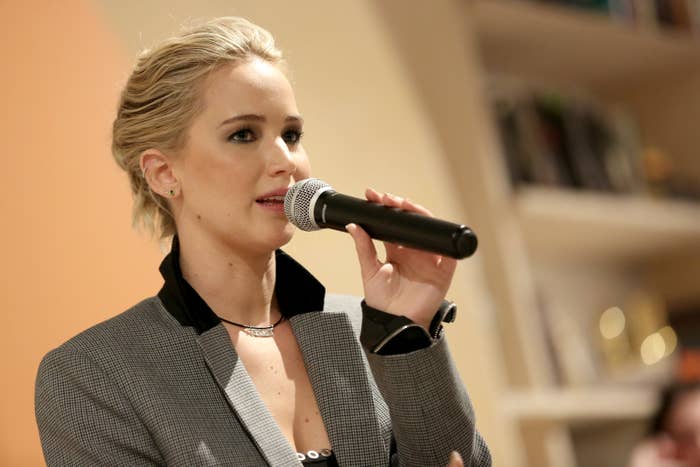 Though she can't reveal much about the docuseries she's producing with Lawrence — the project has yet to sell, and Lawrence announced the project in February before they'd planned to — Sadler says she thinks "we can have something really special that will help women." She and Lawrence connected in 2017, when Sadler reached out to her for advice around her departure from E!. "She stepped up in the amazing way that she has, and she was a sounding board for me," Sadler said. "She's been fabulous. We want to make an impact — that's our entire motivation."
Sadler said these conversations are happening in part because of the rise of the #MeToo movement. "A year ago, two years ago, three years ago, we weren't conversing about this kind of stuff. #MeToo really got the ball rolling," Sadler said, thanking all the people who came forward with stories of sexual harassment, assault, and misconduct. Those stories have mixed in with ones about equal pay in the wider conversations about how to address structural forces that marginalize people, especially women and people of color. "Talk about scary stories to confront. That has been the trickle effect, because not only are we publicly having these conversations, but when would I ever really have a reason to align with Jennifer Lawrence or Amy Schumer unless there was this need?"
"I am so just in awe of how bold they all are," Sadler continued, "how everyone is choosing to designate so much time and energy to these issues."