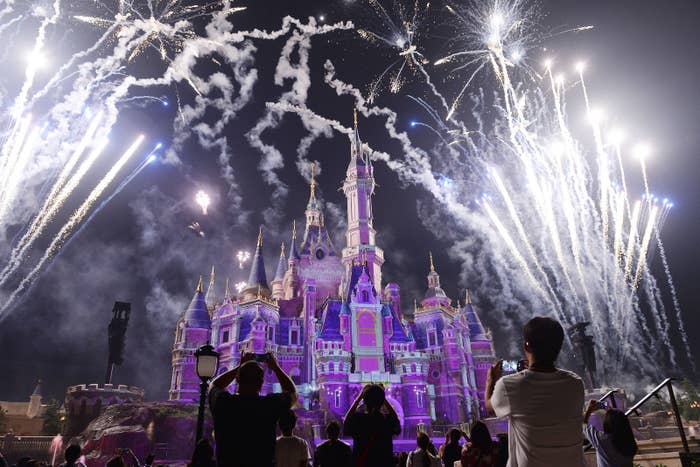 Critics and filmmakers alike banded together early this week to take a stand against Disney.
After the company banned the Los Angeles Times from advance screenings as a result of an investigative series on the corporation's dealings in Anaheim, the AV Club and Alyssa Rosenberg with the Washington Post announced that they would be standing in solidarity with the LA Times by not publishing Disney reviews before the films were out in theaters. Flavorwire announced that they wouldn't be reviewing Disney movies at all, or writing up its trailers, until the ban was lifted.
Then earlier this week on Monday, Nov. 6, director Ava DuVernay — whose next film, A Wrinkle In Time, is being released by Disney in March 2018 — tweeted that she was "saluting the film journalists standing up for one another." And on Tuesday morning, a bevy of film critics organizations — the Los Angeles Film Critics Association, the New York Film Critics Circle, the Boston Society of Film Critics, and the National Society of Film Critics — announced that they would be disqualifying Disney films from consideration for their year-end awards "until said blackout is publicly rescinded." In response, The Deuce creator David Simon tweeted, "If journos [are] being selectively barred, then I'll play, too. This award season, all Disney screeners dumped. No votes from me for their stuff."
Last but not least, the New York Times announced that it would also boycott advance press screenings for Disney films. "A powerful company punishing a news organization for a story they do not like is meant to have a chilling effect," a statement from the publication read. "This is a dangerous precedent and not at all in the public interest."
It was all a clear stand against what multiple critics called an "unprecedented" move by Disney against journalistic freedom. "[Disney was] telling the LA Times, don't report on our business deals in Anaheim or your entire outlet is going to be punished," LAFCA treasurer Amy Nicholson told BuzzFeed News. "And that's an unprecedented thing to do, and it's worth taking an unprecedented stance."
In Disney's initial statement on the LA Times ban, a representative for the company claimed that "the Times moved forward with a biased and inaccurate series, wholly driven by political agenda." But following the backlash, Disney announced Tuesday afternoon that it would reverse its decision and lift the ban on the publication. "We've had productive discussions with the newly installed leadership at the Los Angeles Times regarding our specific concerns," Disney said in their follow-up statement. "As a result, we've agreed to restore access to advance screenings for their film critics."
"It was strictly punitive, and it was very petty."

"Journalists have been kicked around a lot this year," Nicholson said. "[Disney was] using this anti-journalism, fake news language that just upset me on a deep core level."
Critics are used to being blacklisted or seeing peers blacklisted from certain studios. Usually that happens "when a particular review has given a pan to a particular movie, and a studio gets mad at that critic and says they can't come to their screenings," recalled Boston Globe film critic Ty Burr. In fact, according to Nicholson, "a lot of critics take a blacklist almost as a badge of honor." But there was a crucial difference here: In this case, an entertainment desk was being punished for an investigative story that came out of another section of the newspaper entirely. It was a clear violation to many in the critics organizations, who voted swiftly to disqualify Disney from awards until the situation was rectified. "Four critics groups, which is over a hundred critics, voting yes on a ban? We don't do that, we shouldn't have to do that, but I'm glad that we did,' Nicholson said.
"It was strictly punitive, and it was very petty," Burr said about Disney's blacklisting of the LA Times. "It goes against the entire notion of a free press, and it's also just beating a newspaper up over doing it's job. It's nonsensical."
Even in the wake of Disney's decision to rescind the blackout, the questions its initial decision brought up remain relevant. And timing was everything. "In a broader sense, it's just a very fragile moment for freedom of the press and for journalists, who need a certain kind of access to do their jobs," NYFCC chair Eric Kohn told BuzzFeed News. As Burr put it, "[Journalism is] being threatened on a number of fronts, including by the Commander-in-Chief."
"It's just a very fragile moment for freedom of the press."
It's possible that the timing played a part in expanding this conversation past the confines of the media world and toward those creators and fans who also see the threat that journalism has been under throughout 2017. After all, this is the year in which President Donald Trump reportedly told former FBI Director James Comey that he "should consider putting reporters in prison," according to the New York Times. As Nicholson put it, "Free speech is something that affects all artists, not just film critics and people who write for newspapers."
Among entertainment journalists, there is a history of Hollywood studio blocks that have resulted from publishing news and critiques they disagree with. If they don't like a review of one of their films, or a profile of one of their stars skews too negative, studios have been known to retaliate.
"Studios have been manipulating the media since they were born, to a degree," Kohn said. Disney's statement rescinding their blocking of the LA Times doesn't quite offer insight into whether their behavior in this regard will change after the backlash. Regarding their historical and present relationship to journalists, Disney has not responded to multiple requests for comment from BuzzFeed News, instead re-sending the statement about dropping the ban on the LA Times. But the message from this particular incident seems clear: Barring journalists as punishment for a piece of investigative journalism crossed a bold-typed line. One that many, including one of Disney's own artists, would not stand for.
"Going forward, my hope is that the studio and other big commercial entities like it recognize that there's a distinction that needs to be made between reporting that you don't like and actions that you can take to prevent it," Kohn said.
In 2017 especially, taking out petty squabbles on journalists is a bad look.
Disclaimer: BuzzFeed Culture writer Alison Willmore is vice chair of the New York Film Critics Circle.