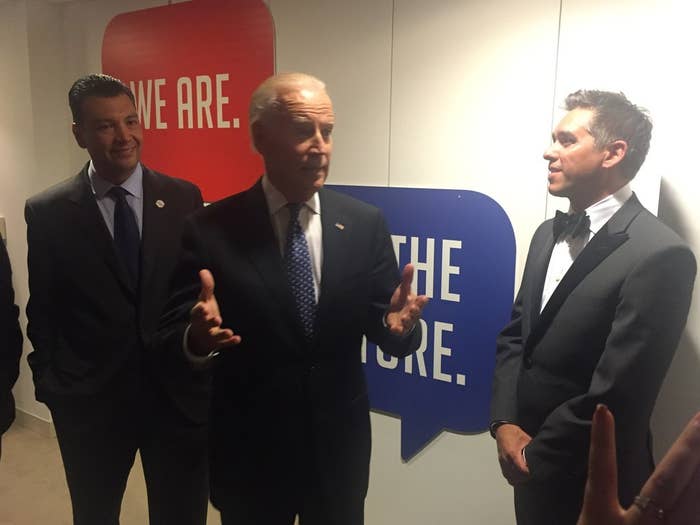 There were rumors Vice President Joe Biden might show up at a Latino Victory Project fundraiser for a California politician on Tuesday, and as the event got underway, organizers still weren't sure he would make it.
But as anticipation continues to grow that Biden will jump into the Democratic primary, he showed up, to support California's Secretary of State Alex Padilla, and to attack Republicans.
"People are down because of the beating Hispanics are taking from the Republican presidential race," Biden said, according to a video from the event. He said there is not a single thing more important than registering to vote, something that used to be bipartisan, but no longer is.
In recent months, Biden has said that the death of his son Beau weighs on him and he isn't sure if he will have the emotional fuel to run for president — but he is expected to make a decision soon. He would need an argument for his candidacy that separates him from fellow establishment Democrat Hillary Clinton and would need to raise lots of money and set up organizations in states where Clinton and Bernie Sanders have been campaigning for months.
Lately Biden has sounded more like a candidate, bashing Republicans, for stances on same-sex marriage in front of the Human Rights Campaign, and immigrants and Latinos, Tuesday.
"This nativism never succeeds," he said. "And it will not succeed now."
Cristobal Alex, the president of Latino Victory Project, a group that has raised money for Democrats, said Biden has been a champion of Latino candidates and the Hispanic community.
"We are thankful that the Vice President stopped by today to support California's Secretary of State Alex Padilla, and our mission of growing political power and representation for the Latino community," he said.
Biden talked about the importance of Latinos in the election, much like he did at an event for Padilla last October that also featured Amanda Renteria, who at the time was seeking vice president's endorsement in her congressional race. She is now Clinton's national political director.
"Ladies and gentlemen the history of this country is built on the back of people who do hard work," Biden said at the time. "What will the Latinos do for America? They're about to rebuild America."
On Tuesday, Biden also let off a couple trademark lines. Anti-immigrant forces used to be aimed at the Irish, he said to laughs, and he played up his role under Obama.
"I'm the guy literally in charge of the hemisphere for the administration, not a joke," he said. "I'm the guy that has the relationship with every head of state, the president asked me to honcho the hemisphere."