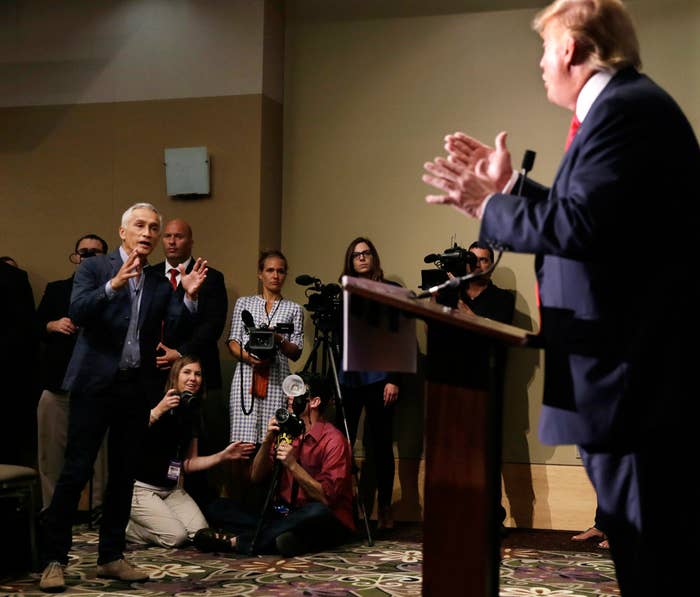 WASHINGTON — Jorge Ramos was feeling confident.
Univision's premiere news anchor sent a few tweets the morning of Election Day. "Today is the day when Latinos will remember who was with them and who insulted them," one read. In another, he said, "In a multi-racial, multi-ethnic country like this, no one can make it to the White House without the Latino vote. This will be tested today."
Univision's flashy newsroom was similarly excited, too. There was a buzz in the building — until it became clear that Donald Trump was going to win. Then, according to an executive, it turned into a "morgue."
That's when Daniel Coronell, the president of news, news anchor Enrique Acevedo, and Ramos walked to a quiet corner to talk about what would come next. They agreed that in times of uncertainty, the answer is journalism. To do their jobs. But many believe that will be easier said than done because of the way Univision unapologetically positioned itself as an anti-Trump network and the defender of the Hispanic community they felt was being attacked by him.
Current and former executives, talent, and employees paint a picture of a network that went all-in on a Hillary Clinton victory and vanquishing the man they painted as a real-life villain for a year and a half — a network wholly unprepared for the possibility that he might win. One former executive said there was no plan B. "The hubris was so large they were sure they were going to win," they said.
"It's a nightmare for Univision," one top talent said. "The network chose and Jorge himself chose to be Trump's main antagonist."

Employees say that conversations have been had at the highest levels of the news department including Univision head Isaac Lee, Coronell, and Ramos, where leadership has been introspective, wondering if they understand the Hispanic audience as well as they say they do and whether it's more conservative than they previously thought after Trump won a higher than expected percentage of the Latino vote. But the same source said there wasn't enough responsibility being taken.
"What was missing was humility," the source said. "It was more like 'the racist won, racism won, hate won, we were doing the right thing by asking these tough questions and more people should have done what we did.'"

"We are very open to the criticism and the self-criticism," Coronell said.

The network will always see protecting and defending the Hispanic community as its prime directive, he added, but beyond that, network leadership believes they need a commitment to protect human lives and human rights whenever those rights could be threatened by a Trump decision.
As for Ramos, who Trump famously threw out of his press conference telling him to "go back to Univision," which sounded a lot like "go back to Mexico" to a lot of Latinos on social media, a look at his Twitter account since Election Day reveals that he isn't going to change his confrontational approach much, either.
Right after the election he wrote about the rise in reports of hate crimes, he shared the Hamilton Broadway cast statement calling for inclusion after Vice President-elect Mike Pence saw the show, and has shared stories about how both Mexico and journalists should fight back against Trump.
"I won't change a thing," Ramos said. "We were right in challenging Trump when he made his racist and sexist remarks."

But he acknowledged mistakes in his and the network's coverage: For instance, the little coverage given to that Latinos who were going to vote for Trump, and the level of resentment in many parts of the country.
The network talent source said that in antagonizing Trump, the network antagonized his supporters and his side of the country. "Right now the gap could not be larger between Trump's America and our audience, Hispanic America. There is almost no intersection."
Another top talent said the mistake by the network and by Ramos was not in saying the Latino vote was important — but in saying that the Hispanic vote alone would win the election.
"I overestimated the importance of the Hispanic vote, I have to recognize that," Ramos said. "That was a mistake. I thought that Latinos would decide a very close election. My mistake was to overestimate the importance of 13 to 14 million Hispanic votes."
The tumult in the face of zero access from the Trump team comes as a Los Angeles Times story dropped in the new year which said Univision lost more than 45% of its primetime audience since 2013, with rival Telemundo making gains among younger viewers.
For its part, Telemundo announced early on its intention to approach the election through a straighter news lens and a network executive said they feel vindicated by the decision to say things like they are "without an agenda."
"Trump's administration could affect our community enormously and the coverage of his presidency could be more important for our audience than the campaign coverage itself," the executive said.
And Telemundo pointed to its relationship with NBC News and MSNBC under Comcast as a plus as well, a fact repeatedly brought up by Univision employees who have been under the cloud of a long-drawn out IPO process and found out this week that Televisa will be allowed to grow its stake in the company from 25% to 49% by the FCC. NBCUniversal is an investor in BuzzFeed.
"Telemundo has Comcast behind it which has much more negotiating power, my bet is Trump will side with them," the first Univision talent said.
With the recognition that access to the administration will be difficult to come by Univision is discussing strengthening its coverage by bringing Enrique Acevedo to host his nightly newscast from Washington during Trump's first 100 days.

Ken Oliver-Mendez, director of MRC Latino, a conservative watchdog of Spanish-language media, said his organization was vindicated by the results of the election. His group, which held a splashy launch event in 2014 and found support from the likes of Sens. Marco Rubio and Ted Cruz, has long held that Spanish-language media was too liberally biased. While he doesn't think Telemundo is perfect by far, he reserves his biggest criticism for Univision and Ramos.
Oliver-Mendez acknowledges that the legalization of undocumented immigrants is a key issue among Hispanics, but faults Univision for making Trump into a "movie villain" and ascribing who the good guys and the bad guys were during the campaign.
He said Univision should add ideological diversity which shows up in the actual reporting and makes a difference in the content on the air and noted that he never saw a segment on pro-life voters and the Supreme Court issue, which he argues moved votes.

José Parra, a veteran Democratic operative who served as a senior advisor for Harry Reid said that Univision should stand strong because at the end of the day any major changes would compromise the network's core values for a short-term gain. He remembered a Spanish-language reporter who remarked that "administrations change but communities remain."
And while it may concern some both inside and outside the network, Ramos looks ready to fight as usual.
"We cannot forget that Trump made many racist comments," he said. "I don't know what's in his head but I know what came out of his mouth. Some people want to forget about it, but we can't."