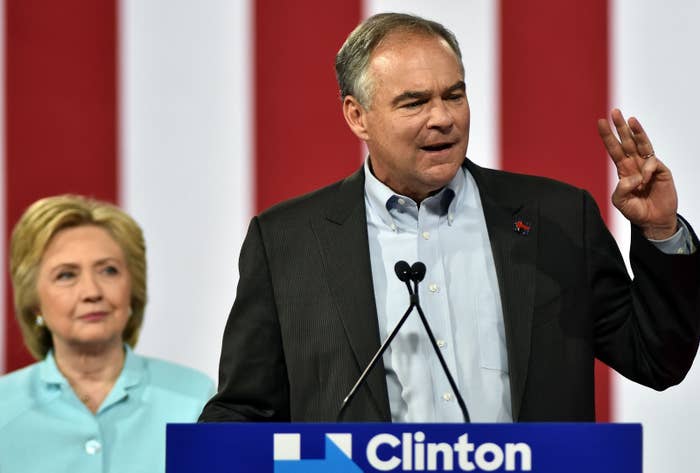 PHILADELPHIA — The interview on Univision's Al Punto, a Spanish-language Meet the Press analog, was big for Tim Kaine. He talked about building bridges between communities and police, Clinton's emails, an immigration overhaul, and the topic of the vice presidency.

At the end of the interview, the journalist, Leon Krauze, complimented Kaine, noting that not just anyone can speak Spanish like him. Kaine said that there are 300,000 Latinos in Virginia and the Hispanic vote could be the difference in the state.
That interview aired two weeks ago, before Kaine was named to Hillary Clinton's ticket.
Krauze told BuzzFeed News that it's hard to be angry in a language that is not your own, the same way it's hard to flirt in a foreign language. Talking politics and policy is pretty high up on the difficulty list, too.
"Kaine didn't know what I was going to ask and he was eloquent," Krauze said.

One thing has been repeated ad nauseum about Kaine over the last few days: He can speak Spanish.
His language skills have just been accepted as a boon for the Clinton campaign. Less attention has been paid to why it matters and how it will manifest itself as an advantage for the campaign.
One key way Kaine's Spanish-speaking abilities matter is in contrast to what Donald Trump's campaign offers with regard to Spanish-language surrogates, which up to now, has been not much.
Trump has only recently been supported by RNC Hispanic media director Helen Aguirre who is making the rounds defending him and attacking Clinton as bad for Latinos. But Clinton has long had a robust surrogate operation on networks like Telemundo and Univision. And Trump has been beat up on the Spanish-language giants for more than a year now.
"The surrogate argument is very important for the Republican Party," said Krauze. "The party that has Marco Rubio and Jeb Bush and promised four years ago that the future of the party was a different approach to immigration, just gave the convention stage to Jeff Sessions, Tom Cotton, and Joe Arpaio. And there are no Spanish-language surrogates in sight for the Trump campaign."
Still, the rush to laud Kaine for his ability to speak Spanish fluently (he has an accent and loses a word here or there that he says in English, but speaks well enough to discuss policy, as Krauze said) has also led to an immediate and forceful backlash from eye-rolling Latinos, as well.
A Washington Post analysis titled "Tim Kaine can speak Spanish but most Hispanics don't care" argued that most Hispanics speak English and are not impressed by a vice presidential nominee that can say a few words in Spanish.
"These younger voters do not just watch Univision, listen to Spanish music, or play soccer," the Post wrote. "They dominate school systems in Arizona, California and Texas, and increasingly dominate pockets of Georgia, Massachusetts, North Carolina, and Rhode Island."

Kaine's Spanish is not the same thing as having a Latino VP like Julian Castro or Tom Perez, and his cheesy at times Spanish (he and Clinton are "compañeros de alma," soulmates, he said) seems unlikely to, say, bring Latinos out in droves. Does it still matter?
"Of course it matters," said Albert Morales, a longtime Democrat who worked for the DNC. "This is the first presidential election where Spanish-language media is following it nonstop. Even eight years ago, people were engaged, but there was no boogeyman."
Morales said Mitt Romney's call to have Latinos "self-deport" themselves out of the country was nothing compared to what Trump has offered, from building a wall along the southern border, to creating a deportation force to send back 11 million undocumented immigrants living in the country.
"For the first time we have a motivating factor and it's important that we have a person on the ticket who can articulate that message to the Jorge Ramos' and the Jose Diaz-Balart's, he said of Univision and Telemundo's top anchors.
The key to the Kaine question, Morales said, lies in the reaction from Latinos across age groups, when Trump told Ramos to go back to Univision. The video was shared everywhere, from Spanish-language media, to CNN and others. Latinos remember how different links to the video dominated newsfeeds for days. Ramos newly launched Facebook page, featuring English and Spanish, exploded during that time.
Why did that happen? Because "go back to Univision" sure sounded a lot like "go back to Mexico," to many Hispanics, across generations.
"It's about respect," Morales said.
A poll by a conservative business group, the Latino Coalition, unveiled at the Republican convention surveyed only Latino Republicans and independents, and found that respect was mentioned as important or very important by 91% of voters. Needless to say, Trump did badly even among that group.

Kaine, who gave the first-ever Senate immigration speech in Spanish in 2013, fulfills the role of the dutiful white guy working hard to communicate with viewers when he speaks Spanish during interviews. (Among bilingual Latinos, the biggest laughs often come when someone says a funny line in Spanish.)
After their interview, Krauze spoke to Kaine off the record and told him "for an American politician you speak really good Spanish."
"No soy Cervantes," Kaine shot back.
"It's a comment you would expect from a Stephen Colbert character in Spanish," Krauze said. "I was very impressed with his wit, this is a guy who is very witty in Spanish."
Kaine who has been playfully and not so playfully chided for speaking Spanglish, is actually following in a long tradition of successful companies that view it as a way of reaching bicultural Latinos.
iHeartRadio has stations it calls English with a "cultural wink" that are anywhere from 16% Hispanic listenership up to 50% Hispanic listenership. Mike Valdes-Fauli, the president of Pinta, an agency with expertise in cross-cultural marketing, counts Facebook and the NFL as clients.
When it did a Hispanic Heritage Month campaign for the NFL, the term it used was "feel the orgullo," not feel the pride. "The entire campaign was in Spanglish for this large national effort," Valdes-Fauli told BuzzFeed News at the time.

"That's how he's going to use it when he's faced with a mixed crowd, an English-speaking crowd," Krauze said. "That's how the community speaks."
Clinton campaign officials have taken this approach before, with English- and Spanish-language text messages coming to the same users who signed up for texts. It wants to hit groups in an intersectional way and might choose to do an interview with Enrique Santos, a Spanish-language radio host because he is also listened to by young Latinos.
Either because he is the new election toy or because now they can interview the vice presidential nominee, Spanish-language media has gone crazy for Kaine. Many of the Univision segments mentioned that he spoke Spanish and his missionary work in Honduras were also discussed.
And the campaign is clearly banking on making Kaine a player on Spanish-language networks. While his first interview was alongside Clinton on 60 Minutes, his first solo interviews were with Univision and Telemundo and will air Monday.
In heavily-Hispanic Miami, on the day he was announced, an energized Kaine took the microphone from Clinton to speak to a diverse crowd, of different age groups.
"Hey guys, thank you," he said.
"Hello, Miami!"
"Hello, FIU!"
"¡Y bienvenidos a todos!"
The last one got him the biggest cheer.