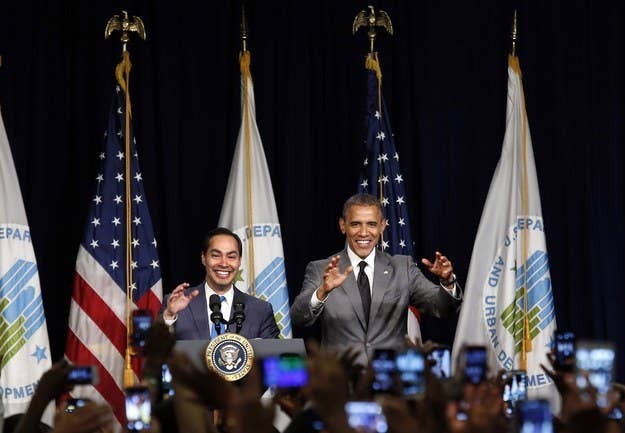 The president of the U.S. Hispanic Chamber of Commerce (USHCC) will call Julian Castro the future first Hispanic president during closing remarks at the USHCC National Convention, BuzzFeed News has learned.
According to prepared remarks obtained by BuzzFeed News, Javier Palomarez, the organization's president, will have Castro on stage after his keynote remarks and will say, "It was once said that 'The first Hispanic president has already been born.' Tonight, I'd venture to say, that the first Hispanic president has already arrived. Thank you Mr. Secretary, for being with us!"
Castro recently left his position as mayor of San Antonio to become secretary of the U.S. Department of Housing and Urban Development.
The convention in Utah is being billed as the largest gathering of Hispanic business leaders in America, with 7,200 people in attendance along with 180 major corporations that seek to connect with small businesses.
Organizers said a big reason they're in Utah, where the Latino community has grown 80% in the last decade, is because of the Utah compact. The compact — or immigration policy principles — was created by the Salt Lake Chamber of Commerce.
"The secret sauce is welcoming immigrants and Hispanics," said USHCC spokesman, Ammar Campa-Najjar. "That quiet work they do is so ripe for opportunities the Hispanic community is looking for. "
The organization has sought to reach out to political leaders on both sides of the aisle, featuring Democrats and Republicans like Vice President Joe Biden, Xavier Becerra, Nancy Pelosi, as well as Paul Ryan, Grover Norquist, and Reince Priebus, in recent years. On Tuesday, Castro is set to give keynote remarks — but Utah's Republican Governor Gary R. Herbert spoke earlier in the day.
The organization said Castro's work as mayor of San Antonio, where he left it as the fastest growing major city in the country, along with plans to take on homelessness in his new role in President Obama's cabinet, make him someone they're excited about.
Palomarez will not shy away from high praise for Castro, according to the remarks.
"In a very real sense, Secretary Castro is now the access point to the American dream for literally millions of people living in this country," Palomarez will say before closing with his belief that Castro can be the first Latino president in American history.