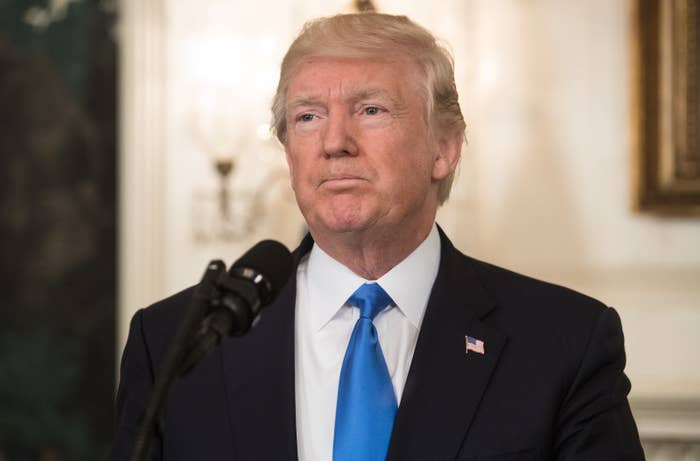 At a private dinner with centrist Democrats last week, Donald Trump indicated he was sympathetic to the plight of military veterans who have been deported, before his staff quickly assured him that the issue is a complicated one.
"We should do something about this," Trump said, according to sources familiar with the meeting attended by Democratic Reps. Vicente Gonzalez, Stephanie Murphy, and Kyrsten Sinema. A staffer quickly told the president that the issue is that the men subsequently committed crimes, which eventually led to their deportation.
Sources familiar with the dinner said Trump told Gonzalez that he should detail the issue to him in writing, to which Gonzalez responded that he had already sent the president two letters.
A White House official did not dispute details of the meeting.
"We typically do not comment on private meetings but we are aware of certain situations where a non-citizen who served in the U.S. Armed Forces was deported after committing serious crimes," the official said.

In a letter to Trump, Gonzalez wrote that he appreciated the president's interest in the deported veterans issue, "which would bring home our heroes."
"These veterans fought for our country and many suffer PTSD caused by their service," Gonzalez wrote. "I hope to work with you and your administration to create an executive order that stops the deportation of veterans who served in combat."

The Congressional Hispanic Caucus has recently taken up the deported veterans issue in a major way, with Rep. Joaquin Castro organizing for a congressional delegation to visit Tijuana, Mexico in early June. On Tuesday, chairwoman Rep. Michelle Lujan Grisham and other CHC leaders sent a letter to US Department of Veterans Affairs Secretary David Shulkin to request a meeting on the issue.
BuzzFeed News has learned that Attorney General Jeff Sessions denied a CHC request for a meeting to discuss immigration policy, where the issue of deported veterans was one the lawmakers wanted to raise. A spokesperson for the Department of Justice did not return a request for comment.
Democrats are divided on how to approach the Trump administration on immigration issues. CHC members were particularly rankled that their colleagues — especially Gonzalez — went to dinner with the president, and want Trump to apologize for the comments he made about Mexicans during the campaign, or at least be confronted on the issue, before they engage with him further.
"I find it amazing that after someone calls you a rapist, a drug-dealer and a murderer, you can just sit down with him and have dinner without him apologizing first," Rep. Luis Gutierrez told BuzzFeed News. "To me, that seems like turning your back on the kids and the families who are in harm's way."
Gutierrez added that Trump is deporting people "left and right," not just veterans.
"I don't think you sit down and break bread with Trump until there is a cease fire," he said. "The attorney general has refused to meet with the CHC, so I don't see avenues for productive dialogue until this administration changes its tune."
Another Democrat was more forgiving of Gonzalez for accepting the dinner with Trump, but criticized how it was approached.
"The president of the United States invites you to dinner at the White House, you go," said one Texas Democrat. "But there's a right way and a wrong way to handle it. The meeting made him look weak, it made him look like the president was using him, and he didn't help himself with that fucking letter."
Trump, who likes the idea of reaching out to Democrats in theory, has not had meaningful success in doing so. The issue appears, in part, to be that while he may appear momentarily open and helpful on some issues, he can't help himself from taking shots at Democrats. A source familiar with the meeting said he kept referring to Sen. Elizabeth Warren as "Pocahontas" during the dinner with Democrats, an insult he has often used against Warren in reference to her claimed native heritage.
Lujan Grisham said she has no issue with an individual member representing an issue which the caucus cares about and which is also a priority for their constituents, and said she had the same understanding of the details from the dinner.
"He felt like he got good response from the president, but a lukewarm response from staff," she said. "But if the president is open to it, then we expect you to do right by these families."
Lujan Grisham said the ultimate goal is to stop these deportations, repatriate those who have been deported already, and give health care and, ultimately, citizenship to these veterans. She said the lawmakers are clear-eyed about the crimes these veterans committed, but that they've served their time and are effectively being made to pay the price twice.
"These benefits are not tied to making a mistake after their service and impact their whole families," Lujan Grisham said, adding that the veterans in question need health care benefits while the issue is resolved. She recalled a scene that particularly moved her during her visit to Tijuana — of 10 dog tags of deported veterans who died of unknown causes.
"Was it diabetes? A cardiac issue? Was there nothing that could have been done?" We have no idea," Lujan Grisham said. "We promise these things as the US federal government, we promise them to patriots and we allow you to serve but then you get deported because you're not a U.S. citizen — that's not right."