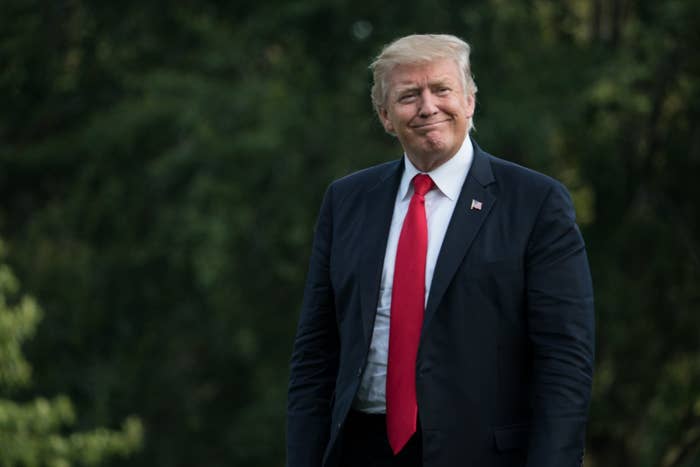 The White House said on Friday that a decision on the fate of nearly 800,000 young undocumented immigrants brought to the country as children and given work authorization under a temporary Obama-era program will come on Tuesday.
White House press secretary Sarah Huckabee Sanders, asked during the press briefing if the so-called DREAMers should be considered Americans or foreign nationals, said "I'm not going to get into the back-and-forth while we're in the process of finalizing the details on this, but we're going to be working on that throughout the weekend and make that announcement on Tuesday."

President Donald Trump had said earlier Friday that he expected a decision to come as soon as Friday, or over the weekend. "We love the DREAMers. We love everybody," he told reporters from the Resolute desk in the Oval Office.
The decision on what to do with the program that protects a group of immigrants who, while in the country illegally, are broadly viewed as sympathetic, has vexed Trump since he became president. He said during the campaign that he would end Obama's "illegal amnesties," and one that focused on undocumented parents of DREAMers and US citizens was already rescinded by the administration. But once he became president, Trump spoke of treating the young immigrants with "heart."

"The president's priorities on immigration are to create a system that encourages legal immigration and benefits our economy and American workers," Sanders said Friday. "The president's been very clear, he loves people, and he wants to make sure that this decision is done correctly."

The policy deliberation, and the program itself, seemed to be nearing an end as the week progressed, with a Sept. 5 deadline looming due to a threatened legal challenge from attorneys general and officials in Texas and nine other states.
On Friday afternoon, however, one of those states dropped out of the effort.
In a letter to his state's senators, Tennessee Attorney General Herbert Slatery wrote he would not challenge DACA's legality, and instead asked the senators to consider a legislative approach to handling DREAMers.
"There is a human element to this, however, that is not lost on me and should not be ignored," he wrote. "Many of the DACA recipients, some of whose records I reviewed, have outstanding accomplishments and laudable ambitions, which if achieved, will be of great benefit and service to our country. They have an appreciation for the opportunities afforded them by our country."

He later added, "It is my sincere hope that the important issues raised by the States will be resolved by the people's representatives in the halls of Congress, not in a courtroom."
While the program didn't face serious legal challenges until Trump became president, Attorney General Jeff Sessions has said he does not want to defend it in court, and no one in Trump's administration has stood up to forcefully fight for the program.
But as the decision seemed imminent, supporters of the program began reaching out to the president, and Republican leaders like House Speaker Paul Ryan on Friday said Trump shouldn't end the program, leaving room for Congress to enact a legislative fix for DREAMers.
Additional reporting contributed by Claudia Koerner.