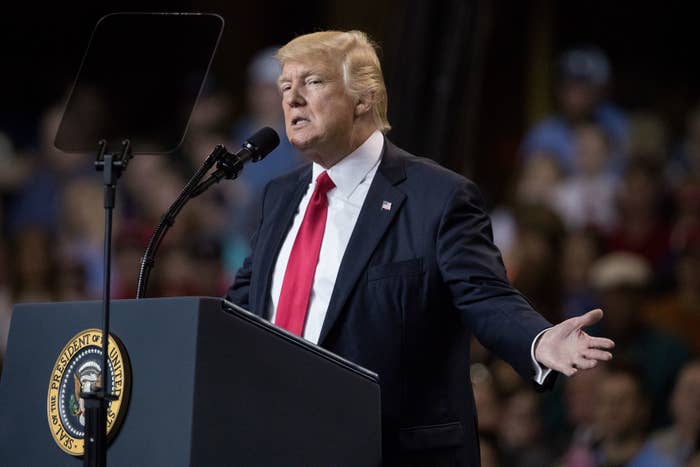 WASHINGTON — At the Latino Coalition's "Make Small Business Great Again" event this month, Linda McMahon, who leads the Small Business Administration, told the Hispanic audience she's leaning on the advice of group's chairman, Hector Barreto.
Vice President Mike Pence followed, opening his afternoon speech with a clunky, but well-received "buenos tardes a todos!" He said that Latino small businesses are the fastest-growing in the nation. "Can we give a round of applause to all the Latina small business owners in the room?" He flashed a wide smile.
A week later it was Trump's daughter, Ivanka Trump, who held a private listening session with a dozen Latina entrepreneurs.
The same day, chief of staff Reince Priebus held a meeting with a larger group from the U.S. Hispanic Chamber of Commerce. With the campaign over, former foes like USHCC president Javier Palomarez were welcome to engage the administration. Palomarez, who endorsed Hillary Clinton for president during the campaign, heaped praise on Priebus — the USHCC was lucky to have him!
"You don't have to all of a sudden love the president but I think you're going to love his policies," Steve Cortes, a Fox News contributor, said at the meeting.
In the Trump administration, where tweets are a form of currency, the USHCC was treated well. Ivanka Trump tweeted about her meeting with Latinas, Trump retweeted the group, and the president dictated his own tweet to spokeswoman Hope Hicks.
"My representatives had a great meeting w/ the Hispanic Chamber of Commerce at the WH today. Look forward to tremendous growth & future mtgs!" he tweeted.
Away from the Washington policy summits and black tie dinners, though, some Latino-owned small business owners describe a climate of fear affecting employees and business itself. In Latino and immigrant communities there is rising concern, even among those close to the Trump administration, about an immigration crackdown. People are foregoing trips to many places outside of work and their homes, which is having a deleterious effect on Hispanic businesses in majority Latino cities.

In some immigrant communities, industries as varied as restaurants to tax preparation say any number of issues — from immigration enforcement to trade renegotiation — have created enormous uncertainty. Many stories are anecdotal, but the variation in industry reflects how that uncertainty about how Trump will govern has chilled some Latino areas; even if the administration doesn't make severe changes to the way immigration or trade is enforced, a lot of people think they will.
In areas with large Latino populations, for instance, taxes can be tricky. Many immigrants, including those who are undocumented, file their taxes using an ITIN form rather than a social security number, which some obviously do not have. A manager at Toro Taxes in Las Vegas, whose customers are 85% Latino, said the effect of Trump's win was disastrous and swift. With less than a month to go before the April 15 deadline, his business is down 40% from last year.
"They work and they usually come and do their taxes but they're scared because of rumors that people are going to get them with the police acting like immigration," the manager said, asking his name to be withheld. "This president instead of building the country he's going to kill the country."
A consultant noted that Univision was recently interested in setting up an informational town hall in Las Vegas to calm fears in the community. "They're hurting and losing a shit ton of money because Latinos are in panic mode," the source said.
Univision itself, in many ways a barometer of the state of the Hispanic community in the U.S., embraced anti-Trump activism during the campaign, to their detriment. After Trump's win, they're now feeling the effects of timid advertisers worried that Latinos are not spending, according to two network sources. Revenue for the Univision Television Group that spans more than 120 local television and radio stations across the country is expected to be down roughly $15 million in the first quarter and $50 million in the second quarter, though company sources expect a rebound in the third and fourth quarters.
Mercy Mosquera, the owner of Tierra Colombiana restaurant in Pennsylvania was a 2015 winner of the Philadelphia Minority Business Leader award. She said while the area she works in is 90% Hispanic, her customers breakdown half-Latino, and half other groups. Still, she has heard the whispers — the uncertainty and feeling that they should save money just in case.
"You do realize a customer that used to come three or four times in a week, maybe now they come once, which affects us," she said.
Jaime Chamberlain, the president of a company based in Nogales, Arizona called J-C Distributing Inc., which distributes Mexican produce in the U.S., said it was too early to judge Trump. But Chamberlain noted that Trump's rhetoric on disintegrating the NAFTA trade deal between the U.S. and Mexico, though, or changes to the way the United States taxes exports is alarming and could hurt his business.
"It's always a concern," he said, before sounding a note that everything should be fine. "We have a wide group of customers that need Mexican food."
The new DNC chair Tom Perez told BuzzFeed News that Trump's "hateful" rhetoric and policies toward immigrant families have stoked fear in communities, "including schools and small businesses."
"The Latino community in Philadelphia even had to cancel their Cinco de Mayo celebration due to fear of deportations," Perez said.
The Trump administration wants to be seen as tough and unforgiving when it comes to people in the country illegally but does not want to harm Hispanic businesses. An administration insider said what they've heard is also anecdotal — people who only want to go to work and come home and fear even going to the corner store, but see it as a problem.
"I think it's unfortunate, it bothers me and I think it's real," the source said.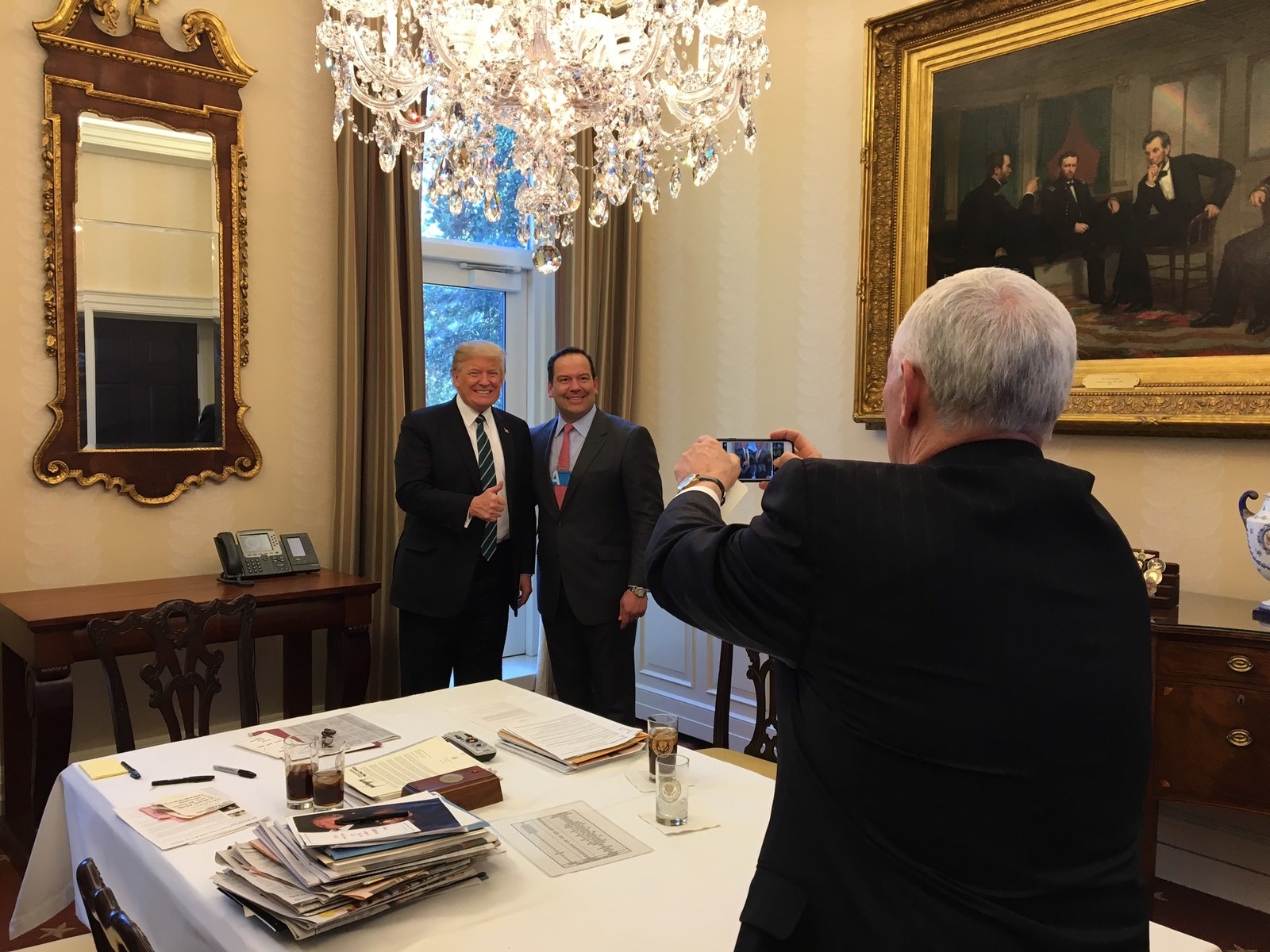 In Washington, the conversation is notably wonky. Hispanic businesspeople zeroed in on regulations and access to capital as starting points. Jennifer Korn, the administration's deputy director of the public liaison office, whose job it is to connect with key communities, told BuzzFeed News that Hispanic business groups appreciated that out of the gate Trump signed an executive order which removes two regulations every time one goes into effect.

Allen Gutierrez, executive director of the Latino Coalition, said that his group was specifically energized that the administration moved to stop Obama's overtime rule that would make more workers eligible for overtime pay but conservatives argue would hamstring employer flexibility and that Trump seeks to scrap the fiduciary rule that protects investors from the decisions of their financial advisors but is also viewed by some as an onerous regulation.
Korn said the administration is working to have communities know the positive message it espouses and said some of the blame for fear in communities lies at the feet of media who amplify it.
"That's why going to their conferences is important and inviting them to the White House," she said, of Hispanic groups. "The only way to get through misperceptions, what the media is saying, is sharing what's important to us and what's important to you. During almost every single listening session people say 'we feel like we have a voice in this administration.'"
Besides the president, Korn pointed to Priebus who sat in the USHCC meeting and spearheaded the RNC's 2012 growth and opportunity project that Trump largely cast aside, as someone who recognizes the importance of the Hispanic community and a reason why the efforts will continue past the opening months.
"Reince even before coming to the administration has cared about engaging in all communities," Korn said. "What's great is he is continuing that commitment."
But supporters say the commitment to Hispanic businesses starts at the top with Trump. Cortes, the Fox News surrogate, finally got to meet the president during his visit to the White House and left all smiles with an inception-esque photo of Pence taking a photo of him and Trump with his trademark thumbs up. Cortes said he told Trump that he got 30% of the Hispanic vote when the media narrative was that he "hated" Hispanics.
"My goal for you in 2020 is to get 50%," Cortes said. "Well, we'll never lose an election again," Trump responded.
Outside the Latino Coalition event after Pence spoke, Irma Aguirre, who served on Trump's small business advisory council, tried to explain the optimism she feels in the Trump presidency. She saw her business take a major hit from protesters for inviting him to her restaurant El Sombrero Mexican Bistro in Las Vegas during the campaign.
She lauded his personal touch, recalling that during the campaign Trump asked her and other business owners how he could help them. They told him that small business loans would help with access to capital and she believes regulations that have already been slashed on lenders will make it easier for small businesses.
Aguirre acknowledged that there is fear in Latino communities — also blaming the media for "fearmongering" — but she said business owners she speaks with are excited about President Trump.
"When he got elected many of us felt that wow I think this is going to be a real type of a change because he's a businessman and he gets us," she said.
But just three miles away, the manager at Toro Taxes said the message from immigrants and past customers scared to file taxes is already hurting his bottom line, which should concern the administration.
"We'll wait and see what's going to happen with this president," they tell him. "If they don't deport us we'll do our taxes next year."