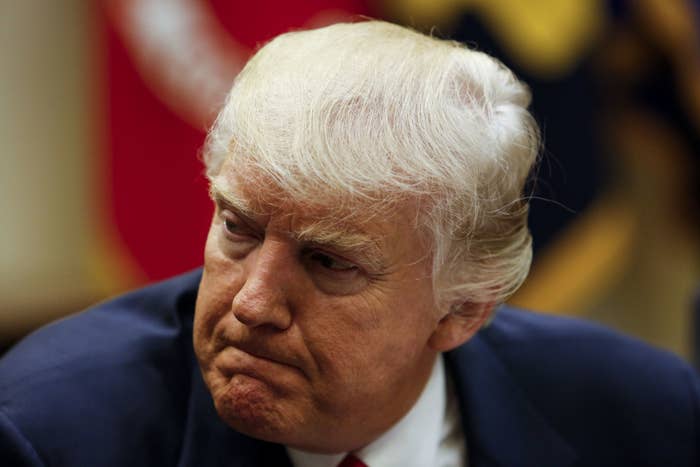 WASHINGTON — In a private meeting between President Donald Trump and national news anchors, a relaxed and open Trump said the time has come for compromise from both parties on an immigration bill, a major departure from the way he has framed the issue in the past.

"The time is right for an immigration bill as long as there is compromise on both sides," Trump said, according to six attendees who recounted the meeting to BuzzFeed News.
But Democrats believe the Trump administration, which has broadened the definition of who qualifies as a criminal and ramped up enforcement and deportations, stoking fear in immigrant communities, is far from an equitable negotiator on immigration.
"The only thing Donald Trump is interested in compromising is the United States Constitution," said newly elected DNC chair Tom Perez, adding that Trump has painted immigrant families as criminals and floated mobilizing 100,000 troops to act as a deportation force.
"At this point it's just talk," said Rep. Joaquin Castro.

A list of Trump's six guests released Monday night showed that three are family members of victims of violence by undocumented immigrants, which also angered Democrats.
"He's signaling to the country that most if not all undocumented immigrants are criminals, murderers, and rapists," Castro said. "What happened to these victims and their families is tragic. However, the perpetrators of those crimes committed them because they were bad people, not because they were immigrants."
The meeting alternated between portions being off the record and parts attributable to senior White House officials without using their names, a practice the administration has criticized on stories they disapprove of. Attendees included NBC's Chuck Todd and Lester Holt, CNN's Jake Tapper and Wolf Blitzer, Univision's Maria Elena Salinas, Telemundo's Jose Diaz-Balart, News One's Roland Martin, and others.
The administration again leaned into efforts to deport criminals, according to meeting attendees. But Tapper and Blitzer wrote on CNN that "those who aren't serious or violent criminals could stay in the US legally, hold a job and pay taxes, without having to worry about being deported."
A major topic of the meeting was immigration, with Trump reiterating that "bad hombres" need to be removed from the country, but appearing open to a path to citizenship for DREAMers — undocumented young people brought to the country as children.
Trump also acknowledged that his messaging on immigration, which has been hardline save for occasional comments that he has love for DREAMers, could have been better, giving himself a C grade so far.
But like any instance of Trump appearing to moderate on immigration there was a catch. Asked by George Stephanopoulos if he was open to a path to citizenship for DREAMers, Trump said yes — once they leave the country and come back, which is a nonstarter for many immigrants with ties to the country.
Attendees said one of the Fox News anchors — it's unclear whether it was Chris Wallace or Bret Baier — asked whether giving some form of legal status to certain undocumented immigrants would mean that Trump wasn't keeping his promises to his base.
But Trump said that wouldn't be the case because there has to be "a softening on both sides. There's got to be a coming together."
Democrats aren't buying Trump's talk of compromise on immigration ahead of his joint address to Congress Tuesday.
Sen. Minority Leader Chuck Schumer said the immigrant community is "rightfully scared" of what President Trump has done.
"His executive order goes far beyond anything that anyone proposed. People are cowering. It's going to hurt us economically — large numbers of people just aren't going to show up to work and employers are going to start complaining," Schumer said, earlier in the day. "Once again, it's an administration that they don't seem to know what they're doing. They simply come up with these proposals that sound good and then they can't implement them, they don't make any sense, they don't meet the law. It's amazing in a month how incompetent this administration has been."
And while Trump was open to discussing issues more openly than attendees expected, he also was skilled at deflecting pointed questions. He was asked about his comments regarding violence in Chicago and what he meant by saying he was going to send in federal law enforcement, a question that he avoided.
He was also asked about pushing police officers on the issue of police brutality and deflected, talking instead about the tough cops he met on the campaign trail and how they would be able to deal with the violence quickly.
Trump also left the possibility open that he would speak about immigration besides in the usual red meat fashion he usually serves his base, by adding a mention of a compromise between the two parties.