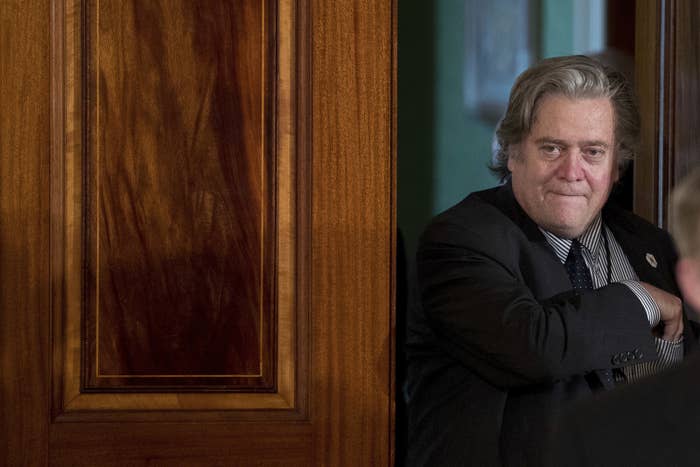 The Trump Administration quietly surrendered Thursday on a core and divisive campaign promise to deport young undocumented immigrants, a move that both reflects a policy shift and the complex internal politics of a divided White House.
A little after 10 pm ET, the Department of Homeland Security announced that it had put the final nail in Obama's stalled second administrative action on immigration, an order intended to shield millions of undocumented parents from deportation — but was stuck in a years-long state of legal limbo.
But buried in announcement was an acknowledgement of a policy with broader implications in the lives of millions of undocumented youth who have known no other country than the United States: DACA, Obama's program that allowed DREAMers to stay and work in the U.S., will continue.

The administration, as it has done for months on its promised immigration hard line, is seeking to have it both ways on what candidate Trump called Obama's "illegal executive amnesties."
"Yesterday, based on litigation, the administration decided to rescind DAPA. The fact that DACA was not rescinded by the same memo should not be interpreted as bearing any relevance on the long-term future of that program," A DHS spokesperson Jenny Burke said in a statement to BuzzFeed News. "The future of the DACA program continues to be under review with the administration. With regard to DACA, the President has remarked on the need to handle the issue with compassion and with heart."
("I love kids, I have kids and grandkids and I find it very hard doing what the law says exactly to do and, you know, the law is rough. It's rough, very very rough," Trump memorably said of DREAMers earlier this year.)
And that narrative doesn't exactly sway immigration activists who fiercely oppose the administration, either.
Activists believes the back-and-forth on DACA is a tactic on the part of the Trump administration to distract groups as they move to fast track deportations. It's wrong, they say, for the administration to simultaneously tell people DACA is remaining in place and then say nothing changed.
"You can't simultaneously tell people DACA is remaining in place," said Tom Jawetz, vice president of immigration policy at the Center for American Progress, "and then say that was yesterday and may not be true today."
But the delay is also part of a strategy by one of Trump's top anti-immigration advisers, Steve Bannon, to save DACA for future negotiations with Congress.
As BuzzFeed News first reported, Bannon fought early to keep DACA in place, battling attorney general Jeff Sessions and influential protégé and advisor Stephen Miller — typically his allies.

A source with knowledge of Bannon's thinking confirmed at the time that he viewed DACA through the prism of using it as a bargaining chip in an immigration showdown with Democrats further down the line — scrapping it now erasing any ability to use it for leverage against beaten down Democrats and forcing them to accept other less amenable concessions on an issue progressives care about.
A source close to the administration said the disagreement on DACA, with Bannon and chief of staff Reince Priebus on one side and Miller and Sessions on the other side was a "pretty knock-down, drag-out fight" and that after Trump seemed to knock down Bannon in a New York Post interview which minimized his importance his stock has slowly risen.
"We already knew DACA wasn't going away, and then we had the Paris deal," the source said. "His influence has remained, for all the talk of him being ostracized, it was very premature in my view."

The preservation of DACA reflects Bannon's staying power, and Bannon allies say he has risen as his internal rival Jared Kushner is pulled into the unending Russia probe.
"Bannon's in good shape because of Jared fucking up and causing this whole investigation," a Bannon ally said. "They all agreed to fire Flynn. But then Jared told him to fire Comey and that the Democrats would like it, I mean, how stupid do you have to be?"
Former Trump advisors say Bannon can and will continue to play a crucial role for Trump.
"Steve is an important ingredient — if there is anybody in the White House besides the president that carries the mantle of the movement, it's he who understands it," said Sam Nunberg, who was an early Trump campaign advisor.

Even Roger Stone, who has been publicly critical of Bannon, but is a longtime Trump confidant and advisor, noted the strategist's resilience.
While Stone maintains that Bannon's partnership with Priebus has been an ongoing misfire, he said Bannon understands that Trump must keep faith with the coalition of voters who elected him in order to maintain a governing majority.
"I am pleased to see Steve asserting himself on key issues like Paris and think he is being more effective than he was earlier in the administration," Stone said.