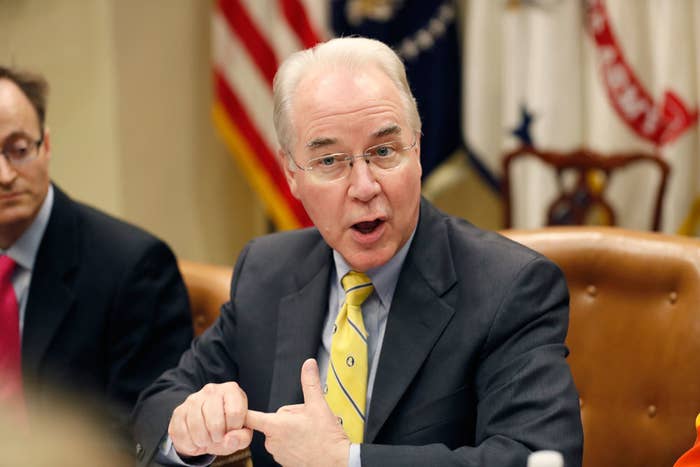 Tom Price, the Health and Human Services secretary currently under fire for his private jet travel, asked a White House official within the first two months of the administration to let President Trump know that he wanted to reopen his department's executive dining room, according to a source with knowledge of the request.
A separate source confirmed Price's interest in "reconstituting" the executive dining room more recently. The room had been closed as a dining room for top officials since the George W. Bush administration.
The White House referred questions to HHS. Asked about Price's desire to reopen the executive dining room, HHS Assistant Secretary of Public Affairs Charmaine Yoest said she didn't know about the request and could not comment. But she did note that HHS is currently expanding its cafeteria options in a new space on the facility's sixth floor, which is also home to the executive dining room space. Yoest did not respond to follow-up phone calls.
An HHS official added that staff at the department frequently complain about the cafeteria's limited dining options, between a Starbucks and a Potbelly sandwich shop. Asked about the cafeteria remodeling, the official said expanding the space involves adding tables and bringing in greater cafeteria options, like sandwiches for purchase aside from what is available in the eighth-floor cafeteria.
The executive dining room space could be part of the area currently hosting HHS's new cafeteria options. But if it's reopened as the executive space, it would traditionally not be something that department staff would get to regularly enjoy the perks of.
Asked about this story on Fox News Thursday night, Price denied that he had wanted to reopen the executive dining room, but said the department did "reopen a dining room for both the political and the career folks within the department on a different floor so they have more options to eat lunch and to chat and work during lunch." It is not clear what other dining room he could be referring to, and HHS did not immediately return a request for comment.
Executive dining rooms are used by some cabinet secretaries for lunches and business meetings, and they come with an executive chef.
During the Obama years, there was an executive chef at HHS with an office in the kitchen on the sixth floor who would occasionally make lunch for the secretary, a former Obama official said. The source, who served for Obama HHS secretaries Kathleen Sebelius and Sylvia Mathews Burwell, said that the department had however decided not to reopen the executive dining room, deeming it an unnecessary expense.
"They were figuring out ways to cut the budget internally, and that was an added expense that was not needed," the source said, adding that during Obama's presidency, the room was used as a conference space for meetings and parties.
A separate Obama HHS official said both Obama HHS secretaries generally ate lunch in their offices, and when they hosted guests for meals, they usually did so in their private conference room.
While it is unclear if Price will go forward with reopening the executive dining room, the sources with knowledge of his earlier interest in doing so said his interest alone was another unforced error for the head of a department that was supposed to cut costs by almost 18%, according to Trump's proposed budget.
Republicans said that while opening and operating an executive dining room wouldn't make a dent in the department's overall budget, the optics are rough for Price on the heels of Politico reports that he took more than 25 flights on corporate jets since May, and with Republican-led health care efforts failing in Congress yet again. Price apologized Thursday afternoon for his use of taxpayer-funded private planes and said he would "write a personal check" to the Treasury for his travel expenses on private charter planes.
"As a populist movement, the Trump movement should never make it look like government officials are crossing the line for self-aggrandizement or trying to use their position to facilitate a luxurious lifestyle for air travel or meals at the expense of the taxpayer," said a source close to the administration. "We have to be extra careful on stuff like this if we're going to market ourselves as a movement of working-class Americans."
"They're making a ton of cuts, the world is falling apart, and Price is on private planes and wants to open an executive dining room," said one of the sources with knowledge of the request, who served on the Trump campaign and transition team.
The source who said Price wanted White House aides to mention his interest in the executive dining room to the president said Price is hurting the administration.
"He's such a fucking hypocrite," said the source, who has advised Trump in the past. "We were always the people slamming Obama and his staff for doing stuff like this."
GOP strategist Matt Mackowiak said Price's jet travel and interest in an executive dining room, when informed of it, appeared "tone deaf."
"My guess is that it's a rounding error, budget-wise," he said. "But it's more about the symbolism of it than about the actual hard dollars."
The second Obama HHS official said there had been discussion during the Obama administration about renovating the dining room to be a more functional meeting and office space, since it was a large space close to the secretary's office that was underused, but the plan never moved forward. The idea was "certainly not to renovate to make it nicer for the secretary's personal enjoyment," the source added.
Previous presidents have zeroed in on limiting executive dining rooms. Early in his first term, former President Bill Clinton boasted about Labor Secretary Robert B. Reich's decision to not use his.

"When I took office, the Labor Department had a nice executive dining room for its secretary but not enough money to train unemployed workers," Clinton told the Washington Post at the time. "I am going to propose a package that has some more money to train unemployed workers, and the secretary of labor is now eating in the dining room with the employees."
The Washington Post, though, found there was "no connection between the Labor dining room and training funds."
Some departments, like the defense or commerce departments, continue to hold meetings and lunches at their own facilities to cut down on costs, rather than getting cars and security to head to restaurants off-site.

But the first former Obama HHS official said it was the last administration's calculation that "we don't have those kinds of external meetings or a need to have meals with them, so we cut it to save those dollars."
Kate Nocera contributed reporting.