This Cartoon Shows What Americans Truly Find Scary On Halloween
A commentary on what scares Americans and what should scare Americans.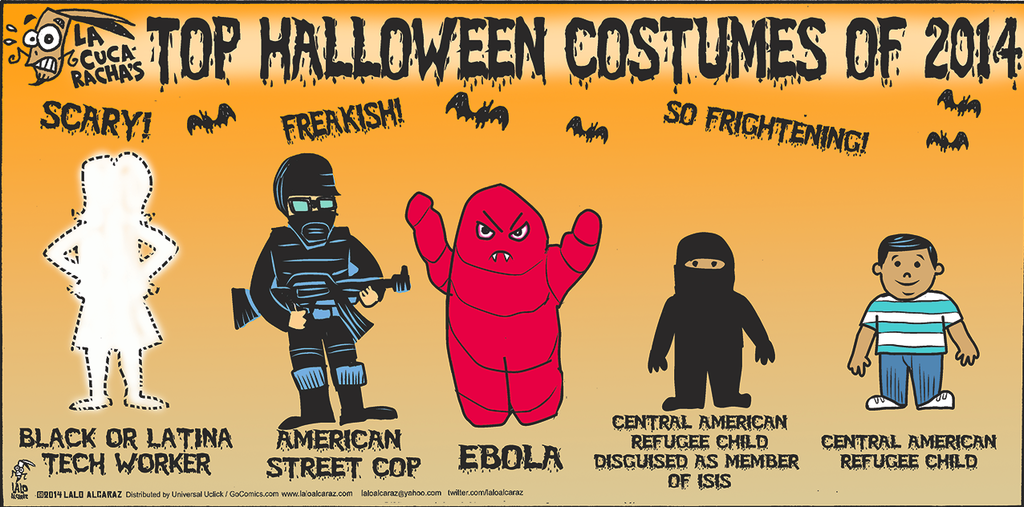 Cartoonist Lalo Alcaraz made a cartoon just in time for Halloween that lampoons what scares Americans, what the media focuses on, and what isn't focused on enough.
Alcaraz told BuzzFeed News the "scariest" or "most popular" Halloween costume gag is a seasonal time-saver used by many editorial cartoonists during this busy time of year.
"In my daily comic strip, La Cucaracha, I get to rely on this gag framework just about every holiday season — 2010's version of this cartoon featured Salmonella Humpty Dumpty, a terror baby, the terrifying Governor of Arizona Jan Brewer, a brown person with frighteningly brown skin and real Jersey Shore costumes," he said.
In 2014, he says, the fear mongering only increased.
"This year brought the invisibility of female tech workers, the militaristic tactics of heavily armored American street cops, Ebola, of course, and Central American kids, costumed or not," he added.
"As they say in Mexico, 'TRIKO TRI'"