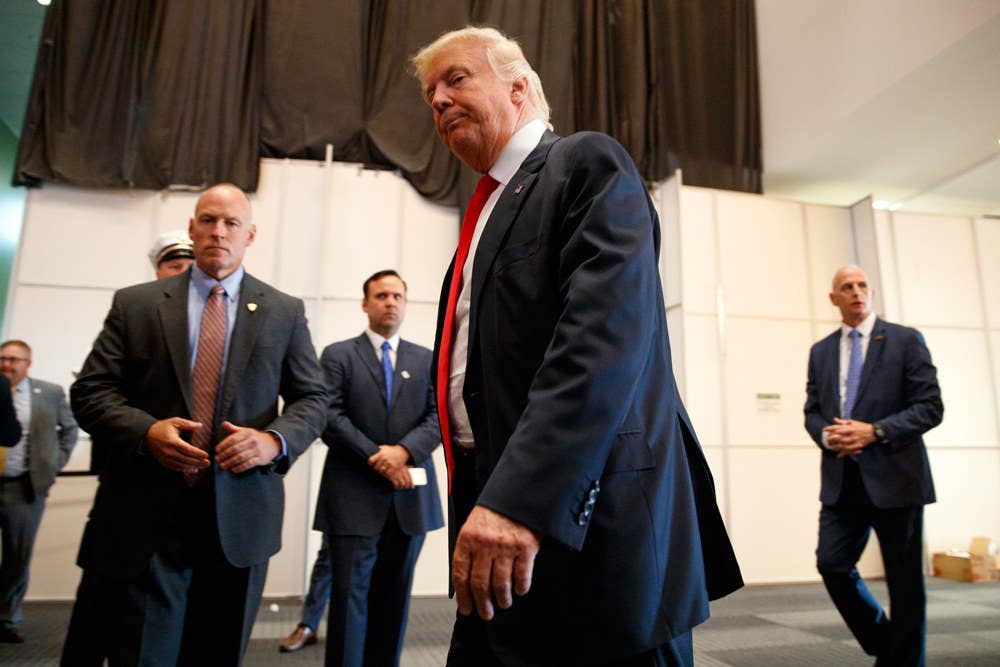 WASHINGTON — Ileana Garcia is the type of true believer that campaigns love. The telegenic former radio personality created Latinas for Trump. She defends Donald Trump on Spanish-language networks, sets up events for like-minded women, and withstands harsh criticism on Facebook, where she has received death threats for her support of the Republican nominee, who many Latinos strongly dislike.
When her public Trump support drew the attention of Univision employees, they told her to cut it out if she wanted to work in the industry again.
She was undeterred. Her grassroots efforts with Latinas for Trump drew the attention of the Trump campaign. Her reward, according to two sources: She would join the campaign.
Republican Party sources said some of the shine came off Garcia when, getting ahead of herself, she told reporters in Cleveland at the Republican convention that she was going to be the national Latino spokesperson for Trump. The campaign, the sources said, was annoyed by her public remarks, because they planned for her role to be specific to Florida. It is now unclear whether she will have an official role in the campaign, the sources added.
A source with knowledge of Garcia's communication with the campaign said her efforts were rebuffed, culminating in a tense exchange with her and a top Florida campaign official. (Garcia and the Trump campaign declined to comment for this story.)

"Do whatever the fuck you want," the official said to Garcia, according to the source. "I don't know what I'm going to do with you, anyway."

The episode encapsulates the Trump efforts to undo damage with Hispanic voters so far. For months, RNC officials and Trump supporters have promised a Latino outreach effort from the candidate.
"I know Donald Trump is going to be doing a Hispanic engagement tour coming up soon... He understands we need to grow the party," Reince Priebus said a day before the Republican convention. The RNC Hispanic political and media team — comprising Jennifer Korn, Helen Aguirre Ferre, and Sofia Boza — spoke with the Trump campaign and delivered a Latino outreach playbook.
But that plan is gathering dust, Republican operatives said, and the "engagement tour" hasn't happened.
The campaign canceled an initial July 8 roundtable with Cuban business and faith leaders in Miami because of the tragic shooting in Dallas. Then the rescheduled July 26 event was officially canceled because the roundtable participants were out of town. (Three Republican sources told BuzzFeed News a hold was put on the campaign calendar for that time slot but the event was never planned.)
Another unreported, but planned Hispanic event was also canceled: The July 5 event was supposed to bring Trump face-to-face with San Antonio business leaders and Texas Republicans, but after the campaign reached out for venue space and possible participants, the event was scrapped.
Some Texas Republicans speculated the event was conceived because Lionel Sosa, a legendary Republican ad man who had worked for Reagan, wrote a San Antonio Express News op-ed in late June titled "Farewell, My Grand Old Party" that blasted Trump and caught the attention of Latino Republicans in Texas.
"I think they couldn't get enough people to come to the event because their support among Hispanic voters is 14%. What do they expect?" said Artemio Muniz, a Republican from Texas who was aware of the event and opposes Trump.

A Texas Republican Hispanic leader said the campaign doesn't see value in the state. While it's not a battleground, the Republican noted that the state offers important resources and goodwill among Latinos.
"Good leaders ask questions: 'What's going on in your communities and how do we address those issues?'" the Texas Republican said, arguing that Rick Perry, Jeb Bush, and George W. Bush understood the importance of engaging Hispanics. "It's vitally important from a policy standpoint, but equal to that, you can't win the general election simply with the white vote."

Still, the RNC is hoping even a trickle will become meaningful Latino outreach. The Washington Post reported that Hispanic pastors, including Florida's Mario Bramnick, recently met with the campaign in the state, and those pastors have repeatedly said that in private Trump is more measured on immigration. And while its Hispanic plan has not yet been heeded, the RNC's Korn and Aguirre-Ferre are said to be heavily involved in planning Florida events aimed at Latinos, with the Miami business leaders event up first and still in the works.
"Anything that is an RNC effort unfortunately is not going to matter for the Trump campaign, considering that he has horrible poll numbers with Hispanics," said Izzy Santa, the RNC's former Hispanic media director. "There's no infrastructure and no plan because the Trump camp doesn't want to take diverse voters into account."
Pam Stevens — a well-regarded operative who worked for Reagan, Larry King, Wolf Blitzer, and Mitt Romney — joined the Trump campaign and is said to be steering coalition groups like women and Hispanics. But she is not Hispanic, and Latino Republicans wonder whether she is qualified to build voter coalitions after experience in media affairs.
And Trump has been unable to counter an apparent convention bounce by Hillary Clinton with any messaging that is not self-destructive in the week since Democrats left Philadelphia.
"You can't have an outreach program to get certain demographics involved if you're not even getting the basics right," said Josh Baca, former coalitions director for Mitt Romney in 2012.

Baca said Priebus is fundamentally convinced that the party needs to be more inclusive and engage in sustained outreach to communities, but the nominee has torpedoed any and all efforts. He praised the work of the party, but said the idea the campaign is going to outsource Hispanic engagement to the RNC is not practical.
Baca left Cleveland cautiously optimistic about the direction of Trump's campaign, but the last week has changed the possibility he left open of voting for him.

"As of right now I see myself having a hard time supporting him," Baca said. "In Cleveland, I thought he had an opportunity to bridge the gap and bring people together. But he's given me no reason to support him."
And Baca waved off talk of Trump pivoting.
"You are who you are," he said.
"This idea that he was going to be a new person once the general kicked in — it's like telling me an alcoholic who drinks a gallon of vodka every day is going to change. You can't change that, you have to seek help."