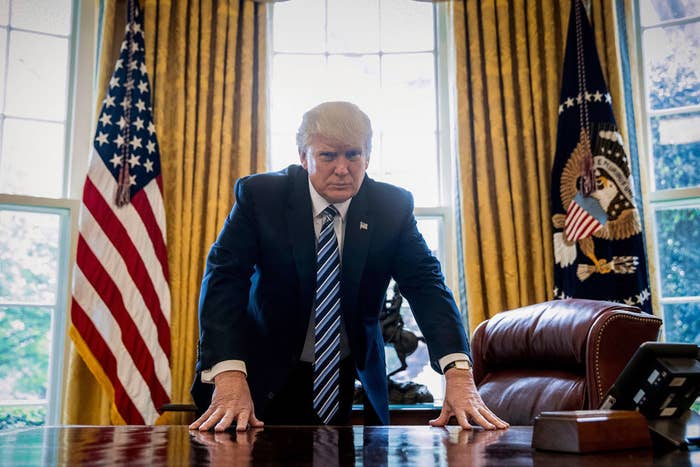 WASHINGTON — As the Trump administration scrambles to list the accomplishments of the president's first hundred days, an awkward fact is becoming clear: To the extent that they have much to brag about, it's because they've turned important roles and projects over to the swamp-dwelling Washington insiders Donald Trump campaigned against.

Trump's clearest major accomplishment is also the purest example of this trend: The appointment of Neil Gorsuch to the Supreme Court was a masterpiece of insider politics, steered by the longtime master of Washington conservative judicial politics Leonard Leo and guided through the Senate by the most Washington of Washington strategists, Ron Bonjean.
The nomination process was as slick as virtually everything else Trump touched was messy: well-researched and coordinated, with an array of conservative groups feeding and sparring with the media and with Democrats. It was characterized by aggression and spin, but not overt lying or massive bumbles. And while it was hardly a rogue operation — Bonjean is close to White House press secretary Sean Spicer — it was like an alternate universe from the chaos reporters are accustomed to coming out of Pennsylvania Avenue. Crucially, Trump, after a few wild tweets, stayed out of it. And, in just 66 days, it worked for an administration that has not had any major legislative successes with its Republican Congress outside of reversing Obama-era regulations.
The lesson: The swamp is winning.
Bonjean heaped praise on the administration's efforts with Gorsuch that included the White House counsel and legislative affairs offices in an email to BuzzFeed News.
"The White House has an outstanding communications team who asked us to assist with the Supreme Court confirmation process because they had just moved into their offices and required additional capacity of operatives who had relevant experience of working in the Senate. It was an honor to be part of this successful effort."
Bonjean was seen as someone inside the process who was an expert on how rules and committees work, knowledge the White House leaned on. Leo had a deep understanding of an array of judicial issues large and small that might come up and served as a resource and sounding board for the team that came together weeks before Gorsuch was even nominated.
But while the president has his moments where he harkens back to populist campaign-style Trump — as he did last week in Wisconsin on a buying and hiring American initiative — the swamp he pledged to drain remains as murky and swampy as ever.
There are lobbyists waivers, the White House's decision to not release visitor logs, and some personnel decisions (like Trump recently saying nice things about Janet Yellen). These decisions have left some in Trumpland scratching their heads and wondering if the swamp was just too rooted in Washington.
"You've heard of The Empire Strikes Back? Well, the swamp has struck back," said a source close to the administration. "The establishment has ruled Washington, DC, for so long, it's so entrenched and powerful, it's proving harder to kill than we envisioned."
But these issues are decidedly the purview of the president. The New York Times found that Trump is inviting potential conflicts by "populating the White House and federal agencies with former lobbyists, lawyers and consultants who in many cases are helping to craft new policies for the same industries in which they recently earned a paycheck."
Press secretary Spicer recently had to tie himself in logical knots as he explained that the White House was declining to make visitor logs public — a move that means lobbyists or special interests could enter the White House and have meetings with administration officials or even the president himself without the public ever knowing.
"We're following the law as both the Presidential Records Act and the Federal Records Act prescribe it," Spicer said. "So it's the same policy that every administration had up until the Obama administration, and, frankly, the faux attempt that the Obama administration put out, where they would scrub what they didn't want put out, didn't serve anyone well."
Christopher Ruddy, CEO of the conservative Newsmax and a longtime friend of the president, argued the administration has adopted a "siege mentality" because of how antagonistic the press is and that the visitor logs would be used against the White House but that it would be better to "take a few hits" in the name of transparency.
"I personally think they should allow the visitor logs and release them. I would hope that they would reconsider that position," Ruddy said.
"I believe that anybody that visits a public institution, the logs should be available to know who came and went unless it impacts national security," Ruddy continued. "I'm a believer in the more disclosure, the better."
That's not all for swampy victories, though.
The source close to the administration said that the worst transgression of all is that Trump seems open to retaining Federal Reserve chief Yellen. Asked by the Wall Street Journal if she was "toast," Trump responded that she was not.
"No, not toast," Trump said. "You know, I like her, I respect her. She's been [in the Oval Office.] She's been in that seat. I do like the low interest rate policy."
"I'm incredibly bothered that he said Yellen could be reappointed," the source close to the administration said. "She's the personification of the swamp, very much a detriment to the American worker. Great for Wall Street but terrible for most wage-earning, paycheck-to-paycheck Americans."
Still, Trump supporters are betting that blue-collar workers care more about populist Trump's events in Wisconsin where he says he's going to take a "sledgehammer" to regulations, is going to scrap the NAFTA trade deal, and wants more products stamped "Made in the USA," than who helped get Gorsuch confirmed, has the ear of the president, or is being hired in Washington.
Steve Cortes, a Fox News contributor who took part in a Hispanic business roundtable at the White House with Chief of Staff Reince Priebus last month, was succinct.
"I don't think the Trump voter gives a shit."
Outside Your Bubble is a BuzzFeed News effort to bring you a diversity of thought and opinion from around the internet. If you don't see your viewpoint represented, contact the curator at bubble@buzzfeed.com. Click here for more on Outside Your Bubble.