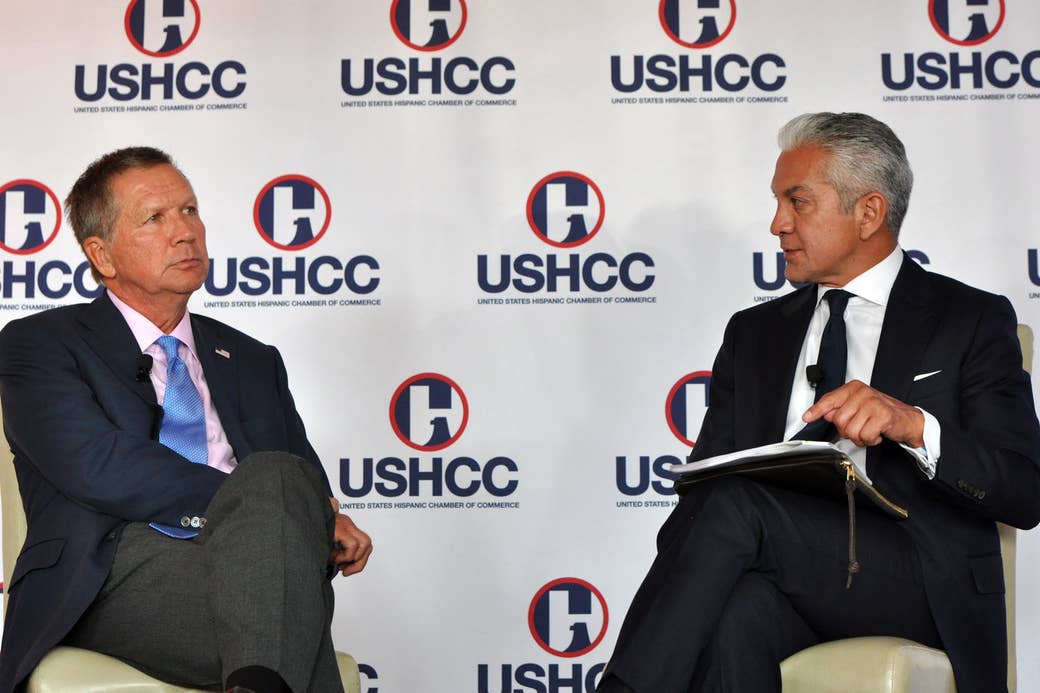 CLEVELAND — As Kansas and its 40 delegates took their turn in the roll call on the floor of the Republican convention at Quicken Loans Arena, John Kasich was settling into a chair minutes away, just across the Cuyahoga River.
The Ohio governor, who hasn't stepped foot in the convention brought with much excitement to his home state, was getting ready to speak to the U.S. Hispanic Chamber of Commerce president about jobs in Ohio, Hispanic businesses, and the convention.
Later, just as the New York delegation put Donald Trump over the top and officially made him the Republican nominee for president, Kasich did what many others have done over the first three days of the convention — talk about Trump, without mentioning his name.
"When you're anti-trade, anti-immigration, what good comes of that?" Kasich said.

At Hispanic events across Cleveland, conservatives lamented the direction Trump was taking the party, highlighting best practices from Republicans they desperately wish were still in vogue. Every convention has events like like this — devoted to Latino voters or young voters. This year, they're still doing the Latino events. But with Trump as the nominee, the frustration is evident.

At a Latino Leaders Network luncheon on Monday, Sen. Orrin Hatch, who founded the U.S. Senate Republican Conference Task Force on Hispanic Affairs nearly 30 years ago, said that his party has a lot to offer Latinos but the country must "reform the nation's broken immigration laws." He described them, not unkindly, as people who are kept in poverty or don't have a sensible way of becoming part of society before admonishing Trumpian appeals to nativism.
"I will never cast aspersions on someone because of where they came from," Hatch said. "Despite what you see on TV, the vast majority of Republicans feel the same way."
After the event, Jose Feliciano, the former chief prosecutor of Cleveland, recalled when he joined Ronald Reagan's White House as a fellow, but now identifies as an independent voter because he's disillusioned with both parties.
He was happy his city was being given the chance to shine, but angry over details of the platform being celebrated.
"The policies being discussed here, a number of them are antithetical to who I am as a person," he said. "On immigration, the view that many Republicans have taken is absolutely outrageous and I find it personally offensive."
Feliciano who works with many Hispanic groups in the city said he doesn't know one Latino supporting Trump.
Even as Trump prepared to seize the nomination for good, Republican leaders and elected officials like House Majority Leader Paul Ryan and Sen. Jeff Flake have in recent weeks wrestled with the idea of where the party goes next and spoken of a reckoning after the election.
At a National Association of Latino Elected Officials (NALEO) briefing on the Latino vote, officials carefully said Trump hadn't run "an ideal race," then took turns heaping praise on those who have done a good job speaking to Hispanics.
In Republican Latino circles, that often begins and ends with George W. Bush, including his now near-mythic 2000 convention, which had a Hispanic-themed welcoming event and performances in Spanish from beloved artists like Vicente Fernandez, but also surely seems better when compared to the current gathering in the age of Trump.
They hailed as conquering hero Cory Gardner, who they say won 45% of the Latino vote by embracing Latinos. There, too, they had advice for Trump.
"Right now, the left has defined Donald Trump," said LIBRE Initiative executive director Daniel Garza. "I haven't seen him on Telemundo, Univision or CNN en Español."
It's not too late for Trump with Latinos, Garza argued, but he must run an aggressive, all-out effort to reach them. Ruth Guerra, the former RNC Hispanic media director who left after the primary because of discomfort working to elect Trump, said it's not too late because Hillary Clinton is so disliked and distrusted.

But while the officials, including former Puerto Rico Governor Luis Fortuño, delivered impassioned arguments for why it's better for the Latino community to be fought for by both parties, Trump was always lingering nearby.
"If your narrative includes me, I'm going to be included in your policy," Garza said.

The opposite is also true, of course. Sitting in the audience, Carlos Sada, the U.S. ambassador to Mexico, said the relationship between the two countries is crucial "yet we continue being bashed every day."
"As a Republican, I'm embarrassed by some of the positions taken by Trump. Most Republicans don't feel the same way," Fortuño responded.

Later, at an event by the National Hispanic Leadership Agenda (NHLA), a nonpartisan coalition of 40 Latino groups that unveiled policies it describes as priorities for the Hispanic community, leaders said they were offended by Trump's anti-immigrant message. Hector Sanchez, NHLA chair, argued that bullying of Hispanic children and racism against Latinos is on the rise.
"What you're seeing is one vision of the party," he cautioned, adding that there is "an effort by the Republican Party to find their way forward."

Inside the convention arena, the Trump vision was blossoming, said Dr. Elena Rios, the executive director of the National Hispanic Medical Association. She said Latinos in medicine feel that Trump's rhetoric calls back to a darker time in American history.
"People say this is 2016 and we are going back to the 1950s," she told BuzzFeed News. "Our parents talked to us about when Mexicans couldn't eat in certain places, the hospitals wee segregated until 1955, and Mexicans and blacks had to be in certain morgues."
To be sure, there were moments when the convention at Quickens Loans Arena blended nicely with the outside Latino-focused events. Ben Carson spoke to the Latino Leaders luncheon and Chris Christie, a day after his fiery convention speech, emerged as an unlikely but effective surrogate to Latinos from the Trump campaign, talking about Latino education and school choice, an issue the community cares about.
But... there were also the signs of a party trying to convince itself that things are fine. The Latino Coalition, a conservative business group, unveiled a unique poll of 200 Republican Hispanics and independents. That's when a perhaps overzealous RNC co-chair Sharon Day said the poll showed that immigration is "way down" as a priority for Latinos, but Democrats force feed the issue to Hispanics. In actuality, immigration was third-most important in the handout given to the audience, and the second-highest priority on the Latino Coalition app it asked attendees to download.
"It's definitely a pet peeve of mine when people say immigration doesn't rank high for Latinos," said Mario Lopez, president of the Hispanic Leadership Fund, who attended all of the Latino events in Cleveland. "Sometimes people want to cite the lower-ranking of immigration to continue making ridiculous comments to say it's OK to bash the community."

Artemio Muniz, a Republican from Texas opposed to Trump, said there is a battle over what being a Republican stands for.
"I do see competing brands," he said. "Paul Ryan's brand of conservatism, inspired by Jack Kemp, vs. Trump's brand, but we're having to fight Hillary while trying to figure out which brand to push out to the public."
Over drinks, while convention attendees mingled before Kasich spoke to the U.S. Hispanic Chamber, a Latino Republican staffer could be heard reflexively calling Trump "a son of a bitch," at the mention of his name. Despite syrupy praise of Kasich from USHCC president Javier Palomarez throughout the entire interview, the organization endorsed Hillary Clinton the day after, a stinging rebuke of Trump and his policies from a major Latino business group in the midst of his party's convention.
"There damn well better be a reckoning," Lopez of the Hispanic Leadership Fund said, arguing that has been the narrative for the last three cycles, 12 years now.
"One way or another Republicans are going to end up understanding it. The question is whether they'll understand the ins and outs of the issue in time to not be locked out of the White House for 40 to 50 years."