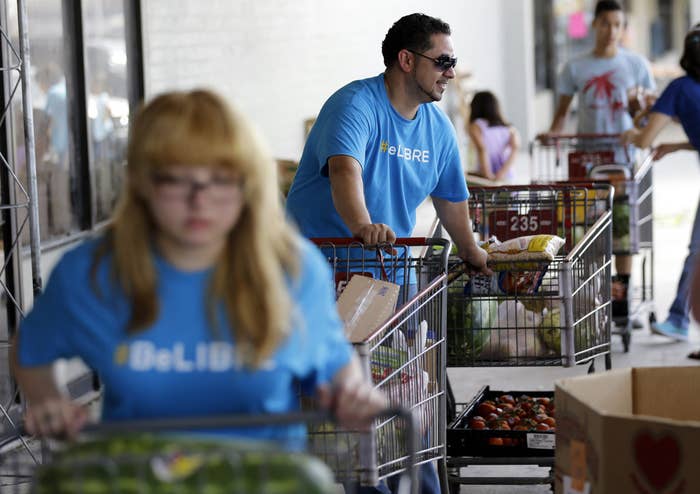 The day after Hillary Clinton's big May 5 immigration announcement in Nevada, a group of Democrats met in Washington to plot a way forward against a serious threat from conservatives in the fight to appeal to Latino voters in key states — the Koch-funded LIBRE Initiative.
The group included many, many top Democratic stakeholders, BuzzFeed News has learned. In attendance: representatives from labor unions SEIU and AFL-CIO, progressive research groups American Bridge and People for the American Way (PFAW); as well as Angela Kelley (a major D.C. player on immigration); Ben Monterroso of Mi Familia Vota; Frank Sharry of America's Voice; Kristian Ramos of Media Matter; top strategists Jose Parra and Andres Ramirez; and Cristobal Alex, the president of Latino Victory Project (LVP), the Democratic fundraising group and in whose offices the meeting was held.
The meeting was the first of a few throughout May, and culminated in a presentation to Democracy Alliance-aligned liberal donors last week in New York City. The presentation, which BuzzFeed News obtained, details the challenge LIBRE poses to Democrats and the plan to fight back through a coalition of organizations to counter the conservative group.
The "coordinated LIBRE response" will focus on countering the group through organizing and voter education, which includes on the ground work like that of Mi Familia Vota; strategic communications, which includes social media campaigns and could see the coalition bring in a group like Voto Latino; policy and research, the domain of Media Matters, American Bridge, and PFAW; and a political slice, which includes earned media.
"Libre means free, but they've gotten a free ride so far and they're not going to get it anymore," said Alex of LIBRE's work since 2011 and up to the recent midterm election. "We want to define and marginalize them."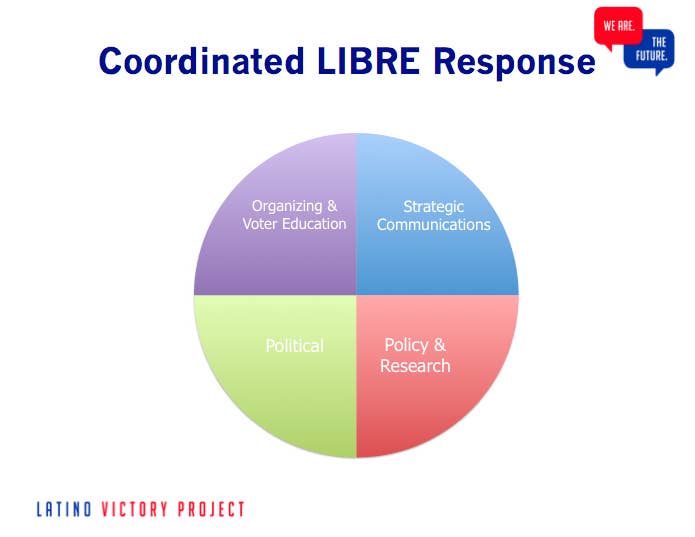 What has LIBRE done to earn this level of ire? Well, they've held food banks in Texas and helped immigrants learn how to drive in Nevada, all while espousing a message of free market and small government principles. If that was it, liberals would be less concerned. But LIBRE, which has received more than $10 million from the Koch brothers, also got involved in torpedoing two Democrats in 2014 — spending big in ad campaigns against Pete Gallego in Texas and Joe Garcia in Florida, which made it personal for LVP, which supported both candidates.
"We're about increasing Latino political power by getting them elected and they have a bad habit of attacking our candidates," Alex said, calling LIBRE a "clear and present danger."
In the last month concerns and dire warnings about the group have only intensified. On May 4, Albert Morales with the Democratic National Committee made a presentation to Democrats about LIBRE. Two weeks later American Bridge released a detailed report saying the group is "harmful" to the Hispanic community and PFAW, which released a similar report earlier this year, is holding a briefing June 1 about them.
In an invitation to the event forwarded to BuzzFeed News, LIBRE was described as reaching "out to Latino communities under the guise of economic empowerment to push a radical agenda designed to deceive a critical section of the electorate."
Daniel Garza, executive director of LIBRE and a former official in the George W. Bush administration, thoroughly enjoyed the news that a coalition of liberal organizations is coming together to take on the group, which will soon field 70 employees across nine states.
He said the reason LIBRE was formed was to counter the existing narrative of Latino left organizations. He argued the groups have been advancing a "progressive agenda like minimum wage, more and more public assistance and pro-union activity" for a long time.
He said he welcomes the debate on the merits of policy and doesn't look to stifle or censor them, but said there is one thing he will not accept.
"I would condemn any efforts by them to bully, demagogue, or demonize our activities — that's where I draw the line and I won't have any of that," he said. "That would be a disservice to the community."
There actually has been talk by people who attended the meetings over how to deal with this very issue. Some believe the coalition should steer clear of directly taking on LIBRE and should just work to spread its own message, while others say the group has very clearly come after and helped defeat Democrats and should be dealt with head on.
"They're not behaving like some sort of conservative think tank, it would be different, they're behaving like a political operation with electoral goals in mind," said Parra, a former senior advisor to Harry Reid. He pointed to LIBRE's actions in Nevada in 2014 and argued the group was telling Latinos that both parties were the same "clearly to depress the vote in Nevada."
Ramirez, a 20-year strategist in the state, has watched LIBRE's rise and was one of multiple sources who said the group must be countered by an effort led by and including Latinos, who understand the community.
He argued the group is intentionally spreading false information, and the more effective strategy — one employed by groups like Media Matters and the research organizations — is to discredit them where they are wrong.
"Latinos are used to seeing predatory tactics in our community, people who take advantage and mislead, and when those efforts are exposed Latinos respond pretty rapidly," he said.
Bradley Beychok, the president of Media Matters, told BuzzFeed News that the reason MMFA will be part of this effort is LIBRE's "misinformation" that undermines "pro-Hispanic" policies like the health care law, raising the minimum wage, and Obama's immigration actions. "We are fighting back by exposing their agenda within the media and ensuring our allies have the tools and information necessary to hold this organization accountable."
This messaging and research will be complemented by field work to counter LIBRE, an area of experience for Arizona political consultant John Loredo, which is why he was brought into the fold on these meetings as well.
Loredo said that Arizona's tough immigration law SB1070 "was like fertilizer for the community," growing a generation of activists and DREAMers. Those activists, he said, are now successfully countering LIBRE at community events they attend as well.
"Where they are, we're there too," he said. "We tell people what their positions are on DACA, DAPA, and health care."
But there will be difficulties, too.
The presentation to donors in New York City featured a slide titled "our challenges" which identified "a relatively scattered and siloed infrastructure and focus, no permanent touch, limited expertise on the issues other than immigration, an incomplete narrative, and a short bench of culturally competent messengers."
The groups believe they'll succeed in countering LIBRE because they understand what is at stake and because Latinos are their constituents, but acknowledged that the ongoing conversations they're having with donors are what will help the effort take off.
"I believe the conversations will be fruitful," said Loredo, who was at the event with donors, along with Alex.
Earlier this spring, the Democracy Alliance came under fire from Latino organizations after the alliance announced funding recommendations for 35 groups, a set that did not include Hispanic groups. Ramirez said it's time for that to change.
"Historically donors that fund liberal and progressive organizations have not allocated or dedicated funding for these types of efforts, that hasn't happened," he said. "That's something for them to do, to determine if engaging the Latino community is important."
Asked if he's worried liberals will make it rain on LIBRE, and whether he should go back to his funders to ask for more money, Garza summoned a long, deep laugh, and changed the subject.