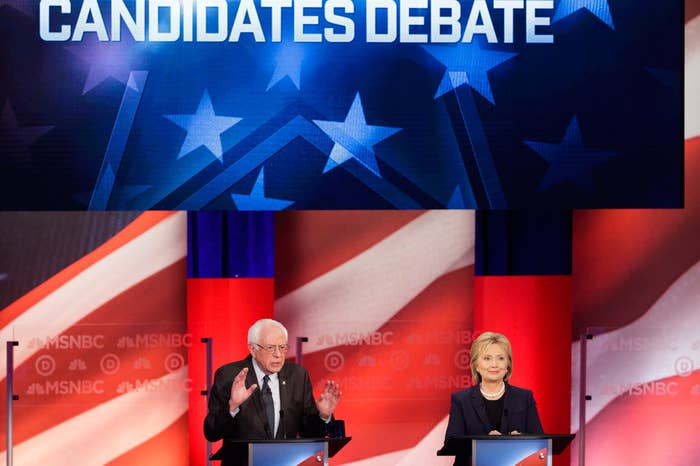 Hillary Clinton and Bernie Sanders finally talked about immigration on Thursday night, but would not commit to making the major issue — or any other — the first priority in their domestic agenda.
Saying that a president in their first year must make "choices" among many "heavy lifts," MSNBC moderator Chuck Todd asked whether either candidate would use limited political capital on the thorny issue that has gained bipartisan support in past years.
President Obama, he said, focused on health care arguably at the expense of immigration.
"Had he put immigration reform first, perhaps that gets done and healthcare doesn't," Todd said to Clinton. "So there are three big lifts that you've talked about: immigration, gun reform, climate change. What do you do first? Because you know the first one is the one you have the best shot at getting done."
"I don't accept that premise, Chuck," Clinton began, outlining her intention to promote an "ambitious, big, bold agenda" that includes improving health care, economic revitalization, early childhood education, and paid family leave as well as major change to the immigration system.

"I am absolutely supportive of comprehensive immigration reform and a path towards citizenship for 11 million people today who are living in the shadows," Sanders responded. "All right? We got to do that."

Sanders, too, would not commit to making immigration an early priority, returning instead to two of his key issues: campaign finance and the need for a political revolution that he argued will help blacks and Latinos by improving health care, criminal justice, and more. His litmus test for Supreme Court justices in his administration would be whether they would overturn Citizens United, he said.
For Sanders, the stance was a departure from comments he made in Las Vegas in November as he ramped up his Hispanic outreach when he said "passing a legislative solution to our broken immigration system will be a top priority" and pledging to enact executive actions on immigration that go farther than Obama has "in the first 100 days of my administration."
Obama's second immigration executive actions are stuck in court and have not been implemented, casting doubt on whether either candidate would be able to make good on their pledge to go beyond Obama.
Clinton's comments were consistent with what she told Telemundo in October when she resisted their push for her to commit to immigration as a priority in the first 100 days of her administration.
During the debate she returned to the issue, casting immigration as an issue where she would be able to explain to Americans why it matters.
To say to them, "here's why you may think comprehensive immigration reform with a path to citizenship isn't something you care about, but I'm telling you it will help fix the labor market, it will bring people out of the shadows, it will actually raise wages."
But activists hoping to hear a deep debate among Democrats on immigration were likely left disappointed — the conversation did not cover such ground as executive actions or a major tension between both campaigns, whether Sanders plans are realistic and Clinton's go far enough.
The issue came into focus Wednesday among DREAMer activists when Sanders staffer Erika Andiola criticized Clinton endorser Astrid Silva for saying Sanders's plans are not realistic. The back and forth led the main Twitter accounts for each candidate to get involved. Thursday night the immigration talk was short and sweet.