Senate Resolution To Honor Cesar Chavez Dies After Republican Tries To Add Border Security Language
Sen. Bob Menendez introduced a resolution to honor Cesar Chavez's legacy, but it was scuttled after Sen. David Vitter tried to add language about border security and illegal labor.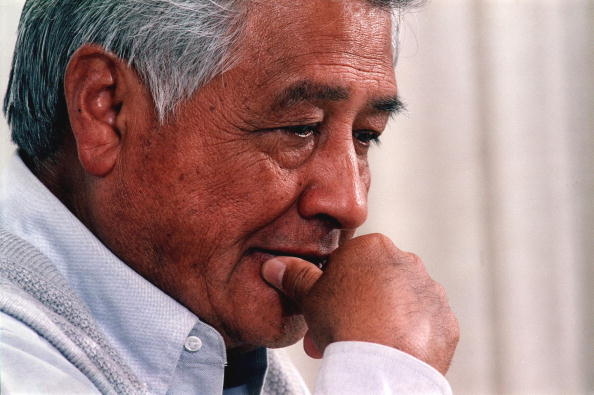 With the late-labor icon Cesar Chavez in the news because of the release of the film bearing his name, plus his March 31 birthday, New Jersey Sen. Bob Menendez introduced a resolution calling for the Senate to honor and promote his legacy.
But the resolution was objected to by Alabama Sen. Jeff Sessions on behalf of Louisiana Sen. David Vitter, who wanted to add an amendment saying Chavez recognized the danger of illegal labor, supported a secure border, and believed in enforcing immigration law.
Menendez, who has introduced the resolution eight years running, requested live unanimous consent for the commemorative resolution because in the past it has been blocked without a way of knowing who did so.
"If Republicans are going to object yet again – for an eighth year in a row – to honoring this great American hero, I want it to be on the record," Menendez said on the floor.
He noted in his prepared remarks that Republicans passed a resolution honoring World Plumbing Day by unanimous consent, "but INSIST on standing in the way of honoring a civil rights trailblazer who changed the course of our nation's history," he wrote.
"Cesar Chavez was a man before his time, and he deserves proper recognition," Menendez continued. "He dedicated his life to fighting for equality, justice, and dignity – not only for Hispanic Farm Workers, but for ALL workers in the United States."
Vitter wanted to add that Chavez believed in enforcing immigration laws because of "the deleterious effects of inexpensive labor" on the wages of farm workers in the U.S.
The two-part amendment concluded that Chavez recognized the importance of a secure southern border with Mexico and encouraged members of the United Farm Workers of America to contact immigration authorities to report instances of illegal labor.
The dispute over a symbolic resolution highlights a battle to frame Chavez's legacy and what he strongly believed in. Many say that he was against illegal immigration because undocumented immigrants from Mexico were used to try to break his strike and weaken his union.
But others, like Dolores Huerta, his longtime partner in the movement, say he felt the workers were being exploited through the Bracero Program, which brought in the cheap, undocumented labor. More than anything, she said, Chavez was against anyone who tried to break the strike, even including one of his family members.
"His godfather brought in people to break the strike," she recently told Fusion. "Cesar did not talk to his godfather, and just before his godfather passed away he asked Cesar to come and see him, and he went and he begged him to forgive him for breaking the strike."
She added that Chavez was not against undocumented immigrants because there were a lot of undocumented people in the union.
The drama on the Senate floor included a back and forth between both senators. Sessions said the amendment was necessary, and Menendez said it was irrelevant to the commemorative resolution before vowing to keep coming to the floor to make the resolution happen.