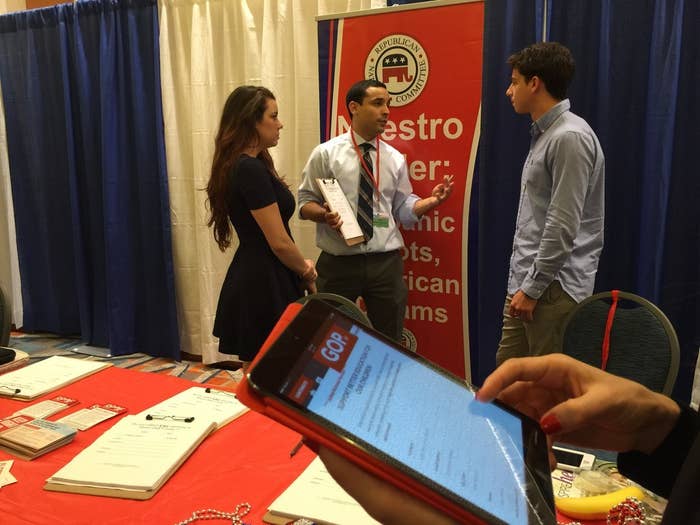 MIAMI — Latino business owners walked through an upbeat scene at the Viva Miami Hispanic Heritage Business Expo on Friday, with classic '80s synth music blaring as the Florida Panthers mascot ran through the convention center, playfully accosting passerby.
And among the local business booths, was one about Uber — and a petition asking whether the company should be able to operate in Miami-Dade county.
The question wasn't coming from taxi-union supporters or Uber itself, it was from the national Republican Party, where a team of volunteers armed with iPads was using the popular service as an opener to collect contact information from Latinos.
The Republican Party began its Growth and Opportunity Project in 2013, after the party's fortunes had declined from George W. Bush's 44% performance with Latino voters to the dismal returns with all minorities in 2012.
During Hispanic Heritage Month (expanded to 30 days by none other than President Ronald Reagan, the RNC will have you know), the party is doing 25 community events across eight states, many of which are electoral battlegrounds like Florida, Nevada, North Carolina, Virginia, and Colorado.
Millions of dollars are being poured into the 2016 effort to reach Hispanics, staff has been doubled on the ground, and after successful midterm wins in Florida and Colorado, the party is trying fresh approaches to engage them.
That calculus means an understanding that Latinos are not a monolithic group, differing geographically and ethnically, both native born and immigrant. And to better understand them, the RNC has gone to Hispanic community events with iPads and questions tailored to locals.
That means in Orlando, where the Puerto Rican community has skyrocketed, they asked people whether they supported statehood for the island. In Denver, the question was about school choice. A Pennsylvania event focused on taxes and the economy, while Miami events have asked about the Cuban embargo, school choice and now, a new, novel one: Uber.
"We want people to have the Susana Martinez moment," said Alex Garcia, the RNC Florida deputy director, who said more than 1,000 people have been engaged by Republicans in three events in the state. "They might sign up as a Democrat or they might identify as a liberal but then look at the issues they care about and say I might just be a conservative or I might just be a Republican."
Republicans feel supporting Uber, particularly in Miami-Dade where Mayor Carlos Gimenez said Monday the taxi industry will be substantially deregulated by the end of the year, is a slam dunk, an opportunity to come off on the side of technology and progress, where Democrats who receive support from taxi unions may be slower to back the companies.
That approach, opening with Uber and moving to party politics, was on display three days earlier.
"Do you like Uber?" Miami-Dade's Florida GOP director said from across a table to a woman strolling from booth to booth like she was window shopping at the mall. "Big government or small government?"
"Pequeño," the retired Cuban-American businesswoman Magali Abad said. Uber gets her support because of the free market in which competition is good, she said, but she is a Democrat because "there are a lot of things Republicans do" that she's "not into."
During the summer, no voice tried harder, louder, and perhaps more effectively, to undo these efforts by Republicans, than newly minted frontrunner, Donald Trump.
He's excoriated Mexicans and undocumented immigrants, and said he wants to build a wall on the border, in addition to rounding up and deporting millions from their homes (but in a "humane" way).
The development did not go unnoticed in Miami.
"You guys are going for Donald Trump?" said one woman, half-joking, half-accusatory, as she walked up to the booth at the business expo.
"Hey, don't say that," one of the staffers blurted, before adding that it's up to voters to have a voice and decide who will win.
The woman, Rebecca del Sol, gave her contact information on the Uber form and later told BuzzFeed News she likes Hillary Clinton and Ben Carson at the moment.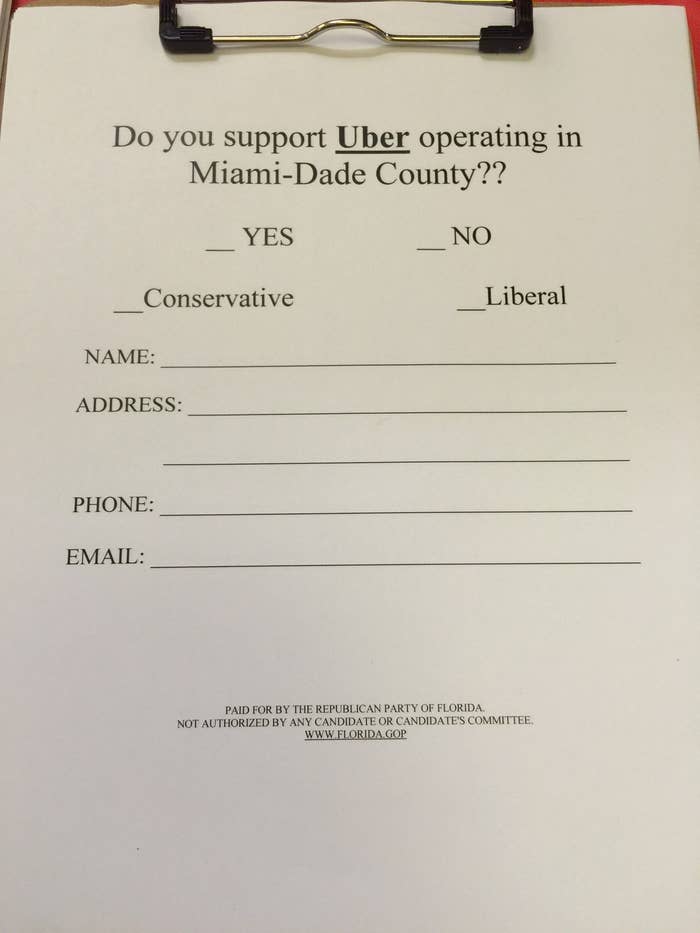 Republicans say the approach is innovative.
"Smart tactic by the RNC," said Ana Navarro, a Republican strategist and Jeb Bush supporter, in an email. "I suspect someone in Reince's shop had a near-death experience in one of our dreadful Miami taxi-cabs, and quickly realized backing Uber and Lyft in this city was a no-brainer."
Others argue the Uber work is an example of something Republicans often struggle with: issues that are youth-oriented, and feel natural for the party to support.
Armando Ibarra, a Marco Rubio supporter who recently held a happy hour fundraiser for the Florida senator, serves as the vice president of the Miami Young Republicans and used to be at Launchpad, a University of Miami startup accelerator.
He's held events on "transportation innovation" featuring Uber and competitor Lyft and said in his experience, talking about something young people care about is more effective than a more traditional Republican event about the second amendment or taxes. Starting with this approach "relates directly to issues of political ideology and in many cases party identification," he said.
"What we constantly see is Hispanics in general don't fall neatly into Republican/Democrat categories," said Bettina Inclan, who worked for Mitt Romney and the RNC. "By having these conversations you make people question what they really believe in and who they support. We've seen them swing, they're more interested in candidates and ideas."
Republicans are also collecting data that many in politics would love to get their hands on. For example, in Orlando at Telemundo's Feria De La Familia — attended by 10,000 people — more than 80% of respondents to the RNC survey said they were in favor of statehood for Puerto Rico. While the data collection is not scientific, Garcia in Florida said it allows the RNC to "check the temperature" on key topics and "gives us a good gauge to where we'll be at on particular issues."
While Democrats acknowledge that the national party has simply not competed with the RNC in terms of its level of resources deployed on the ground, they largely dismissed the Republican effort to speak to Hispanic voters with something like Uber as a conversation starter.
"I think it speaks to their toxic brand that they're engaging people trying to get their foot in the door using other issues," said Florida Democratic Party spokesman Max Steele.
"Maybe they should be asking, 'Do you use Goya foods or do you drink Bustelo or Pilon,'" said Democratic strategist Jose Parra, sarcastically invoking food and coffee brands found in many Latino homes. "They can't ask a question about any other policy issue: immigration or minimum wage or simple decency to people of other cultures, so they resort to asking about Uber to gather people's data."
Republicans are confident, however, that this on the ground engagement will pay dividends come 2016 and point to polls showing that Trump hasn't yet hurt the party as a whole with Latino voters.
At El Paso Mexican Restaurant in Fairfax County, Virginia, last week, RNC chairman Reince Priebus said it is "offensive" to many Hispanics to assume that they all share the same views on immigration.
Priebus, who met with Trump during the summer and asked him to "tone it down," according to reports, compared him to a Baskin Robbins ice cream flavor.
"It's like going to 31 Flavors, you can choose whatever flavor you want and we've got plenty of them and that's what people are gonna do right now and whoever the nominee's going to be we're going to be 100% behind them," he said.
He said the Growth and Opportunity Project was about increasing engagement with Latinos. In the report, however, the same sentence that lauds Bush for his relationships with the Latino community, also said his inclusive tone resonated with the community.
"If Hispanic Americans perceive that a GOP nominee or candidate does not want them in the United States (i.e. self-deportation), they will not pay attention to our next sentence," the report stated.
Still, many Republicans believe a candidate like Rubio, Jeb Bush or John Kasich would be able to successfully use the apparatus the RNC is building to grow the GOP coalition.
And the RNC will continue to show up. Party staffers were at Fiestas Patrias in Colorado, which had 200,000 in attendance, and will be in North Carolina this weekend asking Latinos about education, where 75,000 are expected.
In Miami on Friday, one longtime Republican, Mike Rivero, a Cuban-American who owns a printing business, said he was firmly in Jeb Bush's camp. He expressed an interest in volunteering for the RNC and gave his information to one of the eight or so staffers and volunteers working the booth.
One woman remarked that she didn't have time to register to vote right now, at first misunderstanding what the survey was about.
"This is for Uber?" she asked.
She then reversed course, and quickly jotted down her name and contact information before walking away.