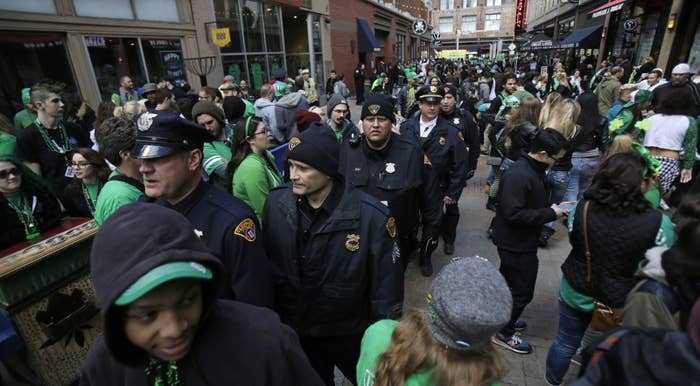 The high-profile killing of two black men at the hands of police in Minnesota and Louisiana and shocking murder of five Dallas police officers last week has heightened concern over protests in Cleveland, with the Republican National Convention set to begin in a matter of days.
But some activists say that violence and other recent incidents have led to a reassessment of planned protests due to safety concerns.
United We Dream, a national immigrant organizaton that has at times been critical of Hillary Clinton but blasted Trump for his immigration rhetoric and policies, initially planned to march from a rally it is holding with environmental group NextGen Climate to the protest zone designated by Cleveland officials for the convention.
But after the violence of the past week, the group's leadership spoke with affiliates and staff and made a change.
"We are not going to the protest zone outside the convention due to those safety concerns," said Sheridan Aguirre, a spokesman for the group, which will also appear with Code Pink and MPower in Cleveland. "We decided, considering our immigration status and race, that the rally would be the safest space."
Ohio has struggled with its own incidents of black men shot by white police officers, including John Crawford III, Sam DuBose, and 12-year-old Tamir Rice in the past two years.
Malaya Davis, an organizer for the Ohio Student Association, which protested against those killings, cited Cleveland's "history of violence" and $50 million the federal government gave to each city hosting a convention for riot gear and security expenditures, as something her group wanted no part of.
"My organization didn't have any plans on doing any direct action because of the very real possibilities of what happened last week and not wanting to put our folks in that position," she said.
Kareem Henton of Black Lives Matter Cleveland said the group was open to conducting its own protests outside of the designated protest zone.
Even before last week's violence, groups pointed to a a neo-Nazi rally in Sacramento on June 26 that left 10 people stabbed after the white supremacist group was met by counter-protesters as an incident that affected them and led to reassessing whether direct action protests were the best and safest way to engage at the convention.

They worry that the presence of white supremacists who support Trump and others will make the city a powder keg.
The New York Times reported that Oath Keepers, a group comprised of current and former members of the military, "who have shown up at other tense events heavily armed, say they again plan to carry weapons into Cleveland."
Activists pointed to the upcoming Netroots gathering of progressives from around the country in St. Louis, which runs from July 14 to 17 — the day before the Republican convention begins — as an event that will indicate the appetite for protesting after the violence of the last week.
Three Point Strategies' Jessica Byrd, a Democratic consultant, took part in the planning of a Black Lives Matter protest to draw attention to the death of Sandra Bland in a jail cell and Eric Garner in New York City during a Bernie Sanders and Martin O'Malley townhall at Netroots last year. She said advocates again find themselves in a place of mourning and heightened activism after a police shooting.
"Whether at Netroots or other spaces, black activists have demonstrated that we will make a space for our voices even when that doesn't already exist," she said.