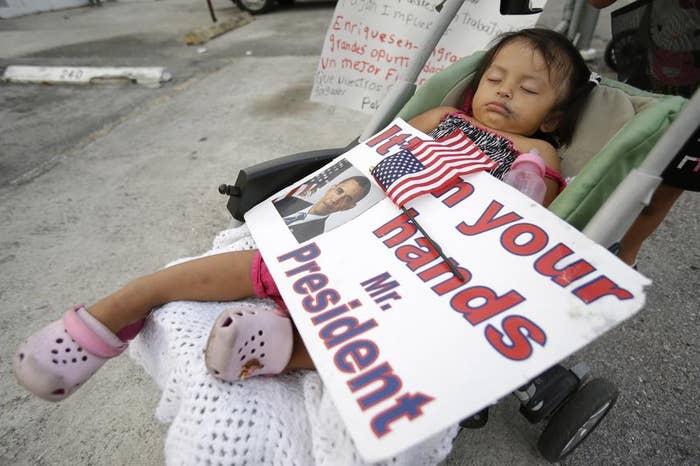 Stunned by the loss of House Majority Leader Eric Cantor, advocates for immigration reform said Tuesday night that the only remaining hope for bringing legal status to undocumented people in America lies through executive action by President Barack Obama.
"Everyone was betting on the primaries for the tea party to die out, with this win, a majority leader hadn't lost since 1899, this is big going to rile up the Steve Kings, the Mel Brooks of Alabama, going to scare a lot of members," said Cesar Vargas, an activist who is himself a "DREAMer," having come to the United States without papers as a child. "Before we heard the votes are not there yet, now they're gone."
"Absolutely [Cantor's defeat] means the president should go big on administrative action," Vargas said.
The calls for executive action are not new. Major moves on immigration already seemed increasingly dead in the House this session. But now, they appear dead for longer than that — through the 2016 Republican presidential primary, and perhaps as long as Republicans control one house of Congress.
Marielena Hincapié, the executive director of the National Immigration Law Center, also said executive action by Obama will be the next step.
"If Boehner decides not to act and the window closes on immigration reform, the president has no option but to go bold," she said. "He's doing it on student debt, he's doing it on minimum wage, if Congress won't act, he will, he should do everything at his disposal."
The loosely united group of activists pressing for executive action have often disagreed on what exactly the president should do concerning, most urgently, record numbers of deportations. But most agree with some version of a proposal from New York Senator Chuck Schumer: that some sort of relief should be extended to the undocumented immigrants who would be protected by a bill that won bipartisan support last year in the Senate. It's a move that would provide some sort of legal status — if not citizenship — to several million immigrants.
"Even if the president can not statutorily do the entire road to citizenship, he certainly has the legal authority to do for millions more what he has already done for young people," said Chris Newman, legal director for the National Day Laborers Organizing Network.
"Once the smoke clears, there will be galvanized momentum for the president to act using existing authority," Newman said.
Advocates also found themselves Tuesday night making the difficult case that backing reform isn't actually bad politics for Republicans. Hincapié, for one, disputed the notion that Cantor had lost over his position on immigration. Cantor's loss was "a vote about not having a backbone," she said. Another immigration reform group, America's Voice, blasted Cantor as "no friend of immigration reform" and in fact "the main person in the House blocking a vote on citizenship."