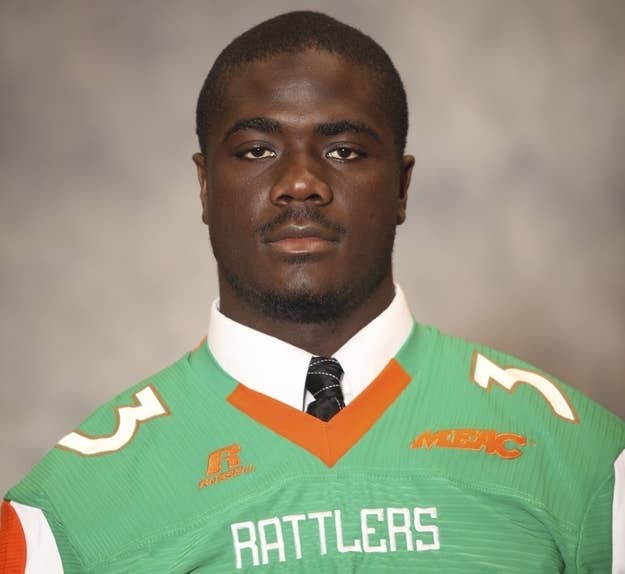 The police officer who shot and killed Jonathan Ferrell, after the former football player was in a car accident and banged on doors asking for help, will not be indicted on voluntary manslaughter charges, a grand jury ruled Tuesday.
The grand jury asked the prosecutor to submit a lesser charge for Charlotte police officer Randall Kerrick, who shot at Ferrell 12 times, hitting him 10 times, but family lawyers told BuzzFeed there is no applicable lesser charge.
Ferrell was unarmed, had no criminal record, and a November toxicology report showed his blood-alcohol level was not over the legal limit.
Ferrell's family was incensed and extremely disappointed with the grand jury decision.
"We're devastated by it and disheartened," said family lawyer Chris Chestnut. "And the family is increasingly suspicious of the process."
The process being questioned is whether the right type of evidence was presented. The family wants to know if the grand jury saw the dashboard camera video from the day of the shooting or if the grand jury was given copies of the autopsy report, according to WSOC in Charlotte.
North Carolina's Attorney General Roy Cooper released a statement asking for a full grand jury to look at the evidence again.
"Today, our prosecutors learned that the grand jury that considered the indictment on charges of voluntary manslaughter was less than a full panel," Cooper wrote. "It would be in the best interest of justice to resubmit this case to a full grand jury, which we plan to do as soon as possible."
Family lawyer Charles Monnett told BuzzFeed that a grand jury in North Carolina is
made up of up to 18 people and that typically the only people present are the witnesses and the prosecuting attorney.
"The proceedings are secret," Monnett said. "They're sealed and one of the family's fears is the secrecy because it's so unusual for a grand jury to come back with no indictment after only hearing one side."
He said there has been no explanation as to why four people were missing from the grand jury and adds that it would be much more difficult for the necessary 12 jurors out of 14 to decide to indict Kerrick as opposed to 12 of 18.
A voluntary manslaughter conviction could carry a three to 11-year jail sentence. Monnett believes Kerrick, if he was indicted and convicted, would be sentenced on the lesser end because of the circumstances and his record.
The officer's lawyer said justice was done.
"The citizens of Mecklenburg county ought to be proud of the grand jury and be proud of the job that officer Kerrick did that night, as regrettable as it was," Kerrick's lawyer, George V. Laughrun II said at a press conference.
Ferrell's family has a lawsuit pending against the Charlotte police chief, Kerrick, the city of Charlotte, and Mecklenburg County for "gross negligence" in Ferrell's death.
The lawsuit comes after autopsy results show that most of the bullets that hit Ferrell the night he was killed struck him with a downward trajectory, suggesting that he may have been on his knees or on the ground, MSNBC reported.
"He was only seeking help," his mother said during a press conference after the suit was filed. "I don't know if it will bring peace but I pray that they don't kill no one else's child."
During the press conference announcing the lawsuit, his mother once again held a small stuffed Pooh Bear, the one she had hoped to give to her son's firstborn child.
Monett said he is careful not to lump together the recent high-profile cases of young black people like Trayvon Martin, Renisha McBride, and Ferrell, who were shot and killed while unarmed, but does believe the increasing militarization of police across America is worrisome.
"One of the things that causes me concern is the militarization of our police departments," he said. "More police departments are adopting military-style tactics, have started arming police officers with machine guns and other automatic weapons."
Ferrell was shot because he walked toward police, and Monnett sought to explain his actions, saying that while he had been at a restaurant with friends from work and had two beers, he was well under the legal limit.
"He may have had a concussion or been dazed or stunned from the car wreck -- that's certainly possible," he said.
But added that it was more likely that because Ferrell had a sister and a brother-in-law who are in law enforcement and a "mom like Georgia who has total respect for law enforcement, that it never occurred to Jonathan that they would view him as a threat. It would never cross his mind that he would threaten the health or safety of an officer."