Meet The Univision Radio Host Attacking DREAMers And Republicans Alike
Fernando Espuelas made his name in LA radio during the 2012 campaign, interviewing the likes of Obama, Biden and Axelrod. But the hyper-partisan is a figure of controversy within the immigration activist world.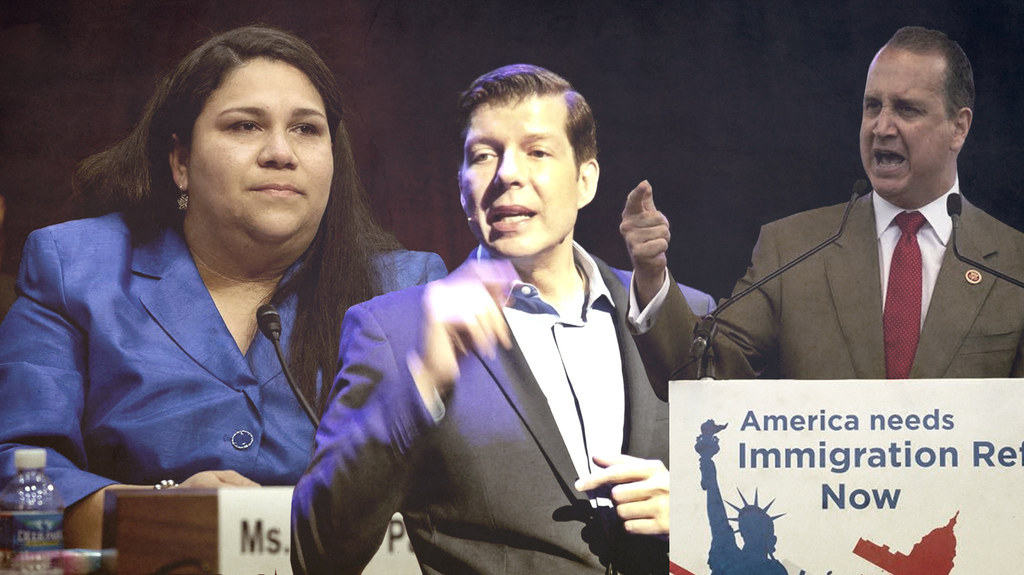 Last year, when the prominent leader of a Latino group called President Obama the "deporter-in-chief," he had a defender — the Spanish-language radio host Fernando Espuelas.
He fired off a missive very similar to what Obama was then saying: Espuelas accused NCLR's Janet Murguia and other activists of "advocating that Obama break the law of the land."
Just months later, though, when rumblings from the administration began about executive actions, he declared, "Obama should be ready to act." When Obama decided to delay those actions, he was there again: "President Obama should wait on immigration executive action." And when Obama ultimately announced the actions, he proclaimed that Obama was "ascendant."
Fernando Espuelas is there for President Obama, in other words. The 48-year-old Univision radio host has risen from local counter to Mayor Antonio Villaraigosa to repeated White House visitor. He's moved his show, once broadcast from Los Angeles, to Washington, D.C., and he's played host to the likes of Obama, Joe Biden, and David Axelrod. But Espuelas is not without enormous controversy within the larger immigration activist world, because of something else he does: attack Obama's opponents on immigration, even within the movement, and with the help of a network of Twitter users who can be, at times, vicious.
Espuelas is known for these attacks on DREAMer activists, as well as Republicans, from multiple platforms — his show, Twitter account, and the columns he writes for The Hill and Huffington Post. Espuelas has been accused of everything from carrying water for the Obama administration on immigration by activists as well as presenting himself as a journalist when he isn't one by Republicans who have taken their complaints to Univision.
For his part, Espuelas supports changing immigration policy in the country in a permanent way. In an interview with BuzzFeed News, he said while he's supported the administration on immigration, he disagrees with Obama on foreign policy. He also distanced himself from the network of Twitter supporters who go on the offense.
His critics remain displeased.
"I'm just worried that he's being used or is somehow in a relationship with the Democratic Party," said DREAMer activist leader Erika Andiola, herself no stranger to Espuelas' attacks. He's accused her of "sabotaging Democracy" during the lead up to the midterm elections. "He's trying to diminish DREAMers, make us seem like we're a crazy group of people because we question some of the Democratic Party's actions."
Take, for example, what happened right after Marco Rubio's presidential announcement.
The Florida senator was asked — on Univision — what should be done with the Deferred Action for Childhood Arrivals (DACA) program, which allows undocumented youth to stay in the country. In Spanish, Rubio said DACA was "important" and that it shouldn't be canceled suddenly, but that it also "can't be permanent policy," and will eventually be replaced by legislation.
A mistranslated version of the comments took off on Breitbart. Meanwhile, Gaby Pacheco, a longtime DREAMer activist, tweeted in Spanish that Rubio hadn't said he would seek to end DACA.
Espuelas went after Pacheco.
The argument devolved from there into a more normal Twitter spat. Still, Pacheco said the level of vitriol she receives on Twitter from Espuelas and a group of his supporters who all use the hashtag #TNTweeters is scary.
Espuelas' tweets often see 100 to 300 retweets, though he has less than 20,000 followers and the engagement with the tweets is disproportionate to the high number of retweets. (It appears that the loosely connected group uses fake accounts to boost activity on the hashtag, like this one that has 950 followers but has tweeted 403,000 times.)
TNTweeters does have a core group of members, though. BuzzFeed News received six audio clips recorded by one of the group's former members, who left because they felt the group's stance and actions towards DREAMers were "disgusting."
In the 2014 audio clips, recorded in the run up to Obama's executive actions, when activists angered the administration by pressuring the president to act without Congress to protect undocumented immigrants from deportation, unidentified members of the group discuss their displeasure with DREAMer criticism of Obama. They discuss a plan to recruit DREAMers to use the #TNTweeters hashtag and shoot videos saying they support immigration reform, all as part of a plan to get them away from attacks on the president.
"I became disillusioned," said the activist who left the group. "Attacking Erika Andiola, attacking DREAMers, is like attacking me."
Espuelas distanced himself from the group in the interview with BuzzFeed News.
"My only relationship to them is that on my show I advocated the idea of a distributed activist network, rising spontaneously across the country," Espuelas said. "It was very much a reaction to what was the norm in L.A., of doing these ridiculous marches from here to there and obviously achieving nothing because no one in LA can achieve an immigration policy change."
"Then this group popped up," he said. "It was organic, they're my listeners most of them but I have nothing to do with them, I don't tell them what to say."
Espuelas' listeners have been around for almost seven years now. An immigrant from Uruguay, Espuelas has remade himself time and time again, while never shying away from self-promotion.
Before his days on the radio, he launched a company called StarMedia in 1996. As a new entrepreneur, Espuelas made the media rounds, often telling the story that his vision for StarMedia came to him while he was hiking a mountain in Nepal, where he was struck by the inspiration of a "virtual plaza to connect the peoples of Latin America."
Starmedia made deals with companies and governments in Latin America, reaching $2 billion in market capitalization before the dot-com bubble burst and an investigation into its practices led the company to sell off assets and reach settlements with the SEC.
The SEC complaint alleged the company mistated its revenue, and also alleged that eight StarMedia executives, including Espuelas, "made misstatements regarding the company's revenue to certain entities from which it was attempting to obtain financing," according to an SEC release. (Espuelas told BuzzFeed News the complaint had nothing to do with fraud and stressed, as the complaint said, that he did not admit to the allegations contained within. He said it was merely a matter of it making more sense to pay $40,000 rather than the $2 million the trial was going to cost.)
Now living in Los Angeles, Espuelas saw the opportunity to create an English-language show for Hispanics, in a place he felt the community wasn't as politically powerful as New York City and Miami, where he had also lived.
"Hispanics were basically powerless," he said. "It was about how to take a group that is so critical and turn them into participants in the political process."
To Espuelas, this participation was initially about voting and then a focus on the effects of "bad voting," and criticism of L.A. Mayor Antonio Villaraigosa over a raise he gave to a union employee, while other employees were being fired, as well as decisions he made that Espuelas felt brought the city closer to bankruptcy, which was a major concern at the time. He calls this his breakthrough moment.
"He was untouchable in L.A., people didn't want to criticize the first Hispanic mayor. Hispanic media was too busy cutting his hair and polishing his nails," Espuelas told BuzzFeed News.
Soon afterwards, his show would become the top-rated political radio talk show in Los Angeles, a fact noticed by Gabriela Domenzain, who was gearing up to run Hispanic media for the Obama campaign in 2012.
Domenzain said in the Spanish-language political talk radio universe in 2012 there were basically two options for Democrats to be able to "speak directly to Latinos and show the contrast in the election and that was Fernando Espuelas and Helen Aguirre because they were the only radio show hosts that got into key markets and were willing to talk about everything," she said of the Univision radio hosts. Aguirre, a conservative voice, was let go by Univision at the beginning of 2015.
Espuelas' profile continued to grow and he moved his show to Washington, with the intent of reaching a national audience and focusing on the issue of an immigration overhaul in Congress. But the move also increased the tension between Espuelas and immigration activists and Democrats in the town, over disagreements on strategy and personal attacks on DREAMers.
Domenzain, who calls Espuelas a friend, said it was unfortunate that the controversy with DREAMer leaders like Pacheco is what brought him attention versus the substantive interviews he conducts with people to which the Latino community rarely gets access.
On the issue of Rubio, the source of last week's dust up, Pacheco — who has often worked with Republicans in the past, on townhalls in their districts in 2013, for example — says she was invited to his office to look at hard copies of legislation he was considering introducing in the run up to the 2012 election, which is credited with increasing pressuring on the Obama administration to announce DACA. She said even if she could she wouldn't vote for Rubio, but doesn't believe his positions should be misrepresented either. (Hit him on his opposition to raising the minimum wage, if you want, she says.)
Espuelas said he has heard that she is being paid by Republicans and that's where his strong opposition to her comes from. A student of history, he often calls Pacheco a "quisling," a reference to fascist Norwegian politician Vidkun Quisling, or someone who helps enemy forces.
Asked why he would make these allegations without evidence, he said he trusts the two independent sources who told him about it but said he is not a reporter. (It is a rumor that has been in circulation — three Democratic sources told BuzzFeed News they'd heard Pacheco would join Jeb Bush's campaign for president.)
Pacheco, who worked with Bush in 2005 when he was governor and she was state president of all Florida colleges, laughed off the charge, saying that if she's going to be an advocate, she has to remain an advocate. "I would not sign up to work for a campaign," she said. "The thing about me is I'm also strategic, there are no permanent friends and no permanent enemies." Asked if she would consent to appearing at a Bush event if asked, she demurred, before saying if it would help lead to immigration legislation in some way she would.
"Jeb Bush is more progressive on immigration than Hillary Clinton, until about a week ago," she said. "So I would say yes. There is no hiding, you can't put your thumb up and try to hide the sun."
Espuelas said his biggest beef with DREAMer leaders was that he believed they advocated Latinos boycotting the vote in 2014. He pointed to the North Carolina Senate race where Democrat Kay Hagan was targeted by activists with billboards in Spanish and criticism that she had lobbied the White House to delay the executive actions. Hagan would later lose her race. He also said Andiola did not deny the boycott in private conversations with him, which Andiola denied to BuzzFeed News.
Arizona activist Carlos Garcia did float the idea of boycotting the vote in a September 18 article in the Arizona Republic.
"Voting alone is not going to bring about change,'' he said. "We're telling people to hold Democrats accountable and not give their vote away."
One particularly public and nasty back and forth has been between Espuelas and Florida Rep. Mario Diaz-Balart.
Espuelas said it started when Diaz-Balart was set to appear on his radio show in November 2013 and The Hill published his most recent op-ed early, which criticized the congressman, who called in early to lay into Espuelas for the criticism. That portion did not air, but the over half hour long interview is testy throughout, with both men accusing the other of lying about the current state of the immigration legislation slog. Diaz-Balart would later go on Miami radio shows criticizing Espuelas and Espuelas would write a follow up article, closing with a quote from German philosopher Arthur Schopenhauer.
"If we suspect that a man is lying, we should pretend to believe him; for then he becomes bold and assured, lies more vigorously, and is unmasked," he wrote.
Univision Radio said it could not confirm that Republican complaints about Espuelas ever reached them. Overall, Univision Radio and Univision News declined to comment about Espuelas.
Still, the attacks aren't appreciated by the targets. Pacheco argues Univision should step in.
"Univision fired this man for saying horrible things about the First Lady," she said, referencing Rodner Figueroa, who the network fired for comparing Michelle Obama to an ape in Planet of the Apes. "But Espuelas is using his power to bully young immigrant women, which isn't right."
Espuelas said the charge that he is a bully of undocumented women is offensive to him. When he came to the country with his mother, he said, fleeing a coup in Uruguay in the 1970s, they overstayed their visas and he was undocumented for 10 years. He said he was able to fool immigration agents who came to his house once because he spoke good English and his mother had to hide in a garbage dump when law enforcement came to the factory she worked at.
"The idea that I'm disconnected from the human part — why I care about this is I know what it feels like, the constant fear, I've lived it," he said. "My goal in part is to do everything I can so others are not in that situation."
He argues his vehemence is just the latest expression of his principles of unity and advancement for Latinos that have always guided him, both in failure and great success, from StarMedia, to Los Angeles radio, to now.
Which means Espuelas will likely continue his rise as an influential, if controversial, voice on immigration, attacking in every direction, sometimes with awkward moments in between.
On April 13, three days before the Espuelas and Pacheco spat would be public on Twitter, one of the top tweets in the #TNTweeters hashtag was a Think Progress article about Rubio headlined, "How Marco Rubio Went From Backing Immigration Reform To Berating DREAMers."