The job applicant formerly known as José changed his name so employers would hire him. He's heard people feel bad about what happened but he doesn't think it's a bad thing.
"The whole moral of the video is I'm a salesman, so if I can't sell myself, I can't sell anything to anybody," he told BuzzFeed after a video of him explaining what he did went viral.
When Zamora shot the video he had gotten a job at a yogurt place in Los Angeles where he worked for six months. He said he knew what he needed to do to get hired at a boutique yogurt shop.
"I don't think they would have hired me as a José — they don't want a José — they want a Joe," he said, recalling that he worked a job where there were three Josés once.
But now he's on the job hunt again after the place where he was working at, where he quickly became the highest paid employee in the store going from $10 an hour to $13, told him they couldn't give him more hours.
Ever the hustler, Zamora said he bought $100 worth of Los Angeles souvenirs and started selling them for $3 and $5 a piece while he looked for another job. Once again he believes the name Joe has helped him, as he says he has interviews lined up and hopes to get a job at a Pinkberry.
He has literally been a salesman before too — but now screens jobs by asking questions during phone interviews because he said has been burned by jobs that pay on commission. One such job saw him going around trying to sell $20,000 solar panel kits but payment wasn't exactly always guaranteed or on time.
The 32-year-old Mexican-American said he recognized that he was being judged solely on his resumé, so he needed to make sure it was amazing. He said he applied to a Best Buy as Jose and when they met him they liked him, but many jobs now don't want walk-ins so he felt the resumé had added importance.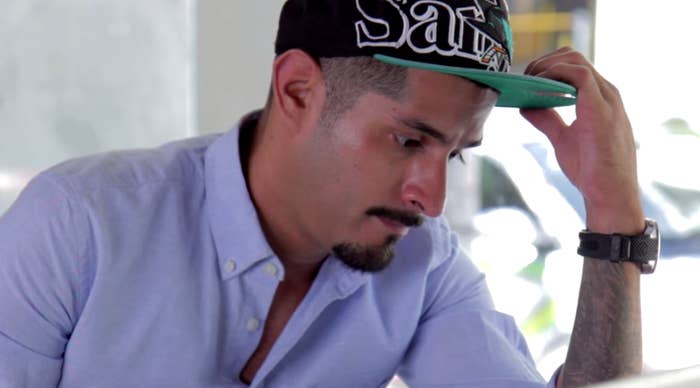 Since the video came out Zamora has become a resumé guru, doling out advice on how people can get jobs.
"Complete strangers want help with resumés, they're like 'How did you do it?'" he said.
They ask him for a copy of his resumé and then they're shocked by how it looks. "They're like 'This is intricate, it's like a maze!'"
And it seems Zamora can't stop selling himself either.
"My cover letter is sick," he said with a laugh. "It says, 'Every business wants more business.' At the bottom it says, "I bring it with custom-tailored marketing strategies.'"
This, he says, makes employers think one thing: This guy is ready to bring me money.
Zamora feels like changing his name and learning how to market himself has given him renewed confidence.
"I'm not scared anymore," he said. "Going to a job interview four years ago was the most terrifying thing in my life."
Since the video came out he has come to realize how many people out there are trying to get a job. And some who have contacted him have said they're going to take the route he took.
"They told me they're thinking of changing their name. One guy, his name is Juan and he said he's going to go by John. A Pedro said he's gonna be Pete. Pete is so cool! You could work in a lot of places as Pete," he said.
He knows some people think it's a sad commentary that Latinos or anyone of color would have to change their name to get a job, but he's not thinking that way.
"It doesn't bother me, it builds my ego, Joe is a cooler name. I feel cooler," he said, adding that he just did what he had to do. "If people want to live in yesterday they can, I'm living in tomorrow."
Ultimately, the name change is about reinvention to him.
"What can I do without lying on my resumé or lying about certain things like performance? Now, I would hire me," he said, laughing again.