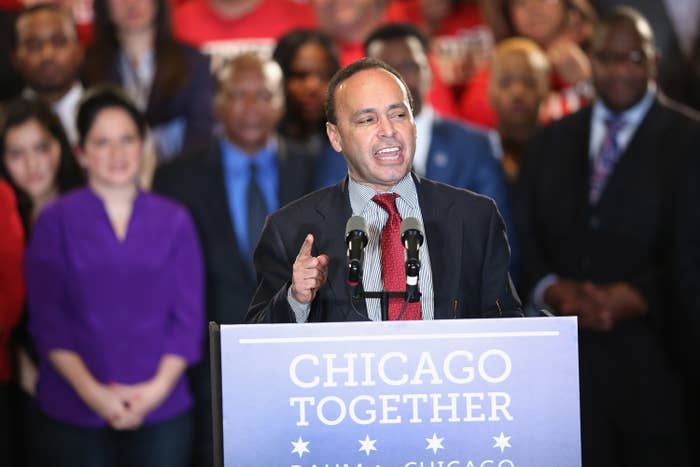 Illinois Rep. Luis Gutierrez, a key figure in the fight for Obama's executive actions on immigration last year, will announce his endorsement of Hillary Clinton Monday morning in an op-ed on Univision ahead of their joint appearance at a national immigration conference in Brooklyn, New York, in the afternoon.

In a statement to BuzzFeed News, Luis Gutierrez emphasized uniting the Democratic coalition. Women, Latino, labor, LGBT, Asians, African-Americans, environmental, working-class, and middle-class voters — "all of the groups the Republicans push away — none of us can win unless we work together," he said. "We each need each other and Hillary Clinton is the leader who will unite us. Together we are a winning coalition that moves America forward."
A Clinton aide attributed the congressman's support to the campaign's focus on immigration since, in the spring, when Clinton rolled out a more progressive stance on the issue, and the outreach since. The aide pointed to events Clinton has done aimed at the Puerto Rican community in Orlando and on the island.
"That is why Congressman Luis Gutiérrez will endorse Hillary Clinton, Democratic Party candidate for U.S. president, tomorrow before her address at the National Immigrant Integration Conference (NIIC)," the aide said. "Gutiérrez is nationally recognized for his tireless leadership championing issues of particular importance to Latino and immigrant communities."
Gutierrez, who is known as a top voice on immigration policy with a knack for media, knocked Vermont Sen. Bernie Sanders in June for leaving immigration out of his speeches.
"I don't know if he likes immigrants, because he doesn't seem to talk about immigrants," Gutierrez said at the time.
Since then, the Sanders campaign has made a concerted effort to hire a handful of high-profile immigration activists to work with a focus on the southwest states and Nevada. The campaign has also rolled out a robust set of executive actions Sanders would take on immigration as president.

After her event with DREAMers in May, Gutierrez noted that Clinton used to be "paralyzed" on immigration, specifically mentioning Clinton's infamous opposition to driver's licenses for undocumented immigrants (a policy she now favors) during the 2008 campaign.
The tenor of the campaign has changed, however, since earlier this year when Gutierrez was praising Clinton and Jeb Bush as leaders on immigration, in a way that signified the success of progressives on immigration. In the interim months, Donald Trump roiled the Republican race with a markedly xenophobic and restrictionist tone aimed initially at Mexicans and immigrants. Bush has floundered.
In this environment, Clinton has tried to position herself as a champion for Hispanics, blasting Trump (and trying to handcuff him to the other Republicans) while courting endorsements from high-profile Latino figures like Obama cabinet members Julian Castro and Tom Perez as well as celebrities like Christina Aguilera and Ricky Martin.
Clinton, who is at times viewed with distrust from activists because of past stances and an establishment brand that has led to Obama similarly being knocked, will be introduced by Gutierrez at the NIIC conference.
She will come with a story the activists will likely cheer, though. Her Latino outreach director Lorella Praeli, a former immigration activist for United We Dream who served as an influential voice during the executive action fight, will become an American citizen at a small naturalization ceremony put together by the White House at the national archives along with others on Tuesday, something Clinton will mention during her speech Monday.