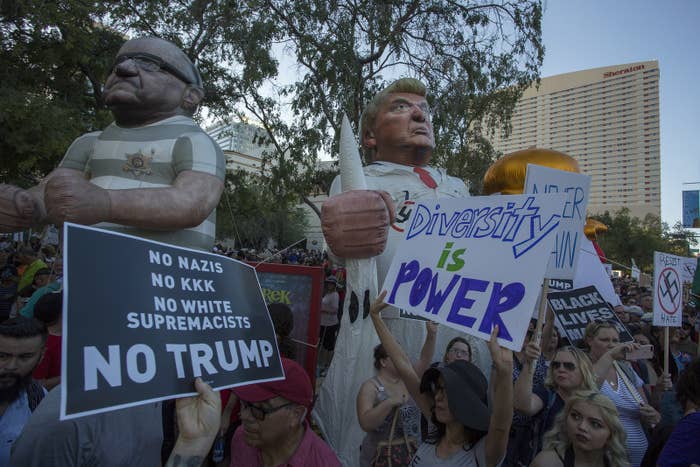 "Do the people in this room like Sheriff Joe?" President Donald Trump asked a crowd in Phoenix on Tuesday night, to the surprise of virtually no one.
Trump, who had floated a possible pardon of former Maricopa County sheriff Joe Arpaio to Fox News recently, was not supposed to mention the topic at his Tuesday campaign rally, according to a White House spokesperson, but the president has a well-documented tendency of going off script when presented with cameras and screaming crowds.
"Was Sheriff Joe convicted for doing his job?" Trump asked, clearly pleasing his audience. "He should have had a jury, but I'll make a prediction: I think he's going to be just fine."

And just like that, the conversation went from whether Trump would mention the possibility of pardoning a man who was found guilty of criminal contempt of court for refusing to honor an order to stop racially profiling and illegally detaining Hispanics — many of whom were US citizens or legal residents — to when Trump would do it.
The White House has drawn up legal documents in preparation of Trump's final decision to pardon Arpaio, CNN reported on Wednesday. A White House official would only add, "The President has expressed himself on this point and his words speak for themselves," in a comment to BuzzFeed News.

But Latino Republicans and Democrats say Trump, who views life and politics as a scoreboard of wins and losses, simply doesn't understand the gravity of what an Arpaio pardon would mean in Arizona.
Hispanic conservatives who spoke to BuzzFeed News this week continually made the argument that their moral and political high ground would be wiped away if Trump, by choosing to pardon Arpaio, discards the Republican refrain that they support certain policies because of the rule of law.
"A pardon of Joe Arpaio is only good if he pardons the 11 million who are here, if he shows the same grace," said Daniel Garza, the executive director of the Koch brothers-led LIBRE Initiative. "I don't think he deserves it, this guy violated the law to violate the rights of individuals."
"For Trump supporters who talk negatively about amnesty, it sure seems they are OK with it when it's one of their own," said Ruben Alvarez, cofounder of Molera Alvarez and a 25-year Republican veteran of Arizona politics.
Artemio Muniz, chair of the Texas Federation of Hispanic Republicans, who opposed Trump during the campaign but said he wants him to succeed as president, said an Arpaio pardon would lay bare the problem between the Republican Party and Hispanic voters, the majority of whom are Mexican-American.
"It seems as though conservatives say, 'Rule of law for me, but not for you. Opportunity for us, but not for you. Amnesty for Arpaio, but not for the hard-working,'" he said.
A former Trump campaign aide who is still close to the administration also opposed the idea of pardoning Arpaio, preferring instead that Trump commute Arpaio's forthcoming sentence rather than forgive his crime.
"Let's say he does it. It's the exact kind of thing the mainstream media will blow up over, but for the average American worker, it's irrelevant to their life," the source said.
A pardon could also have the unintended effect of energizing Democrats in Arizona.
"For many of us, it's deeply personal, especially us younger Latinos who started in politics protesting Arpaio, back when he was popular," said Democratic Arizona Rep. Ruben Gallego. "Activists lost jobs, were arrested, and followed home by deputies as a source of intimidation."
Those who opposed Arpaio, Gallego said, used every legitimate process through the system to remove him, including protesting, running candidates against him, and working through the Department of Justice. "For the president to wipe that away is disheartening and leads to a sense of disempowerment," he added.
Democratic groups and activists are already preparing to go full blast if Arpaio is pardoned. The Latino Victory Project, which works to get Hispanics elected, is rallying Latino leaders to make a forceful statement if the pardon happens, and told BuzzFeed News it will work to get state charges brought against Arpaio.
While the president actually has enormous power to pardon whoever he wants, the power is generally meant to only address federal criminal cases, not state-level cases and civil cases.
January Contreras, a Latina former Obama official who is running for attorney general in Arizona against Republican incumbent Mark Brnovich, told BuzzFeed News she would consider all options against Arpaio if elected next year, making it clear a pardon could become a significant statewide campaign issue.

"All elected leaders, including Attorneys General, have a duty to uphold the law and hold people accountable," she said in an email. "If I were elected to serve the people of Arizona, and Sheriff Arpaio was pardoned, I would want to consider all of the options on the table."

Arizona Democratic Party spokesperson Enrique Gutiérrez said some candidates are using the threat of an Arpaio pardon to recruit supporters and cast the possible pardon as one that would "empower anti-Latino and anti-immigrant groups" and "be a pardon to white supremacy."

Contreras said addressing civil rights abuses in-state is a bipartisan issue, pointing to Arizona's former Republican attorney general Grant Woods, who "took a stand against racial profiling of Latino Arizonans" by a police department in 1997.
Alex Gomez, a 35-year-old activist for LUCHA in Arizona, worked to oust Arpaio for nearly a decade — going to local board meetings to protest his use of funds, fight his work raids, and march and register voters. She agreed that his pardon would be a symbol of white supremacy, but said the work to pressure local elected officials would not come to an end.
"If the pardon happens, there will be tears, but there will also be fighting," she said.

Gutiérrez said Arpaio lost his election last year because of activists fighting on the front lines.
"Without their support, we couldn't accomplish getting rid of him," he said. "For us, it's a blessing to get rid of him. God looked after us because if he were in office, we would have more trouble brewing with him and Trump."

Gallego said it is often lost on people that Arpaio was found to be in criminal contempt because he signed, and then violated, a DOJ agreement that said he was going to stop racially profiling Latinos. The image of Arpaio considering himself above the law is particularly galling for Hispanics, who continually heard him say "the law is the law," and "what don't you understand about illegal?"

The ability for someone to be above the law while aggressively pursuing potential Hispanic lawbreakers, both Republican and Democratic Latinos say, would be the legacy of Trump's pardon.
In fact, it was the self-promoting Arpaio's own words in news clips and press releases that prosecutors used against him to make their case.
In one news clip, the Arizona Republic reported, Arpaio spoke to an inmate at his jail, who says Arpaio is outranked by federal law.
"No," Arpaio said in the segment. "Nobody is higher than me. I am the elected sheriff by the people. I don't serve any governor or the president."
CORRECTION
Grant Woods' name was misspelled in a previous version of this post.