Latino Lawmakers Demand Obama Immigration Actions By Thanksgiving
The Congressional Hispanic Caucus asked the Obama administration to make its delayed announcement to slow deportations before Thanksgiving, but was told it will be before the holidays at the end of the year.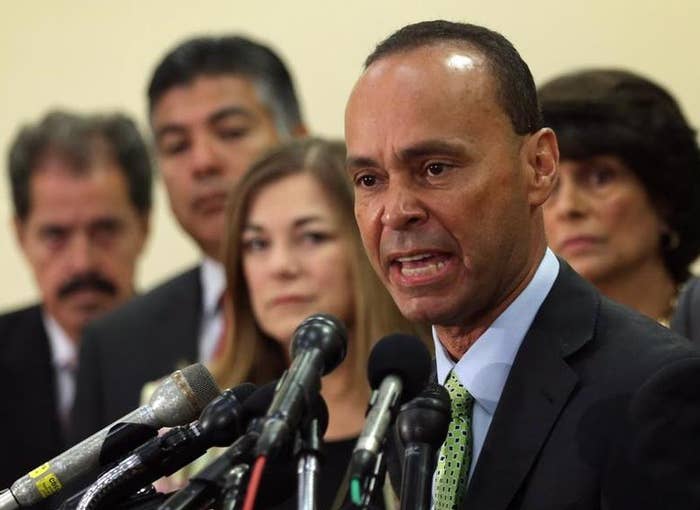 Latino lawmakers met with White House Chief of Staff Denis McDonough Thursday, demanding the administration enact its immigration changes to slow deportations by Thanksgiving, but were told they will come before the end of the year, a source with knowledge of the meeting told BuzzFeed News.
A White House official confirmed the request made by Rep. Luis Gutierrez for Thanksgiving timing and reiterated that while anger directed at the administration is understandable, the president is committed to acting before the end of the year.
"It's hard for them to ask their constituents to wait," the official said. "It's not if, but when it is going to happen. That reassurance stands regardless of what happens in the election."
The source with knowledge of the meeting said the sense is that the White House knows that bigger action is expected by the Congressional Hispanic Caucus "now that there was a delay and a broken promise."
Lorella Praeli, director of advocacy and policy at immigrant rights organization United We Dream and Marielena Hincapié, the executive director of the National Immigration Law Center, two activists who were briefed by Gutierrez Wednesday, said they were heartened by CHC actions, but still question whether the administration will deliver.
"Given the disappointment with President Obama's decision to delay its administrative announcements, many immigrants and advocates are looking to the CHC as policymakers we trust so we were glad to hear that the CHC already had a meeting scheduled with White House Chief of Staff Denis McDonough," Hincapié said.
"It is heartening to know the administration seems intent on following through with its promise before the end of the year but given the many broken promises, we need proof that they will indeed announce the much needed changes and that those changes are broad, inclusive, and expansive," she added.
An additional concern expressed in the meeting by Rep. Tony Cárdenas was that because the administration moved to placate Democratic Senate candidates, it would now be more difficult for Democrats and organizations across the country to register, motivate, and mobilize Latino voters.
Praeli was also dubious about what the White House will ultimately do.
"I wouldn't treat it as a given," she said of expected action.
"We thought we were going to get review by Homeland Security and changes to the enforcement system before July 4 and we didn't," she said. "We were supposed to get an announcement by the end of the summer from Obama. We don't think anything is a given and don't think they have a track record of delivering. It's important for the community to escalate and for the White House to know we're all watching. There are human consequences."