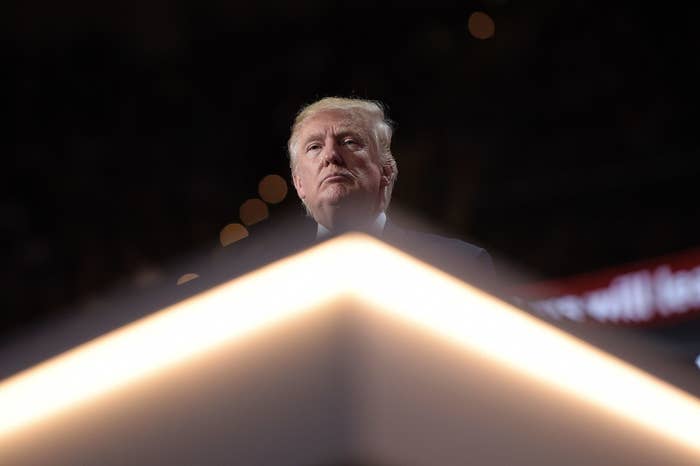 CLEVELAND — Donald Trump and his policies are well-known at this point — but what Latino and immigrant groups did not know was exactly how it would feel to see Trump espousing the same policies targeting undocumented immigrants on the stage as the Republican nominee.

They found out quickly, during a speech many Republicans described as dark, and Latino organizations found to be chilling and a sign that the recurring idea of a general election policy pivot is dead.
"He started his campaign a year ago with Mexicans as rapists — he starts his general election campaign with undocumented immigrants as murderers," said Frank Sharry, executive director of America's Voice and veteran of immigration legislative battles. "Pure hate and racism."
Sharry was referring to Monday's convention speakers who talked about a family member being killed by an undocumented immigrant, which Trump revisited in his speech.
"Nearly 180,000 illegal immigrants with criminal records, ordered deported from our country, are tonight roaming free to threaten peaceful citizens," Trump said, during a speech where he often yelled his lines despite having a microphone.
Many Latinos activists found themselves hit with the reality of Trump as Republican nominee and were fearful of the vision he portrayed of America, one they said was of demonizing the other and demagoguery of immigrants.
"Trump is trying to rally a nation around hate towards everyone who is not white," said Yvanna Cancela, political director of the powerful Culinary Union in Las Vegas, which counts 60,000 members, most of whom are immigrants, with more than half of them Latino. "That should be terrifying not only for folks who fall into these marginalized groups but for everyone, because it is not what this country is built on. It's not leadership."

Alida Garcia, a 2012 Obama campaign veteran who has spent years mobilizing Latino voters and now immigrants as director of coalitions and policy for Mark Zuckerberg's FWD.us, said Trump left no doubt that he would create a police state to round up immigrants.
"It's clear Donald Trump has no intention to move away from his frightening immigration policies of deporting 11 million people in 18 months and revoking the citizenship of U.S. citizen children, which would tank our economy and create a modern day police state," she said.

Erika Andiola, a national immigration activist and Bernie Sanders' Latino spokesperson, took issue with Trump allegations about immigrants and comments that he would appeal to the Vermont senators supporters because of similarities on trade.

But it wasn't just groups that identify with Democratic policies that blasted Trump, as conservatives inside Quicken Loans Arena said the new Trump was the same as the old one, but now more menacing to immigrants as the official Republican nominee.

"It was disappointing, I was cringing the whole time when he was talking about immigrants," said Daniel Garza, executive director of the LIBRE Initiative who spent the week speaking at Latino events in Cleveland bashing Hillary Clinton but also admonishing Trump for his hardline approach to the issue.
"What disturbs me the most about Trump's rhetoric about immigrants is he makes the criminal element seem like the rule when they're really the exception," Garza said. "Immigrants contributing to the economy is the norm."

Mario Lopez, president of the conservative Hispanic Leadership Fund, said Trump's speech hewed closer to authoritarianism than it did to the orthodoxy of a party "that claims to love liberty."
Latino advocates contend that Trump was lying to hardworking Americans by placing the blame for their struggles on the lap of immigrants. The damaging argument was not only one centered on immigration, but also on the economic impact of Hispanics, they said.
"Immigrant workers arguably have more at stake in this election than any other group," Cancela said. "They're being attacked on immigration policy that affects their families and also on economic policy, where Trump has a history of not paying certain workers and paying some workers less."

"It's just a fundamental mischaracterization of the economic effect of immigration," Lopez said of Trump's calls to deport immigrants and help American workers. "That doesn't mean illegal immigration is OK but it does mean you have to understand 'Economics 101' and not just cynically demagogue the community."

During his speech, Trump did speak about Latino poverty and unemployment for black and Hispanic communities, but advocates said he couched too much of the blame for societal ills at the feet of immigrants.
The strategy may not be new, but on this night, it stung more.
"The vast majority work hard, keep their nose to the grindstone and stay under the radar — they're good, decent people," Garza implored. "Maybe us as Latino voters, we have a different sensibility when it comes to immigrants because we're related to them, so maybe we feel it a little stronger."

And on a night when Republicans, too, had serious questions about the tenor and direction of Trump's speech, it wasn't just Latino groups that were appalled.
Afterwards, during CNN's coverage of the speech, Republican strategist Ana Navarro, who has long disliked Trump got into it with one of his supporters Jeffrey Lord.
Lord, who often makes distasteful racial appeals, told Navarro and Van Jones who is black, to give up on identity politics.
"That's easy for you to say as a white man," Navarro said, cuttingly.