Jeb Bush's New Campaign Manager Has Disagreed With Him About Immigration Policy In The Past
Danny Diaz, who was named Jeb Bush's campaign manager Monday, called driver's licenses for undocumented immigrants "dangerous" last year. Bush has supported driver's licenses for undocumented immigrants since 2004.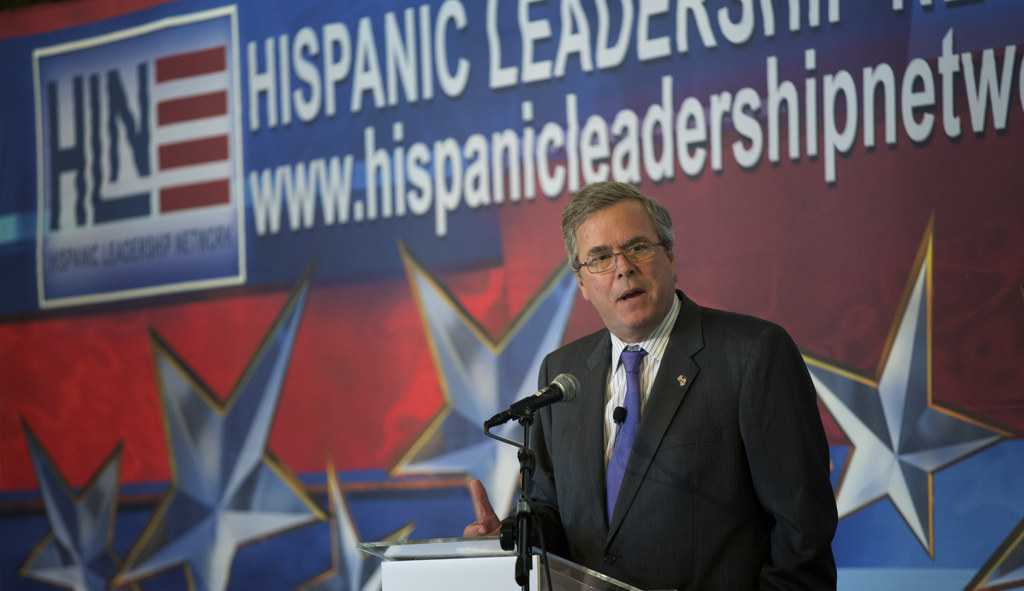 Jeb Bush's new campaign manager Danny Diaz spoke out against driver's licenses for undocumented immigrants last year, a policy the former Florida governor has supported for more than a decade.
Bush, who is expected to announce his campaign on June 15, has been an ardent supporter of an immigration overhaul for years and the naming of Diaz — most recently a veteran of New Mexico Gov. Susana Martinez's re-election campaign — is yet another sign he will make Hispanic outreach a priority.
But the two have advocated different policies in the past. In 2014, as a Martinez campaign official, he said giving driver's licenses to undocumented immigrants was "dangerous."
"This fall, voters will have a choice," Diaz told the Santa Fe New Mexican. "Do they support a candidate who believes giving driver's licenses to illegal immigrants, creating a well-established public safety threat, is a good idea, or do they support the candidate who has fought against it?"
Bush has long supported the policy. In 2004, when he endorsed legislation to give licenses to undocumented immigrants, he said policies that ignore them are basically a policy of denial.
"In some cases, these people may be taking their children to school and they may be doing it without a driver's license," he said at the time. "They may be going to a doctor or a drug store or supermarket. The state . . . is basically telling these folks to drive illegally."
Emily Benavides, a spokesperson for Bush, emphasized to BuzzFeed News that Diaz will be advocating for the candidate's positions.
"Danny will forcefully advocate for Gov. Bush's views across the board and helm a campaign focused on giving all Americans the chance to rise up and achieve their dreams," she said.
In addition to working for Martinez and now Bush, Diaz has a long history working on presidential campaigns. He was a senior adviser to Mitt Romney in 2012, deputy communications director for John McCain in 2008, and a regional press secretary for George W. Bush in 2004.
Diaz is known as a top rapid response operative and opposition researcher, something those who have worked with him say is encoded in his DNA, and will help Bush run a modern campaign.
"With Diaz it was always nonstop," said Wadi Gaitan, who worked with him on the Romney campaign. "It doesn't matter if it's day or night, he's working."
On his stances that have been criticized by fellow Republicans like Common Core education standards and on immigration, Bush has said he believes Americans appreciate when you have "a backbone."
"You don't abandon your core beliefs," he said earlier this year.