Jeb Bush Still Supports Puerto Rican Statehood
Bush, who has a long history with Puerto Rico, reaffirmed his support for the territory becoming the 51st state, during a visit to the island.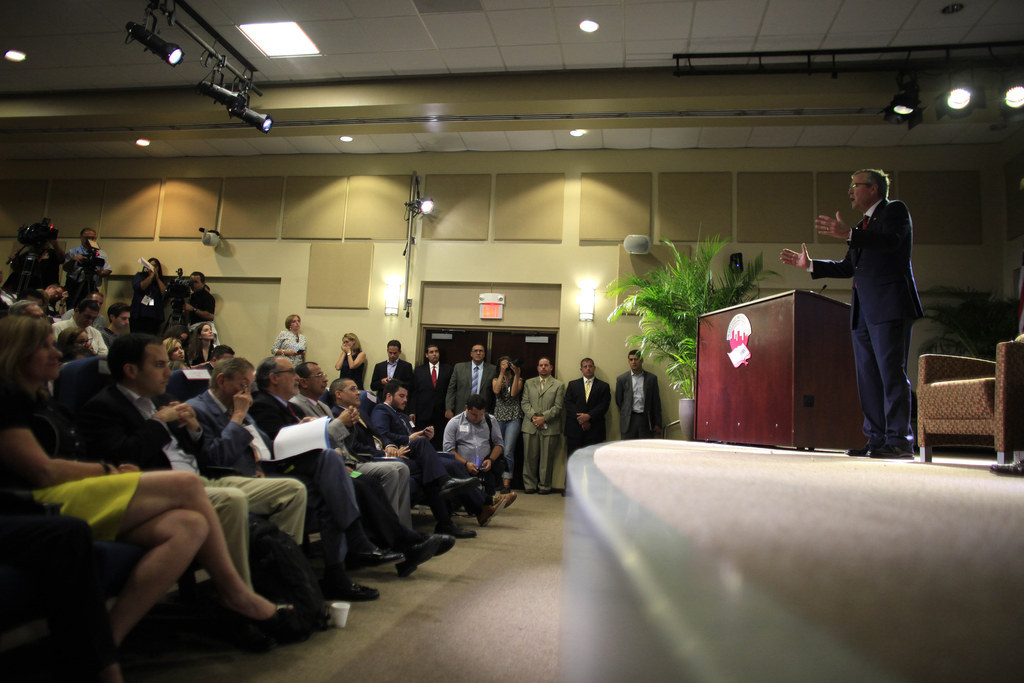 As he ramps up his expected presidential campaign, Jeb Bush still supports Puerto Rican statehood, he said during a visit to the island on Tuesday.
"I've favored statehood for a long time," Bush told the crowd of statehood supporters and former Governor Luis Fortuño, whom invited him to the event. "I think there should be a statehood referendum and the next president should work on it."
Bush went further, too, calling the 2012 nonbinding resolution, in which support for statehood inched up to 61%, a rebuke of the status quo. He said there should be a simple yes-or-no vote for statehood.
Bush's ties to the island go back 35 years, when he was known as el joven Bush — the young Bush — when he ran his father's primary campaign in Puerto Rico.
Back then a catchy jingle for his father, Me gusta George Bush porque quiere estadidad ahora ("I like George Bush because he wants statehood now") caught fire on the island, and Jeb made longtime connections.
Those connections were also part of this recent trip, as Bush took advantage of his time in Puerto Rico to hold a fundraiser and a townhall meeting with Republicans.
He touched on immigration, saying the United States is an immigrant nation and should be proud of that fact.
"I know about the immigrant experience because I married a beautiful girl from Mexico," he said. "My children are bicultural and bilingual."
The looming presidential campaign wasn't far from anyone's thoughts, though.
Carlos Mendez, the Republican Party leader on the island, coyly passed an index card to Bush with the question, "Are you going to run for president?"
Bush said he's on the journey to considering it.
"Today's not the day to trigger a campaign but I appreciate the sentiment."