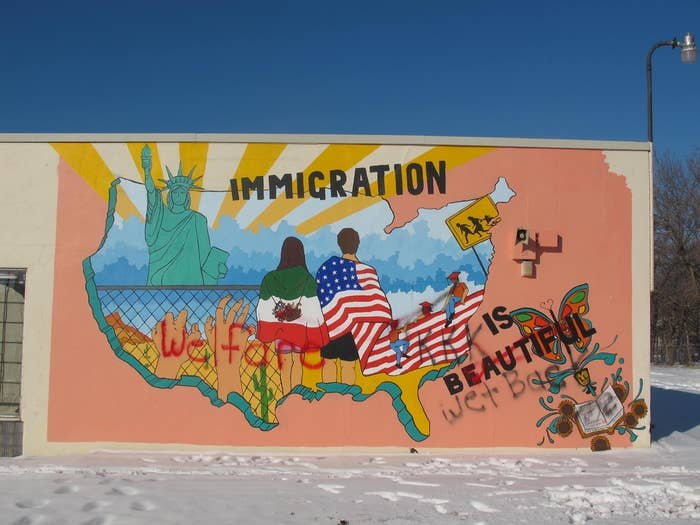 A group of high school students in Kansas came together with artist Armando Minjarez, the founder of an art and education non-profit, to identify issues that are important in their lives for a pilot program to create community-engaged art. Student after student wanted to make a piece on immigration.
"Some of them are immigrants, some are undocumented or have parents that are undocumented," Minjarez, 27, and the founder of The Seed House La Casa de Semilla, told BuzzFeed. "One of the students designed the mural. I'm an artist by profession, so I guided them through the process. It was a really high quality mural for a group of 15- to 16-year-olds."
"Immigration is beautiful," the mural read.
But on Thursday morning a friend told Minjarez the mural had been defaced with racist graffiti and he quickly went to go see it. Scrawled in red, the word "welfare" was written in capital letters, along with "KKK" and "wetback," a slur against Mexicans.
Minjarez then began sharing images of the defaced mural with organizations, like Latino Rebels.
The growth of the Hispanic community in Wichita has been recent. Wichita schools have seen the percentage of Latino students double over the last decade, from 15% to 31%.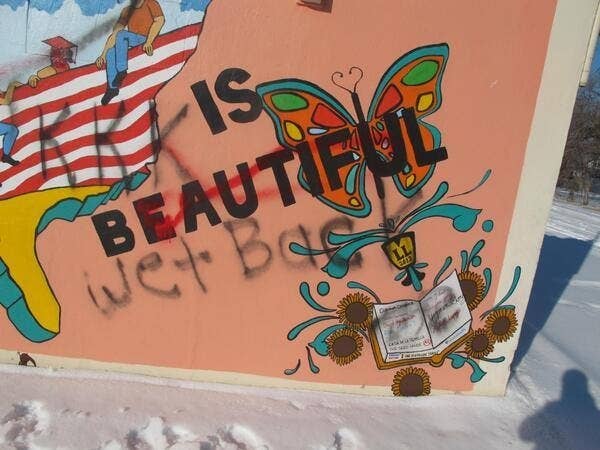 Besides the "immigration is beautiful" tagline, the mural featured a man and a woman with American and Mexican flags wrapped around them looking past a border fence towards the promise of the Statue of Liberty. Along the American flag are what look like DREAMers, undocumented youth brought to the country as children.
Minjarez says he and the students had spoken about how there could be pushback to this public display of their realities and he said the students are not discouraged.
"They're not discouraged but they're certainly pissed off," he said.
But Student Sarai Melendez, one of the students who painted the mural, said she was hurt, in a statement.
"All we wanted to do is bring a good message to this community, I feel upset and hurt, this was my biggest accomplishment," she said. "We will make more and continue to express ourselves…this doesn't stop us!"
Minjarez said the timing of the defacement of the mural coincides with the first meeting of Army of Artists, the complete group of artists who will decide and commit to the next pieces of public artwork. He said his internal goal is at least 8 more projects. "Whatever public art they want to create; a concert, a rap battle, an installation."
He said this ugly episode will only invigorate the artists.
"We're bringing to light the reality we live with everyday, we can choose to act like racism isn't out there but it is."