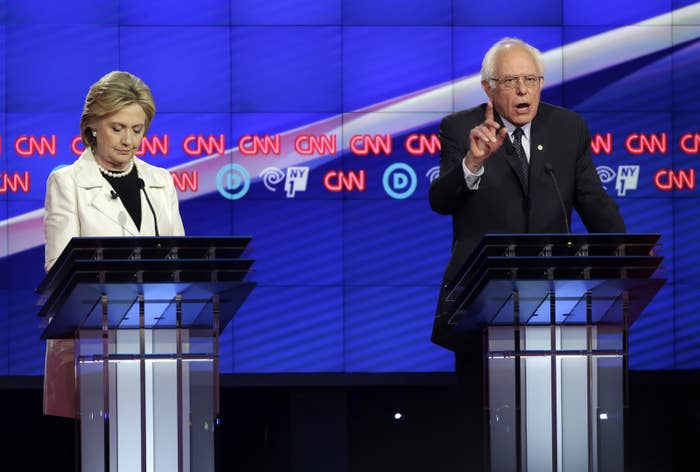 While Clinton and Sanders mixed it up during a feisty debate in Brooklyn on Thursday night, the issue of immigration did not come up at all in the debate hosted by CNN and NY1.
In a state with the second-most foreign born people in the country, and where 3.8% of the population is undocumented, according to Pew, there was no discussion of immigration policy — one of the dominating issues of this election.
"We were expecting that they would be asked about that," Clinton campaign chairman John Podesta said in the spin room after the debate. "She has spoken here in the New York primary about what she would do and has criticized him over his vote against the 2007 immigration bill that failed by a few votes."
There was also no talk of what was considered a major 2007 gaffe by Clinton, when she backpedaled away from driver's licenses for undocumented immigrants, even though the governor of New York supported them at the time.
"She had influence here on driver's licenses," said Erika Andiola, Latino press secretary for the Sanders campaign. "It's a reason many people have been deported — because they didn't have driver's licenses."
Just this week, the Sanders campaign held a conference call on the issue. But it did not come up Thursday during the debate.
No mention was made of Clinton's record on immigration during her eight years as a senator from New York, either, when she co-sponsored the DREAM Act and helped an Ivy League DREAMer reenter the country, something her campaign has highlighted in recent weeks.
Similarly, Sanders was not asked about his plans to bring back some deported immigrants or about his plan to give health care to undocumented immigrants, and Clinton was not asked about her just announced plan to open an office of immigrant affairs. The positions mark a significant and often unexamined shift leftward in Democratic politics on the issue of immigration.
Nor were the candidates asked about their stated plans to go beyond President Obama's executive actions. The Supreme Court is set to hear oral arguments on Monday — a day before the New York primary.
Likewise, the candidates were not asked about the rightward shift in the Republican debate, like Donald Trump's plans to deport millions of undocumented immigrants, which would affect Queens neighborhoods like Jackson Heights and Corona where 1 in 5 residents is undocumented.
Podesta also brought up reproductive issues as another that was not brought up. "I think these are two areas where people want to know their positions, these are frontline concerns for voters here in the state," he said.
Andiola said CNN and NY1, the networks that moderated the debate, erred in not bringing up immigration even once.
"I think we should definitely ask them why it didn't come up, Bernie has been bringing up this issue but this time he didn't get the opportunity," she said.
DNC spokesman Luis Miranda said it would have been good to discuss immigration in New York.
"I think they could have and it certainly would have been relevant to the audience here in New York," he said. "It would have been fitting."