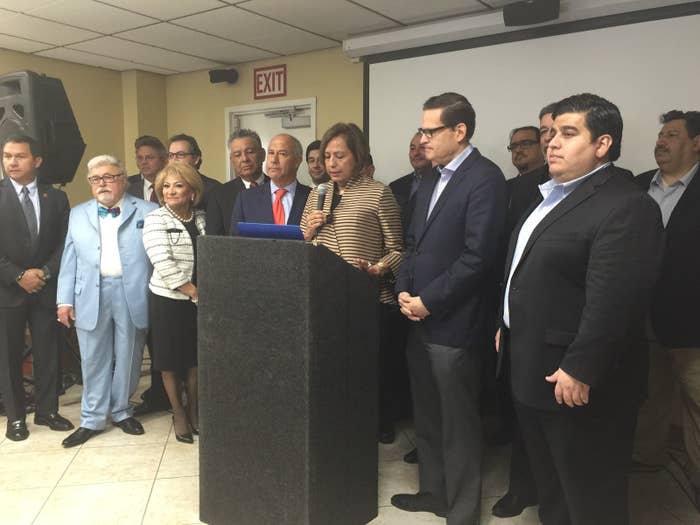 LAS VEGAS — One day before the Republican field descends on Las Vegas for the last GOP debate of the year, a group of Hispanic conservatives met privately with campaign officials for five different candidates, and held a press conference afterwards targeting Ted Cruz for his immigration stance and support of Donald Trump.
The group, which held a similar event in Colorado before the previous debate, where they blasted Trump and issued a warning to Cruz, met with campaign chairman Chad Sweet earlier in the day, peppering him with questions.
They said Sweet surprised them all by saying that Cruz opposes any and all forms of legalization for undocumented immigrants, and that he believes in attrition through enforcement — or making the lives of those in the country illegally so hard that they go back to their native countries. That, the group said, amounts to self-deportation, a policy supported by Mitt Romney in 2012 widely credited with hurting him with Hispanic voters.
"We learned today that Sen. Cruz believes in attrition through enforcement," Alfonso Aguilar of the American Principles Project's Latino Partnership and de facto leader of the group said, adding that the Cruz camp doesn't like to call it self-deportation "but that's what it is."
Asked to elaborate on Sweet's comments to the Hispanic Republicans, the campaign said Cruz's staff reiterates the same principles that Cruz promotes in both public and private.
"Anyone who truly cares about fixing illegal immigration understands that we must secure the border and enforce the law, and that includes building a wall that works, strengthening e-verify, and enforcing the law — including deportation of those who are here illegally. This is how we solve the problem," said spokesperson Catherine Frazier.
The group said they were troubled to learn how Cruz feels about legalization of any form, according to Sweet.

Rev. Tony Suarez, of the The National Hispanic Christian Leadership Conference (NHCLC), spoke by phone with his group's leader Samuel Rodriguez before the event who told him he could speak freely about the group's disappointment.
Like Aguilar he noted that conservatives have a lot to be proud of from the current crop of candidates — like their diversity — and he lauded Cruz for being a friend to evangelicals and on the side of religious liberty, Israel, and life. But he called for clarity from the Cruz campaign on what it means by "no legalization."
"To us it's an issue of life, from the womb to the tomb," he said.
Mario Lopez of the Hispanic Leadership Fund spoke next, calling self-deportation a proven political loser ("You can ask President Mitt Romney") and the group issued a dire warning to Cruz about his closeness to Trump both publicly and in private.
In the meeting with Sweet, one attendee told him the Cruz immigration plan uses information from the Center for Immigration Studies (CIS), a population control group they say is discredited.
The Cruz plan cites a 2009 CIS study linking immigration to unemployment, which the group feels is another connection to Trump's misinformation on immigration.
While the group is waiting for follow-ups from the Cruz campaign, they have now issued a warning and criticism of the steadily rising conservative firebrand.
Asked where they can go from here if the campaign does not heed their feedback, the group reiterated a plan mentioned to BuzzFeed News last month, that Cruz in the general election may not benefit from them doing the "hard work" of acting as his surrogates on Spanish-language networks like Univision and Telemundo.
Of the Marco Rubio, Ben Carson, Jeb Bush, and Rand Paul campaigns, which also met with the group, Rosario Marin, former U.S. treasurer under George W. Bush, said, "Good people came to us, we have good choices," whom she would be happy to be a surrogate for. "But I'm troubled by the Cruz campaign's comments," she said. "This development has given us a certain pause to find out what he's saying."
The group also said they wanted to forcefully condemn Hillary Clinton and Democrats for saying all Republican candidates agree with Trump.
"It's the worst kind of political pandering, it's insulting to the Latino community and it won't work," Aguilar said, framing Clinton's embrace of going further than Obama on executive actions as a rejection of forging consensus with House Republicans.
"My interpretation is that their strategy does not include a reasonable conservative strategy on immigration," said Artemio Muniz with the Federation of Hispanic Republicans, noting that Sweet waved away the group's concerns by saying they have PhDs doing the research and analytics for the campaign.
Which led Muniz to go further.
"I don't think Hispanic outreach for the general is in their strategy at all," he said.