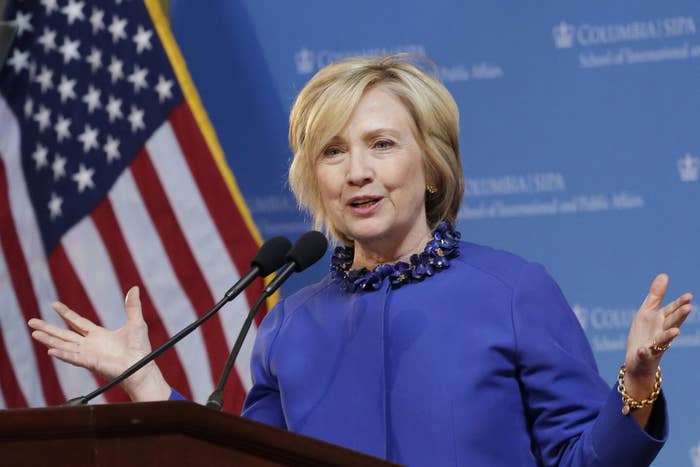 HOUSTON — Saying there is a sweeping effort underway across the country to disenfranchise people of color from voting, Hillary Clinton called for universal, automatic voter registration for every citizen when they turn 18, at a speech at Texas Southern University in Houston, one of the largest historically black colleges in the nation.
"I think this would have a profound impact on our elections and our democracy," she said.
People would be able to opt out of being automatically registered under the proposal, Clinton said. She also called for the adoption of an early voting standard of at least 20 days before an election across the country, along with increased availability to online voter registration and reduced waiting times on election day.
She spoke to the largely black crowd after receiving the Barbara Jordan Public-Private Leadership Award and recalled coming to the area after Katrina with her husband "and a young senator from Illinois by the name of Barack Obama," she said to cheers.
But Clinton also sought to connect the life of Barbara Jordan, who was the first woman and first African American woman ever elected to represent Texas in the House of Representatives, and her fight for the Voting Rights Act, to the current climate, where she said the law has had its "heart ripped out."
And she called out former Texas governor Rick Perry, as well as Scott Walker, Chris Christie and Jeb Bush — all for their actions on voting rights.
Clinton pointed to a law passed in Oregon in March that registers everyone who visits the Department of Motor Vehicles (DMV) to vote as a model for the country to look towards.
Matt Barreto, a political scientist and principal at polling firm Latino Decisions, said Oregon has come the closest to creating opt-out voting instead of the traditional opt-in structure.
Clinton's support for these policies are a win-win in Democratic politics — likely to be seen positively by Democratic voters, while also setting herself up as a champion for minority voters.
The RNC called her remarks "misleading and divisive."
"In reality, the vast majority of Americans – including minority voters – support commonsense measures to prevent voter fraud. Clinton's shameless attacks ignore the fact her Democrat-led home state of New York does not allow early voting while dozens of Republican-led states do," said Orlando Watson, RNC communications director for black media.
The New York Times reported that initial salvos from Democrats have begun with lawsuits in Ohio, Wisconsin and North Carolina as well as efforts to rollback voter ID requirements, time restrictions on early voting that could hamper voting the weekend before the election along with other rules.
Barreto said there is another positive for Clinton, allowing this conversation to begin in states that are friendly to her, since these rules are controlled by the states.
"You're not forcing anyone to vote but you're taking those barriers down," he said. "It gets her back into that discussion about fairness and equality and puts Republicans on the defensive about if they want everyone voting."
When the DMV law passed in Oregon, it passed with no Republican support.
"Government should nudge people to do the right thing but not force people," Rep. Knute Buehler said at the time, the Washington Post, reported.
Barreto said it will be interesting to see if Republicans take the bait, noting that in 2012 the push for voter ID laws by the GOP put groups like the NAACP and the Mexican-American Legal Defense and Educational Fund (MALDEF) on notice about those efforts.
"It's a good side to be on," Barreto said of Clinton.