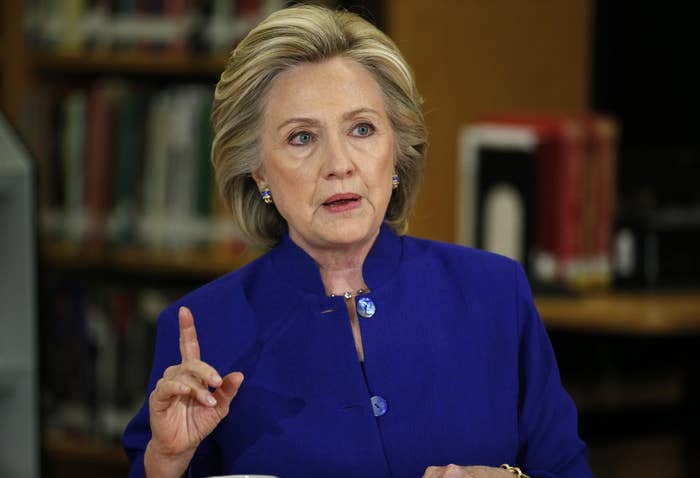 Hillary Clinton has filled a major communications position in the campaign, tapping Xochitl Hinojosa as director of coalitions press, five sources told BuzzFeed News.
Hinojosa, who served at the Department of Labor under Secretary Tom Perez for almost two years and is the daughter of Texas Democratic Party Chairman Gilberto Hinojosa, will oversee Hispanic, black, and women's media, among others.
Her last day in her current role is next week. The Clinton campaign declined to comment on the hire.
Democratic strategist Maria Cardona said Hinojosa has been in the mix as an early hire for a while. Cardona worked with Hinojosa on two projects with the Department of Labor and said she is someone who understands the nuances of the press landscape both in general media and Hispanic media.
"It's a rare mix to be able to get someone like her with experience, someone who can do it well and do it with grace," she said. "I was thrilled when they told me her name."
In her role, Hinojosa will not only work closely with the communications team but would also serve as a connection between field staffers organizing these coalitions on the ground — something that didn't always exist in the 2012 Obama campaign.
A former Obama staffer said that looking forward, you could envision a scenario where an organizer in Charleston, South Carolina, is working with a local hip-hop station to get information out to that neighborhood. A stronger link between coalitions on the ground and the national press team would "free up the opportunity for the field to communicate and leverage communications channels to send the most authentic message to voters they're working with," the Obama campaign veteran said.
Hinojosa also wouldn't be the person charged with, for example, doing the day-to-day work with black media. Hinojosa would have a team under her and there are plans to fill those roles as the campaign progresses.
Sources with campaign media experience said she will need a robust staff to ensure those coalitions aren't relegated to or feel like specialty media. For example, Univision, which is a top four network in the United States, regardless of language, doesn't want to be relegated to a secondary position in the campaign, said Jose Parra, a former senior adviser for Harry Reid.
Hinojosa's hire makes her the fourth high-profile Latino hire, and third Latina, along with Amanda Renteria, the political director and Emmy Ruiz, who returned to run the Clinton operation in Nevada. Jose Villarreal previously joined as campaign treasurer, as well.
The hiring continues the approach stressed by Clinton officials like Renteria of not just hiring, say, Latinos for Latino roles.
The early focus on strong Latino hiring and outreach operations has been repeatedly called for by Democrats who note that Clinton was popular among Latino voters in the 2008 primary against Obama, but must show she is serious about addressing their concerns during this campaign. Democrats have also worried that Republicans like Jeb Bush, who is fluent in Spanish and has a Hispanic family, and Marco Rubio, could compete for support from Latino voters.
Hinojosa followed very much in the footsteps of her father, Gilberto, who represented farm workers in class-action lawsuits "and made sure that the U.S. Department of Labor Employment Services Division provided farm workers with needed interstate employment services," according to the Texas Democratic Party.
She previously spent time at the Department of Justice's civil right division, as well as campaigns and senate offices before joining Labor, where she has been focused on issues like paid leave and the minimum wage.