Frustrated DREAMers, Advocates Don't Expect Much From Obama On Immigration Ahead Of State Of The Union
They haven't lost hope on getting new immigration laws done, but believe the key to reform will be House Republican immigration principles later this week.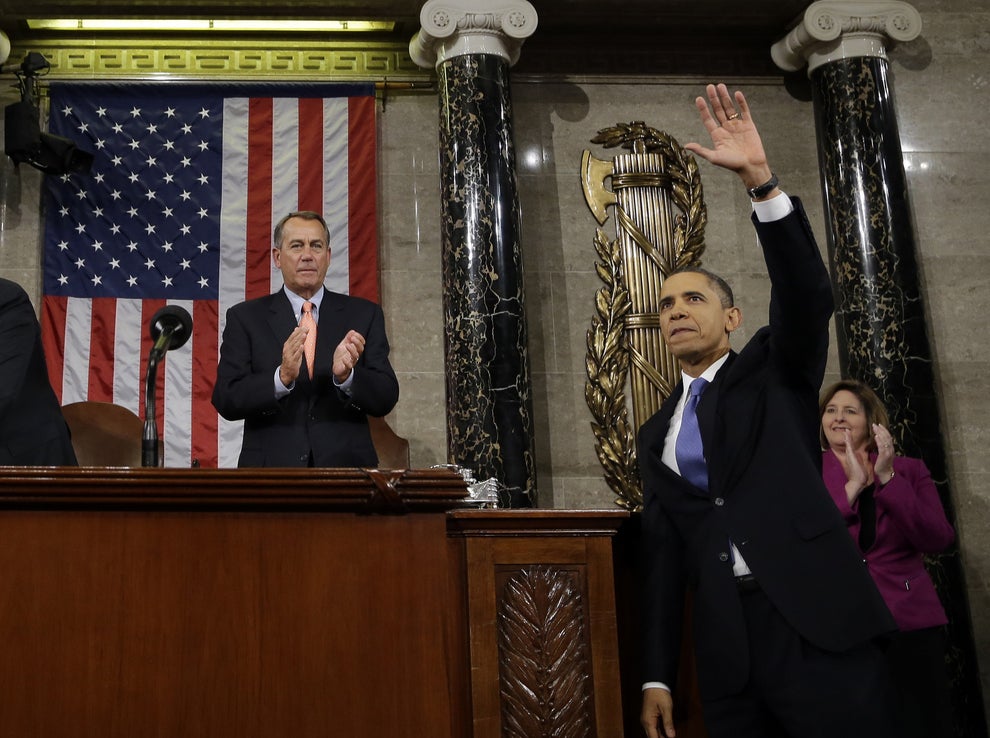 On left, President Obama before his 2013 State of the Union address. On right, art by DREAMer Julio Salgado, showing the chief concern for many undocumented immigrants is relief from the threat of deportation.
Monday, border patrol detained two Arizona activists — the parents of a young undocumented immigrant.
The detention sparked a Facebook response from prominent DREAMer Erika Andiola. "I hope all the advocates that get to go the State of the Union tomorrow keep in mind that this is still happening every day and don't just stand there looking pretty for him. We need to do more than that," she wrote.
Juan and Alejandra Sanchez have since been released, BuzzFeed has learned, but Andiola's response is an example of how many young DREAMers are feeling ahead of President Obama's State of the Union speech Tuesday, which is expected to touch on the need for new immigration laws.
Andiola told BuzzFeed that "a speech coming from him on how Republicans have to pass [new immigration laws] with a path to citizenship for the 11 million" undocumented immigrants won't convince House Republicans.
"What will make us actually listen closer will be if he acknowledged that his administration has deported almost 2 million undocumented immigrants and what is he going to do in reality to make that stop and bring relief to our families," she said.
On the other side of the advocate spectrum, Eliseo Medina, a longtime activist who calls himself an "old-timer" because of his advocacy spanning decades, said the key for an immigration push this week will not be the president's speech, but the "principles" expected to be released by House Republicans after their retreat begins on Thursday.
"My sense is the president is giving space for Republicans to figure out what they're going to do," he said. "The most interesting thing is going to be what happens Thursday."
Medina, who engaged in a high-profile hunger strike late last year as part of Fast4Families that caught the attention of the president, said activists will review the principles, and from there, already have plans to visit congressional districts and meet with constituents to keep the pressure on congressmen to support new laws.
Advocates are frustrated with hearing the president continually mention immigration policy changes without successful legislation. The National Day Laborer Organizing Network sent BuzzFeed the following video on the topic:
David Leopold, former president of the American Immigration Lawyer's Association, agrees that this script has played out before.
"Nearly a year ago he laid out his immigration reform principles—secure borders, employer verification, path to citizenship for the 11 million and overhaul of the visa system. The Senate did it's job by passing a bipartisan immigration reform bill but the GOP controlled House has, thus far, failed to allow a vote on immigration reform," he said.
"I think advocates would like to hear the president assure them that until the House does its job, he will not deport undocumented immigrants who would qualify for relief under the Senate bill," he continued.
"That he will not hesitate to use his power as commander-in-chief to enforce the immigration law in a manner which focuses on violent criminals and national security risks, not hard working mothers and fathers who are just trying to build a better life."
Leopold said the principles will reveal if the GOP is serious about new immigration laws or if they are "merely cow towing to the extremists in their party."
"Will they support legalization with a path to earned citizenship for all aspiring Americans? Or will they offer legislation that, for the first time in American history creates a subclass of people shut off from the American Dream?"
The citizen issue has recently divided immigration activists, after DREAMers released a letter saying relief from deportations is more important to them than an immediate path to citizenship. A coalition of other immigration activists, Democratic lawmakers, and labor activists such as AFL-CIO President Richard Trumka, meanwhile, remain committed to the citizenship push.
"The president can take action right now on this issue and put an end to harsh deportations that are separating families and he should do it immediately," Trumka said in an audio message released this week.
But in private talks with advocates, the White House has said an executive order to stop deportations isn't going to happen, Politico reported last week.