Fox News Poll Shows Majority Of Americans Support Path To Citizenship For Undocumented Immigrants
Support for a pathway to citizenship ticks up to 68%, with only 15% advocating a "send them all back" approach, as immigration reform heats up again.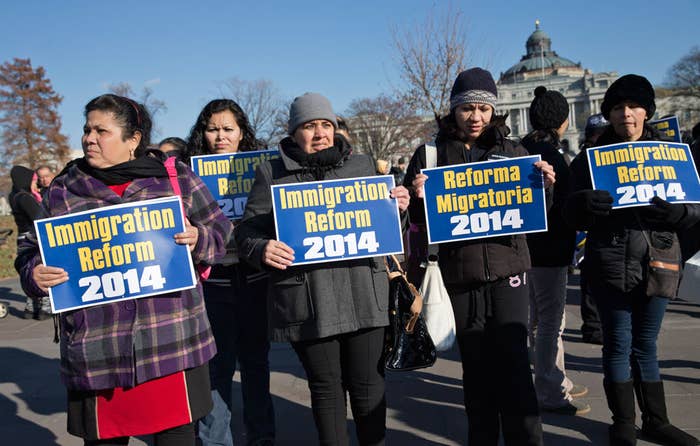 A new Fox News poll says 68% of Americans favor a pathway to citizenship for undocumented immigrants in the country if other conditions are met, including paying back taxes, learning English, and passing a background check.
The poll was conducted by Democratic firm Anderson Robbins Research and Republican polling firm Shaw and Company Research. Respondents were asked "Which of the following comes closest to your view about what government policy should be toward illegal immigrants currently in the United States?"
The options asked if the government should do the following: "Send all illegal immigrants back to their home country? Have a guest worker program that allows immigrants to remain in the United States to work, but only for a limited amount of time? Allow illegal immigrants to remain in the country and eventually qualify for U.S. citizenship," as long as the conditions are met.
The pathway to citizenship option was up a tick from May 2013, when 66% supported a conditional pathway to citizenship. The "send them all back" option was down from 19% to 15%.
The poll comes at a time when comprehensive immigration reform seems poised to jump back on the national agenda in a big way.
Many expect President Obama to address the need for reform during his State of the Union address on Tuesday, while House Republicans, who hold the key to eventual passage, are expected to release "principles" that will guide their thinking as they move forward with writing legislation.
The renewed push is set amid a climate that finds immigration advocates split on the best way to proceed with reform.
DREAMers, undocumented youth who were brought to the country as children, released a letter saying relief from the threat of deportation for their families is more important now than a path to citizenship for the more than 11 million undocumented immigrants in the country.
Democrats and longtime advocates cautioned against negotiating against your own side, while some pushed back strongly, saying some form of legalization without the future opportunity to become citizens would create millions of second-class citizens denied the rights that everyone else in the country can enjoy.