First Undocumented Lawyer Allowed To Practice In California Uninvited To Speech At San Antonio School
Saint Mary's Hall was really excited to have Sergio Garcia deliver a keynote speech until they weren't. "You obviously do not want a record of this income on file with the IRS and to follow the laws of my country," the president of the school wrote to him in an email obtained by BuzzFeed.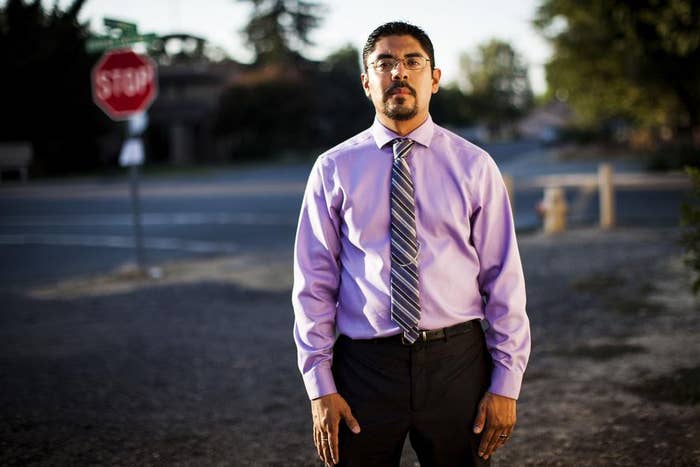 Saint Mary's Hall seemed pretty excited to have Sergio Garcia — the first undocumented lawyer allowed to practice in the country after a California supreme court ruling — speak at its model United Nations conference. They described him as an "experienced and exciting keynote speaker" and wrote that it was unfortunate that he had been waiting for a visa for 19 years. But as time passed, he said some at the school were less than friendly to him and then the speaking engagement was canceled because of a dispute over how the payment to him and his foundation would be disbursed.
Garcia informed the college preparatory school that he would be unable to sign the standard W-9 form, which asks him to certify that he is a citizen under threat of perjury, because he is not one. He asked them to pay him as a 1099 independent contractor as other places have done. They in turn asked him to sign one of two forms, W-8BEN or W-8ECI. Garcia told them he was unfamiliar with them and felt they were not applicable to him and once again asked that he be paid as an independent contractor or as a consultant.
Then in emails obtained by BuzzFeed, Bob Windham, the president of the school, sent Garcia an email addressing him as Mr. Garza, and then canceled the invitation. Windham told Garcia he clearly did not want to "follow the laws of my country."
Sorry for the mistake on your name. I do not want to be adversarial. We have presented our position on the agreement in my previous email. I am sorry, but there was a way to do this properly with the forms we provided. It was your choice to refuse. You obviously do not want a record of this income on file with the IRS and to follow the laws of my country. We will not ignore our auditors professional assessment of required IRS regulations. Additionally, we do not claim to adhere to IRS regulations, we do follow them.
Garcia said things turned south when the school's accountant Vicky Bates got involved. He said she wasn't very nice to him and when an interested parent, Roberto Camargo, tried to get involved and facilitate the situation, Bates told him she didn't think it was "right to hire an illegal alien."
In emails she reiterated to Camargo that the W-8BEN and W-8ECI forms were the only ones they would accept from Garcia.
In a statement to BuzzFeed, Saint Mary's Hall reiterated the disagreement over payment forms.
"With the conference less than a week away, we are unable to reach an agreement with Mr. Garcia," the statement read in part. "We were looking forward to his visit, but also realize we have a responsibility to the hundreds of participants of the conference. Unfortunately, we must move forward with canceling this engagement as we find another speaker."
Garcia said the agreement was for $2,500 — half for him and half for his recently created foundation that gives scholarships to students struggling financially. To date he has raised $55,000, with a goal of $100,000.
"To me it really is no big deal that they canceled, what bugs me is the reason," Garcia told BuzzFeed.