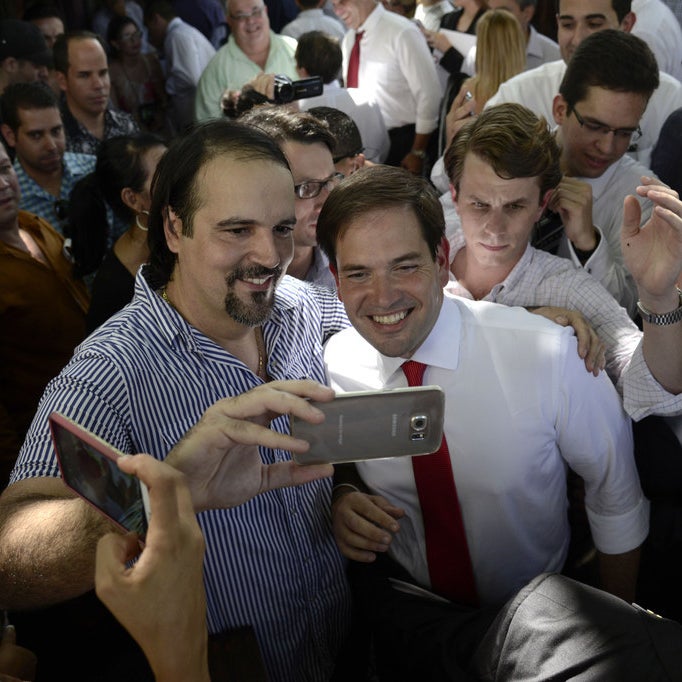 SAN JUAN, Puerto Rico — Marco Rubio came out to Pitbull. Hillary Clinton came out to a roundtable of physicians and health care officials.
Friday afternoon in San Juan, both candidates took on serious issues — Rubio, the island's financial crisis, and Clinton, its struggling health care system — but at two very different events. The trips reflect not just Puerto Rican voters who matter in the primary, but also Puerto Rican voters in the crucial state of Florida.
Rubio was up first at Aire Libre restaurant, an open-air restaurant (as its name suggests), where a ceiling fan wasn't enough to tame the sweltering heat.
Nuno Lopez, a member of the island's House of Representatives introduced Rubio, and cut to the chase: The 150 people in attendance should vote Rubio in the Republican primary. Rubio, Lopez told them, has worked closely with Florida's Puerto Rican population during his time as senator.
Puerto Ricans on the island woke up Friday to an op-ed by Rubio in the biggest newspaper El Nuevo Dia, where he came out against the Chapter 9 bankruptcy protection for municipalities in Puerto Rico, arguing that "liberal ideology" has created a "toxic brew of economic stagnation, higher taxes and bloated government," he wrote.
Both Clinton and Rubio's major rival for Florida voters, Jeb Bush, both support the bankruptcy protection approach.
"No organization, whether it's a government, a company, or a family, can survive long-term, spending more money than it takes in," Rubio said.
Dabbing his face occasionally with a small white towel, Rubio said that Puerto Ricans are U.S. citizens and serve in the army but can't vote in the general election. He supports letting them decide for themselves, but believes they will choose statehood.
"Puerto Rico has the opportunity, the moment has come to unite with the United States," he said to the loudest cheers of the day. "After 100 years that moment has arrived."
He said the event was his first as a presidential candidate — but stressed it was not his first trip ever. But most of the event was spent answering the same question from Puerto Rican press: Did he support Chapter 9 protection for the island? (No.) Was he sure? (Yes.) Was there any wiggle room on that answer? (Not really.)
As he did in his op-ed, Rubio who spoke in Spanish during most of his 23 minute speech, did leave the door slightly ajar for bankruptcy protection for the island. Answering a question in Spanish, he relented saying, "At the end of the day if it's the only option we need to study it."
And he took a shot at Clinton, when a reporter asked him how he would contrast his plan for Puerto Rico with hers.
"I don't know what Secretary Clinton's plan is for Puerto Rico. I think it was on her server and she wiped it," he said, referring to her private email server.
Then as it began with Pitbull's Echa Pa'lla, Rubio was off, this time with Marc Anthony's Vivir Mi Vida blasting as the event's emcee yelled "Get your cameras ready!" into a microphone and a parade of selfies began.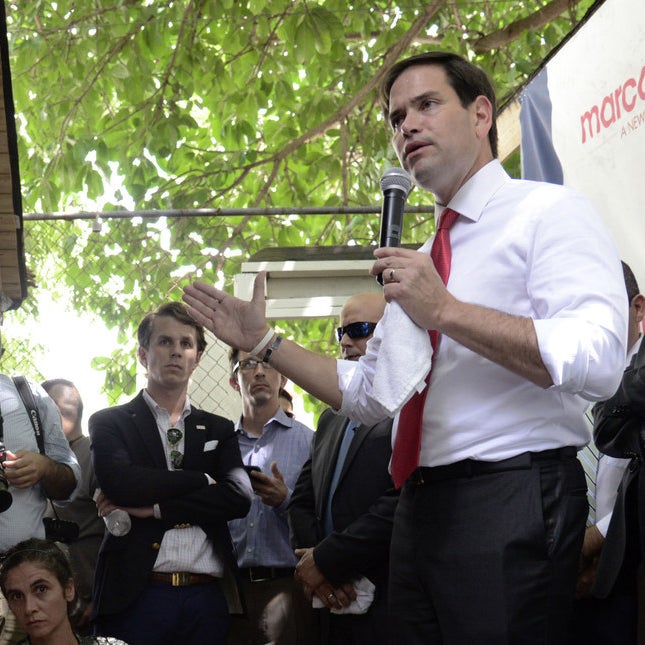 There wasn't music at Clinton's event, but she was greeted — after a 90-minute delay due to plane issues — by a similarly excited crowd of 110 people in suits and formal attire, this time in a conference room at the Cardiovascular Center of Puerto Rico and the Caribbean.
As she has done, particularly in early voting states like Iowa, New Hampshire, and Nevada, Clinton sat for a roundtable after opening remarks.
The island's newspapers featured Clinton Friday, too, with news that she was meeting with Puerto Rico Gov. Alejandro Garcia-Padilla before the event, who has asked Washington to help with its financial crisis. The Clinton campaign said only that the meeting went well.
In her opening remarks, she said U.S. presidents should pay more attention to Puerto Rico's issues, diagnosing a "legacy of inconsistent, incoherent, and inequitable treatment in health care in Puerto Rico."
Then she sat and listened.
Noting that 45% of Puerto Ricans are on Medicaid, those who spoke included Ana Ruis, the secretary of health, Victor Ramos, president of the college of physicians and surgeons of Puerto Rico, and Jaime Pia, the executive president of the Puerto Rico hospital association. The island, they said, faces inequitable treatment compared to mainland citizens regarding federal reimbursement rates for Medicare and Medicaid.
They called Puerto Rico's "brain drain" dangerous and said 12% of the island's doctors have left the island — one participant noted a medical center that only had two cardiovascular surgeons left, and one is 90 years old.
One participant painted a bleak picture of the medicare donut hole, with Clinton nodding upon hearing the term, where a patient's deductible is not enough to pay their medical bills for the last few months of the year. This leads to hard choices, like whether they should buy their medicine or pay their rent, buy food, or pay the electrical bill.
Nearly every participant ended their turn speaking the same way, with a variation of, "When you're president, we know you're going to take care of this." (Clinton matched them in that — "There are some things we need to do between now and January 2017 when I will be inaugurated," she said to cheers.)
At both events, though, the presiding feeling was that U.S. citizens in Puerto Rico feel unequal. One person at the roundtable called the fact that Puerto Ricans can move to Florida or Connecticut and be treated better as a U.S. citizen "geographic discrimination." Clinton agreed.
"No taxation without representation," one roundtable member said to Clinton.
"Well, you can certainly make the argument," she responded.
Clinton talked about her history with Puerto Rico; she visited the island in 1998 after Hurricane George. She also beat President Obama in the Democratic primary in 2008, winning 68% of the vote.
She also linked the health care situation with the financial crisis and ultimately, the issue of the island's status, attacking Rubio and other Republican candidates.
"Bankruptcy should be something we work towards but not a single Republican has stepped up in Washington," she said. "And they're not offering alternatives either and that's unacceptable because this is a crisis."
Afterwards, Carmelo Rios, a local state senator who would attend Clinton's fundraiser at a San Juan hotel later that night, made the case for linking statehood and equality in an interview with Univision.
"If you ask people if they want health care equality they say yes. They say yes to everything down the line but on status the difference is red and blue," he said of statehood and the political parties.
"But if their answer is yes on each specific issue then we need equality."