DREAMers Are Back And They're Coming For The GOP And Clinton
After playing a key role in securing Obama's executive actions on immigration, DREAMer activists are back, confronting Republicans, with an eye towards Hillary Clinton too.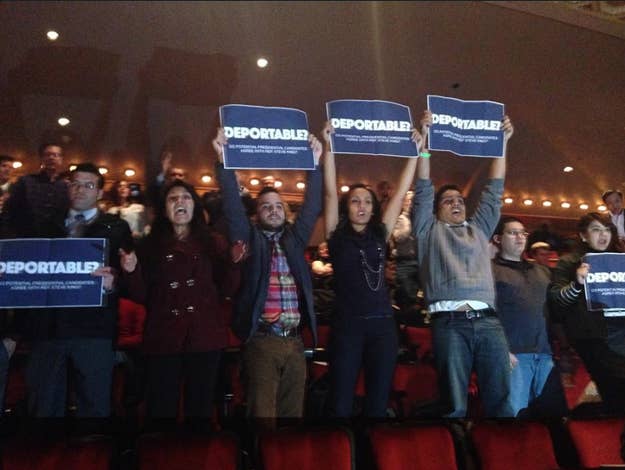 In 2014, DREAMer activists, undocumented youth brought to the country as children, established themselves as a pivotal force in the immigration fight. But if you thought the immigration protests that interrupted speeches from both Democrats and Republicans during 2014 would end with President Obama's executive actions, you thought wrong.
If anything, last year showed them that the strategy works, and so DREAMer activists are back. Their first volley of 2015 came at the Iowa Freedom Summit, a gathering of conservatives, many with presidential aspirations, where they had one question: Do you stand with us, or with immigration hardliner Steve King?
"2016 is around the corner, so we want to see where Republicans stand, would they overturn [Obama's actions]? Would they deport DREAMers?" said activist Cesar Vargas, one of the nearly 10 who crashed the GOP event, interrupting former Texas Gov. Rick Perry and New Jersey Gov. Chris Christie. "For Hillary Clinton, yes, she tweeted that she supported the president on executive action, but for us it's not just about approval — what else will she do?"
The young activists gave Clinton headaches last year during her book promotional tour and later on the campaign trail, when they repeatedly confronted her. National DREAMer activist Erika Andiola recently told BuzzFeed News that Clinton and Jeb Bush, two possible 2016 candidates with perhaps views on immigration policy more in line with the activists', will be forced to clarify their stances.
If the strategy seems counterintuitive, Vargas says the activists' strategy is constantly misunderstood.
"This is not just about political tactics, it's just about real questions, there are real people affected by this, whether they're parents or workers," Vargas said. "All 2016 hopefuls say, 'We want to talk to the real Americans.' Well these are the real people affected by these policies."
Why protest Perry, for instance, someone who has faced criticism from the right on immigration (Perry famously said "you don't have a heart" if you oppose in-state tuition for undocumented immigrants), when Sen. Ted Cruz and others also there? Activists say they see it differently after Perry sent the National Guard to the border during the unaccompanied minors crisis, and Marco Malagon, who interrupted Perry at the event and was arrested, was there because of that in particular. But Cruz has advocated for stricter policy on undocumented immigrants and had strong words about immigrants at the event too.
"Ted Cruz is a lost cause," Vargas said. "He's a far right political figure for the Tea Party. Chris Christie, Scott Walker, on the other hand, they're trying to stay away from the issue, we want to know where they stand. Jeb Bush, he's seriously considering not only running, but also working with the Latino community."
One activist in Iowa for the confrontation, Giancarlo Tello, a New Jersey DREAMer, said that after the president's announcement, future immigration actions won't only feature young undocumented advocates.
"Its not just going to be DREAMers, but whole immigrant families. Not just those who qualify for [deferred action], but also for Obama's actions for families," Tello said. "It left 7 million behind. As long as the undocumented community is still being criminalized, we're going to go after them, whether they're Democrats or Republicans."
It's important to note that the activists are not all from one organization. There are local groups, leaders like Andiola and Vargas of the Arizona-based Dream Action Coalition, and also one major national organization: United We Dream (UWD).
For its part, UWD spent Friday to Sunday in Maryland holed up at their yearly retreat, mapping their strategy for the year. BuzzFeed News has learned that the group has so-called offensive and defensive priorities, as well as local and national plans for 2015.
Going on offense looks a lot like what went down in Iowa this weekend, but just as importantly, the organization wants to defend Obama's executive actions, which they feel are under attack by Congressional Republicans, as well as in the 25-state Texas lawsuit on the constitutionality of the executive actions. UWD also wants to work on educating the community on implementation of Obama's actions, getting all of those who are eligible to apply to be protected from deportation.
A new strategy for UWD this year centers on some local battles they want to aid affiliates in, like in Texas, where Lt. Gov. Dan Patrick campaigned on far stricter border enforcement and dismantling the in-state tuition program (the issue is contentious within the Republican Party there — Republican Gov. Greg Abbott largely distanced himself from Patrick during his campaign, but said if the legislature passed the in-state tuition bill, he would sign it). The organization also wants to help in states that may be looking to add in-state tuition like Massachusetts and Connecticut.
The activists in Iowa on Saturday held signs that said "Deportable?" on them, a reference to a much-maligned tweet by Steve King, who organized the Iowa Freedom Summit. King was referencing Michelle Obama's guest at the State of the Union, a young undocumented immigrant whom he called a "deportable."
DREAMers say that King like Cruz, is a lost cause, but the signs were meant as a question to prospective presidential candidates, as in, "Are we deportable?"
Vargas said Christie calling King a friend on Saturday told them a lot.
"In Spanish there is a saying, 'Dime con quién andas, y te diré quién eres,'" Vargas said.
"Tell me who you're with, and I'll tell you who you are."